People in love always try to find a quaint and enticing way to express their feelings for their special ones. They want it to be remembered forever. So choosing love tattoos is a good option for them as these tattoos are a bold way to express their feelings and emotions and are also trendy nowadays. As love tattoos hold great importance for couples, we will discuss some of the famous and unique love tattoos' meanings and interpretations.
Music Love Tattoo
Melody is one of the beautiful and eloquent ways to express affection. You can do  Music love tattoos  with a butterfly or a heart structure appended with musical notes on any exposed or hidden body part. However, they look more beautiful on the waist, neck, and belly. Mostly, this small tattoo is made with black ink.  
Faith Love Tattoo
As its name shows, this tattoo expresses one's faith and trust in one's loved one. The design of this tattoo consists of a heart, heartbeat, and cross which means love, hope, and faith respectively. You can make this tattoo on the back, forearm, shoulder, or wrist preferably with red and black colored ink.  
Cupid Love Tattoo
The Latin word "cupid" means desire. In Roman legends, Cupid was the god of love, intimacy, and passion. Cupid tattoo is marked with an arrow and heart or sometimes a dove. You can ink it on the forearm, wrist, waist, and chest in black and red colours.   
Love Symbol Tattoo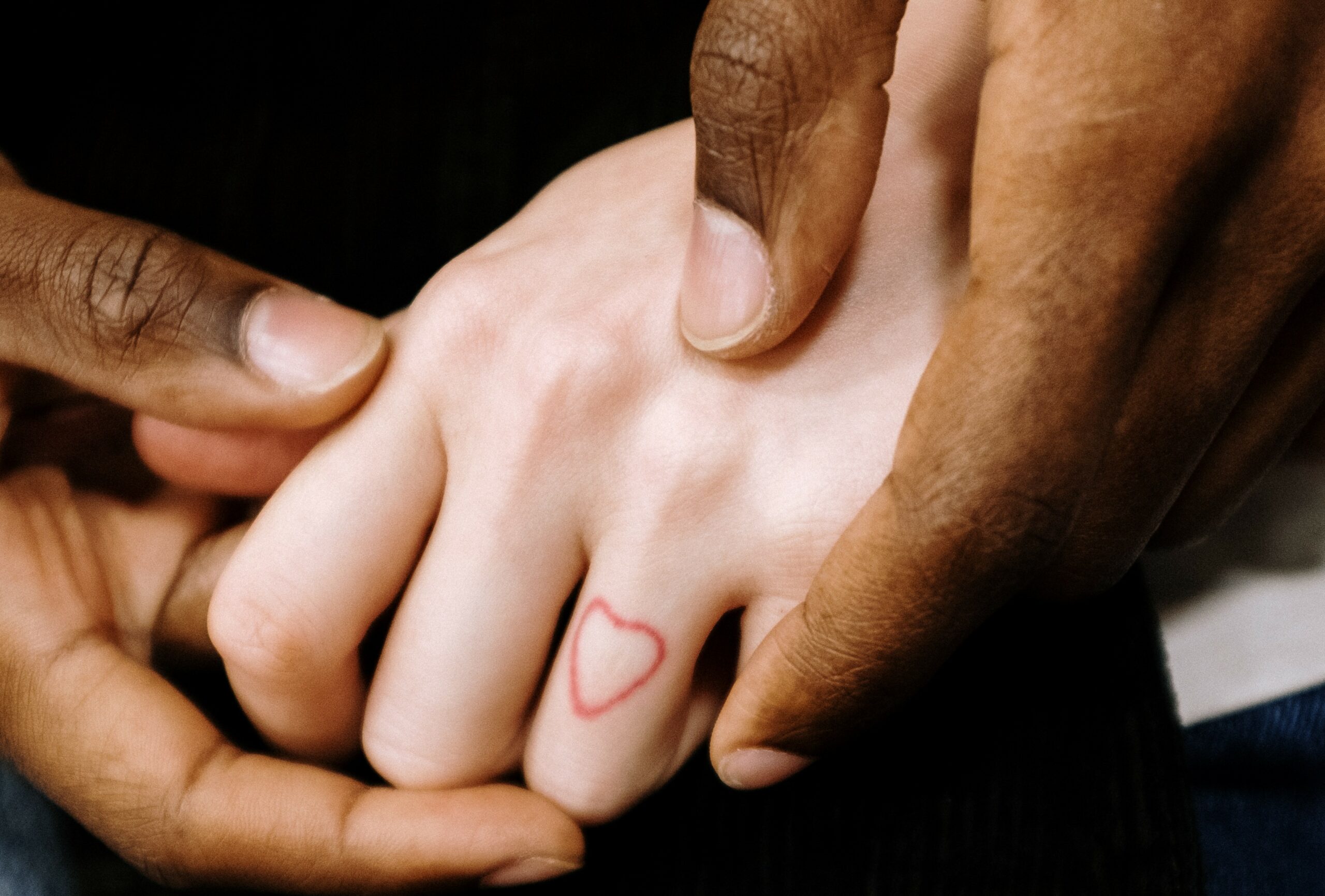 These small love tattoos are mostly decorated on fingers. Heart-like designs are made on the fingers of the hands to make them look more charming.
This is a gender-neutral love tattoo and both men and women can show their love and desire for their special one. Preferably, most people use red and black inks for this tattoo and they look amazing between the area of fingers. 
Butterfly Love Tattoo
Butterfly tattoos are a cool and creative portrayal of charm and elegance. You can decorate it with wings, meaningful words and treble clefs too. Mostly, girls and women show off these tattoos to prove their love for their partner. Opt for places like shoulders, arms, or back. Black is the suitable ink for this love tattoo. These tattoos are of medium size.
Endless Heart Love Tattoos Meanings
Heart portrays endless love, deep emotions, and pure connection. The beauty of endless heart tattoos is that they can represent infinite love for anyone from loved ones to parents, and from friends to god. You can adjust the size of this love tattoo as per desire. Red and black are go-to inks for these tattoos on any part of the body.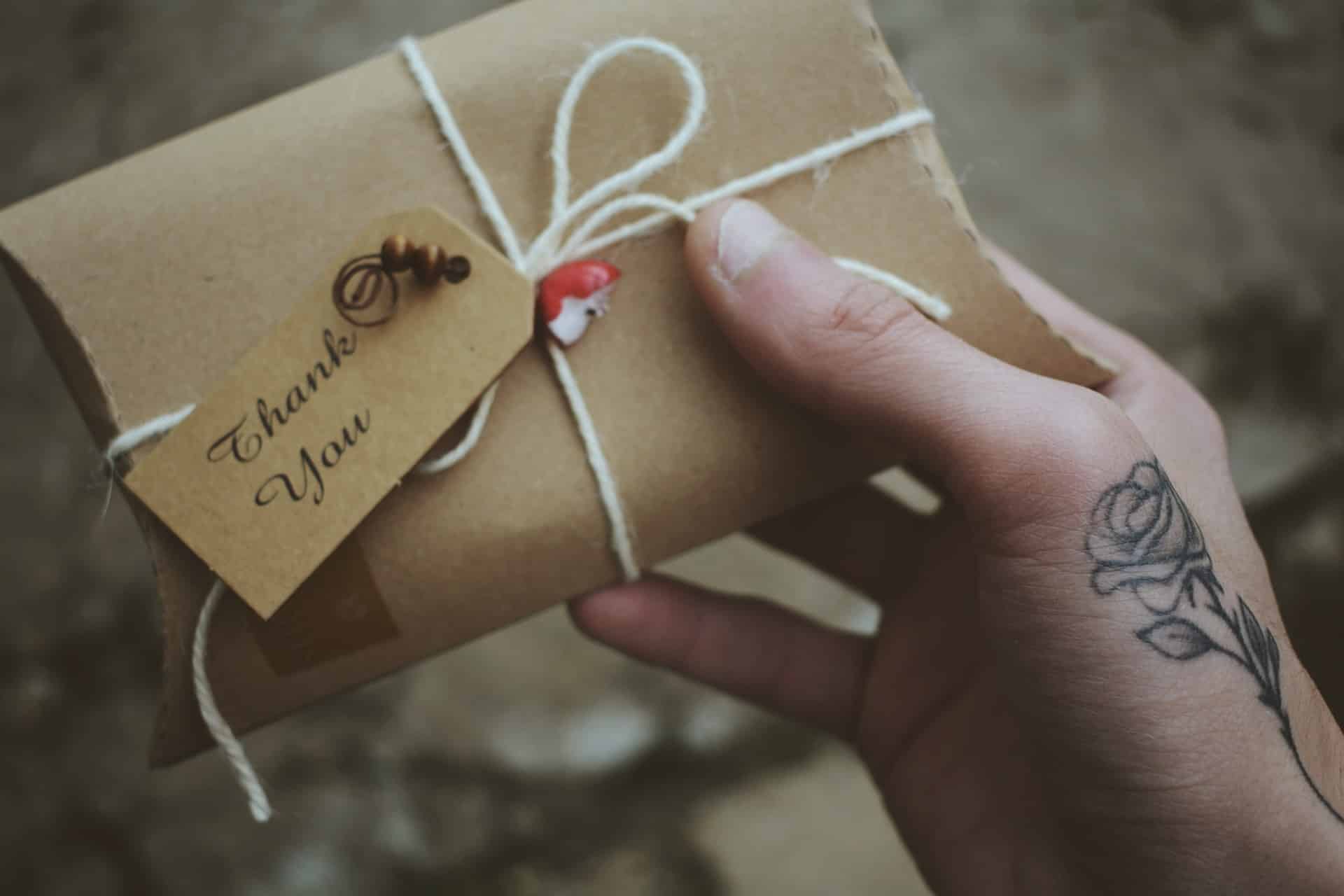 Rose is the king of flowers, romance, and love. These flowers are a symbol of love and affection for a very long time. You can combine this rose love tattoo with one's loved one name or anything alluring around it. Moreover, you can decorate Rose tattoos anywhere on the body. However, forearms, waist, back, and wrist are more suitable places. Red, black, and green inks are best for this tattoo.
Key And Heart Lock Love Tattoos Meanings
This love tattoo consists of a heart lock and key as seen by the name. Through this tattoo, you portray the famous clause "You owe the key to my heart". This tattoo can be designed with different colours and artwork. The forearm is the best place for this design and you can add more perfection by drawing one part of the tattoo on your forearm and the other part on your loved one's forearm.   
The beautiful bird dove portrays love and peace. Moreover, it also represents victory, god's will, good omens, and positive fortune. In tattoo artwork, one can add a decorative band around the dove and can also add the name of the beloved. It can also coupled with a heart to show immortal love.  
The wrist is a go-to place for this tattoo with black colour ink or any colour ink one desires. These tattoos are mostly small and medium in size.  
Name Love Tattoos Meanings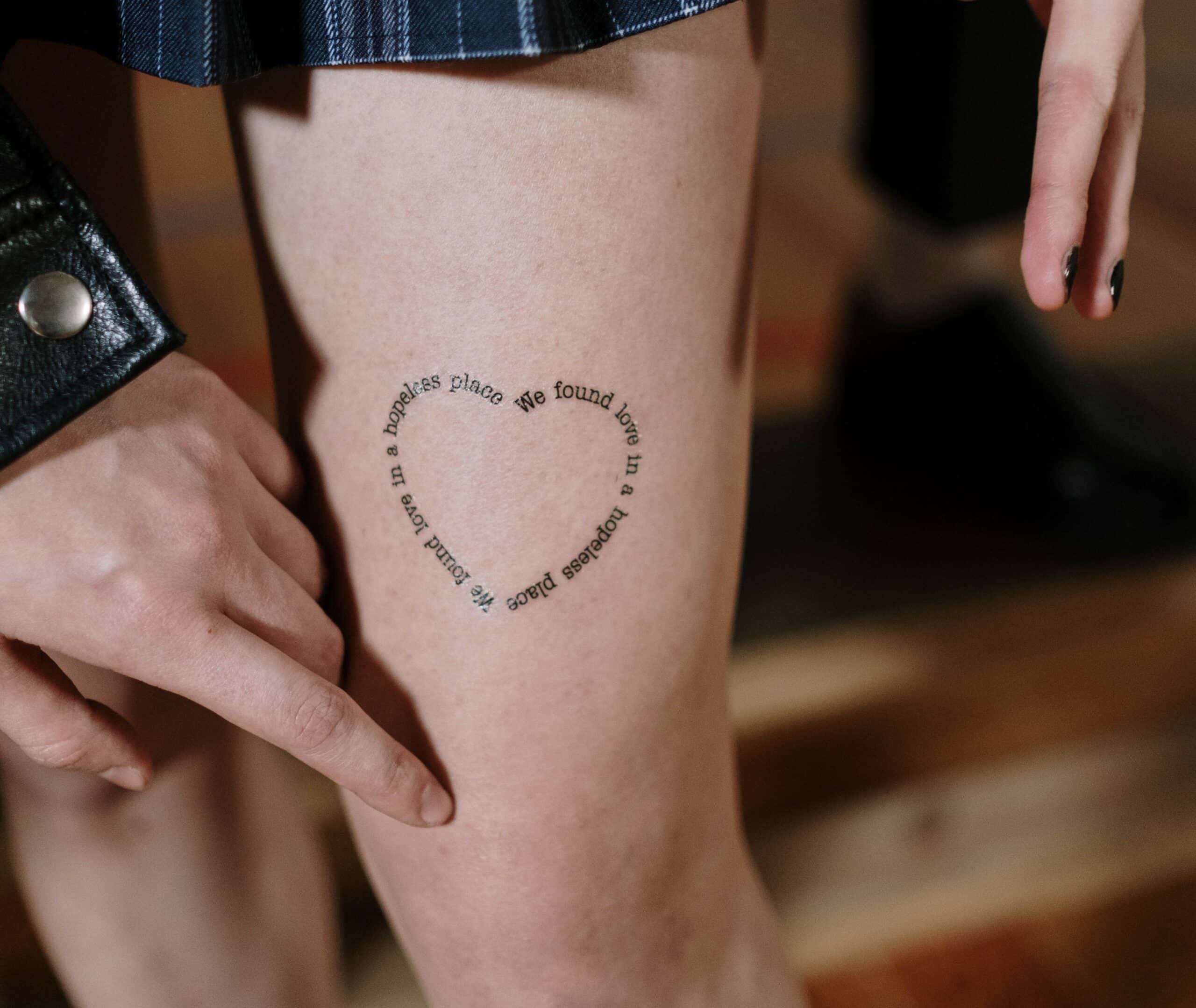 In this artwork, you write the name or the initials of the loved one on the skin to show regard and love. You can make this tattoo on the shoulder forearms, wrist, chest, and back. You can carve this tattoo in any size or color. 
Heartbeat Love Tattoo
The beauty of this heartbeat tattoo is that it holds a wide array of meanings. This love tattoo represents compassion, loss, grief, determination, and love. It is also known as the EKG line tattoo. This tattoo artwork looks like irregular lines moving up and down connecting with a heart monitor. These love tattoos look beautiful on the wrist and forearm in black and red tattoo ink colour. It can be small, medium, or large size as one desires.
Sword Love Tattoos Meanings
In this tattoo artwork, a sword or a dagger is going through or at the back of the heart. You can this pattern in the Christian styles and patterns. You can make this tattoo in multi-colours and with any size. This love tattoo looks perfect on the chest area.  
Overlapping Heart Love Tattoo
This tattoo is a work of art. The design is quite tangled. Many heart shapes of different sizes overlap each other and make an alluring pattern. Black ink is suitable for this medium-sized tattoo shoulders.  
In short, Love tattoos are everlasting marks on the skin so they show one's devotion and commitment to their partner. These tattoos carry the constant expression of deep love and intense care. The permanence of a love tattoo shows the strong emotions, dedication, and loyalty of each partner in the relationship. So always choose a tattoo to which you and your partner can relate and it mirrors your bond and its uniqueness. But before getting a tattoo make sure to choose a professional and reputable tattoo artist and follow the aftercare instructions carefully.