Are you bored with these typical leg massages and want a different massage experience? Then let me introduce you to the fascinating Fish Massage. Have you ever heard of it? I am sure you must hear of it once at least and now curious to know more about it… Well, here we are…
Fish for Pedicure is a unique spa experience where tiny fish delicately tickle your legs and feet. This tickling massage provides an unconventional massage like no other. The fish pedicure has gained attention for its unusual yet relaxing approach to wellness. Let's explore the intriguing concept of garra fish and a quick look at the benefits it offers.
What Is A Fish Foot Spa For?
A fish foot spa is called a fish pedicure or fish nibbling. This unique spa treatment involves immersing your feet in a warm water tank filled with small fish. Typically Garra Rufa fish are used for fish leg massage. These fish are often referred to as "doctor fish". Garra fish have a natural inclination to feed on dead skin cells. When you place your feet in the tank, the fish gently nibble the dead skin cells.
The primary purpose of a fish foot spa is to provide a natural exfoliation treatment. Along with the skin treatment, they remove dead skin cells and leave the skin smoother and softer. It can also promote improved blood circulation and relaxation through the gentle massaging action of the fish.
What Are The Benefits Of Fish Foot Massage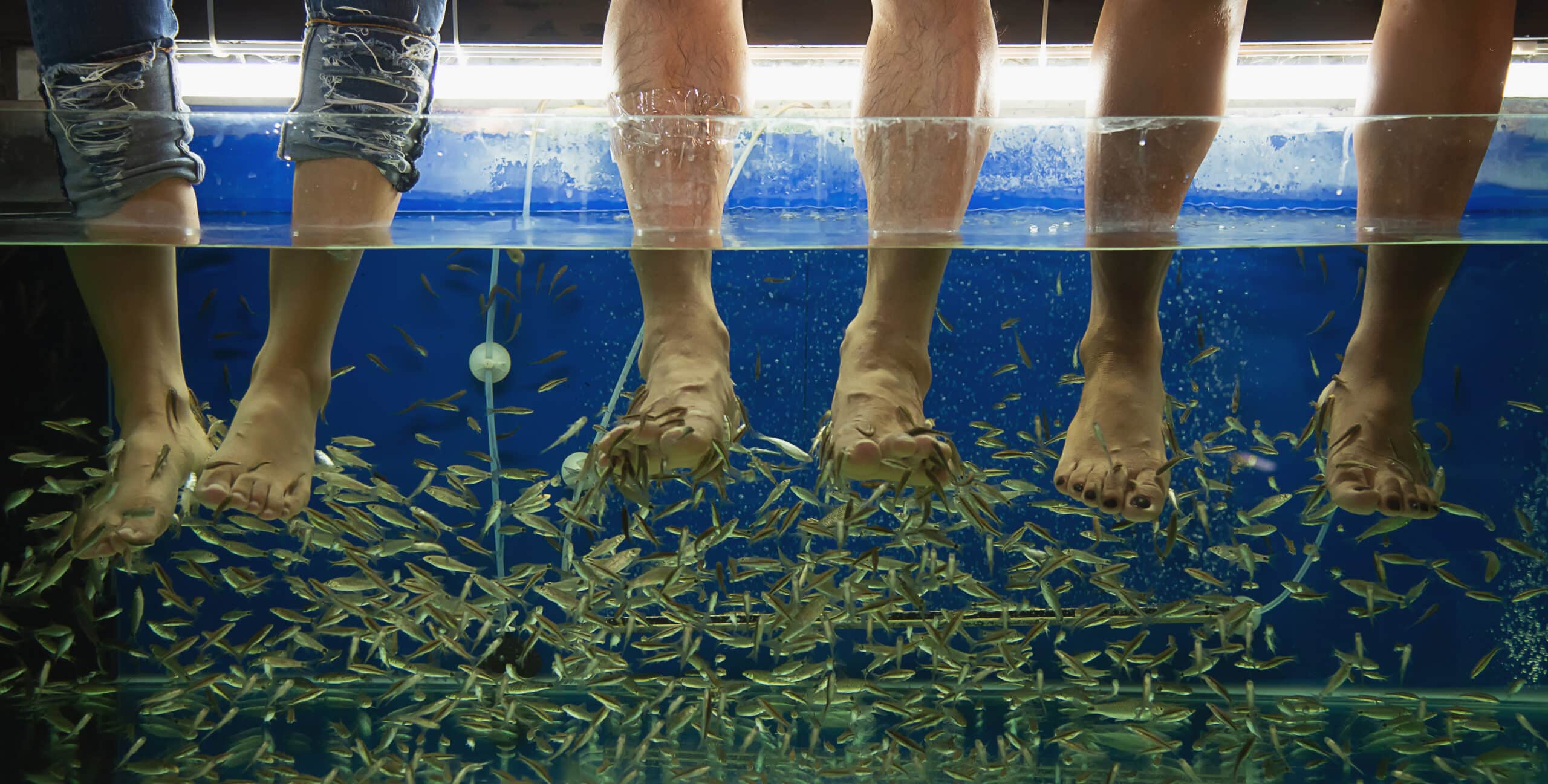 Garra Rufa fish pedicure offers several benefits for those who indulge in this unique spa experience. Here are some key benefits of fish leg massage:
Relaxation and Stress Relief
The gentle nibbling and massaging sensation from the fish promote deep relaxation. They help to reduce stress and tension in the legs and feet. It provides a soothing and calming experience that alleviates anxiety and promotes well-being.
Improved Blood Circulation
In fish spa pedicure, painless biting action stimulates blood flow in the legs and feet. This enhances circulation to relieve fatigue, reduce swelling, and promote healthier blood flow throughout the lower extremities.
Exfoliation and Skin Rejuvenation
The fish feed on dead skin cells and naturally exfoliate the skin's surface. This exfoliation removes dry and rough skin, leaving smoother, softer, and more rejuvenated skin on the legs and feet.
Pain Relief and Muscle Relaxation
The nibbling sensation from the Garra fish target specific pressure points and acupressure areas on the legs and feet. They potentially provide relief from muscle aches, pains, and discomfort. It alleviates tension and promotes relaxation in the muscles.
Which Fish Is Used For Leg Massage?
There are several fish varieties commonly used in fish leg massage treatments. One of the most well-known and frequently used fish species is the Garra Rufa. This is also known as the "doctor fish." These small, toothless fish naturally tend to feed on dead skin cells. These fishes make the spa ideal for exfoliating the feet during the massage.
Garra Rufa fish are native to the Middle East, particularly Turkey. Spas have been using them in fish spas for many years. In addition, other fish species like Chin Chin fish, also known as the Chinese Chinchin or Licker fish, and Kangal fish are used in fish leg massage. They are all native to Turkey.
What Happens In Fish Massage?

Preparing For The Massage
Before the fish leg massage session begins, there are specific preparations to ensure a pleasant experience. For fish pedicures, masseur cleans the feet and dry them provide a clean surface for the fish to work on. Some spas also offer a brief foot soak or scrub to enhance the effectiveness of the massage.
During the fish leg massage, people dip their feet in a designed tank filled with warm water. Many spas have the option to choose fish species. As the feet enter the water, the skin's natural oils and dead skin cells attracts the fish. They initiate their nibbling action. The sensation feels like a gentle tickling or vibrating feeling. The fish work their way across the feet and legs.
The experience of Garra Rufa's fish pedicure varies from person to person. Some find the tickling sensation that is quite amusing and enjoyable. While others might take a little time to adjust to the unusual feeling. Laughter and a sense of relaxation are often observed as the fish continue their nibbling action. It is common for individuals to experience a tingling sensation during the massage, contributing to a heightened sense of well-being.
Duration and Recommended Frequency
Fish leg massage sessions typically last for a specific duration, ranging from 15 to 30 minutes or longer. That depends on individual preferences and the spa's guidelines. The recommended frequency of fish leg massage sessions varies. Go for this massage on a limited basis to allow the skin time to rejuvenate naturally between sessions.
What States Have Banned Fish Pedicures And Why?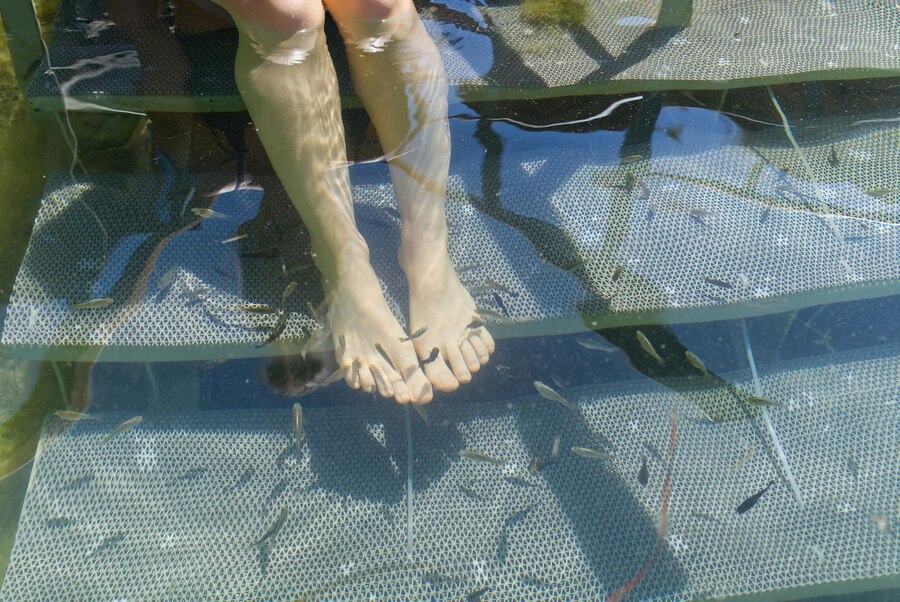 Certain states and countries ban fish massage due to various concerns. Here are some common reasons why?
One of the primary reasons for the ban is the potential risk of spreading infections or diseases. Water tanks used for fish massages can become contaminated.
It's challenging to maintain proper hygiene standards. Concerns over transmitting bacteria, viruses, or fungi from person to person have led to this practice's prohibition or strict regulation.
Another reason for the ban is the welfare of the fish. Some argue that restricting fishing only because this process keeps fish in confined spaces. Fishes subject to repeated handling and stress harm their health and violate animal welfare principles.
Legal And Licensing Issues
Fish massage practices clash with existing regulations or licensing requirements in certain states or countries. Health and safety regulations, spa industry guidelines, or specific laws related to the use of animals for therapeutic purposes influence the legality of fish massages.
FAQs

How Much Does A Fish Pedicure Cost?
Usually, they are available at an affordable price of USD 20$. However, for a more complete and satisfying result, it can cost up to 30$. Choose the package that suits your preferences and enjoy a fish pedicure's rejuvenating and unique experience.
Are Fish Pedicures Worth It?
The worth or value of fish pedicures is subjective and can vary from person to person. Some individuals find fish pedicures a unique and enjoyable experience with certain benefits.
Are Fish Pedicures Hygienic?
Fish pedicures have raised hygiene concerns. The practice involves sharing water and fish among multiple individuals, increasing the risk of cross-contamination and spreading infections. On the other hand, maintaining optimal water quality and ensuring the complete elimination of contaminants is challenging.
In conclusion, fish pedicures offer a unique and unconventional spa experience that combines fish nibble on the feet with additional foot treatments. While some individuals find them enjoyable and beneficial. Exploring alternative foot care treatments and consulting with healthcare professionals can make informed decisions about spa experiences.