In today's technology-driven world, our eyes are constantly subjected to prolonged screen time and other visual stresses. As a result, many individuals experience eye fatigue, dryness, and even vision deterioration. However, to keep your eyes balanced, you can give yourself an eye massage to improve vision and reduce strain on eyes. So read eye massage tips and techniques to improve vision and other well-being.
Acupressure Points For Eye Massage To Improve Vision
One fascinating aspect of eye massage is its potential impact on vision improvement. While it does not promise miraculous vision correction.  Moreover, there are following eye massaging techniques that prevent vision decline, especially when it is combined with proper eye massage for stress relief.
Inner Corner of the Eye
This area is located at the inner corner of the eye, near the bridge of the nose. Apply gentle pressure using your index or middle finger and hold for a few seconds. This point is believed to help reduce eye strain and relieve sinus congestion.
Outer Corner of the Eye
Outer corner of the eye is near the temples. Apply gentle pressure with your fingers and repeat the process again. The outer corner of the eye is the main point associated with relieving eye fatigue and reducing headaches.
Third Eye Point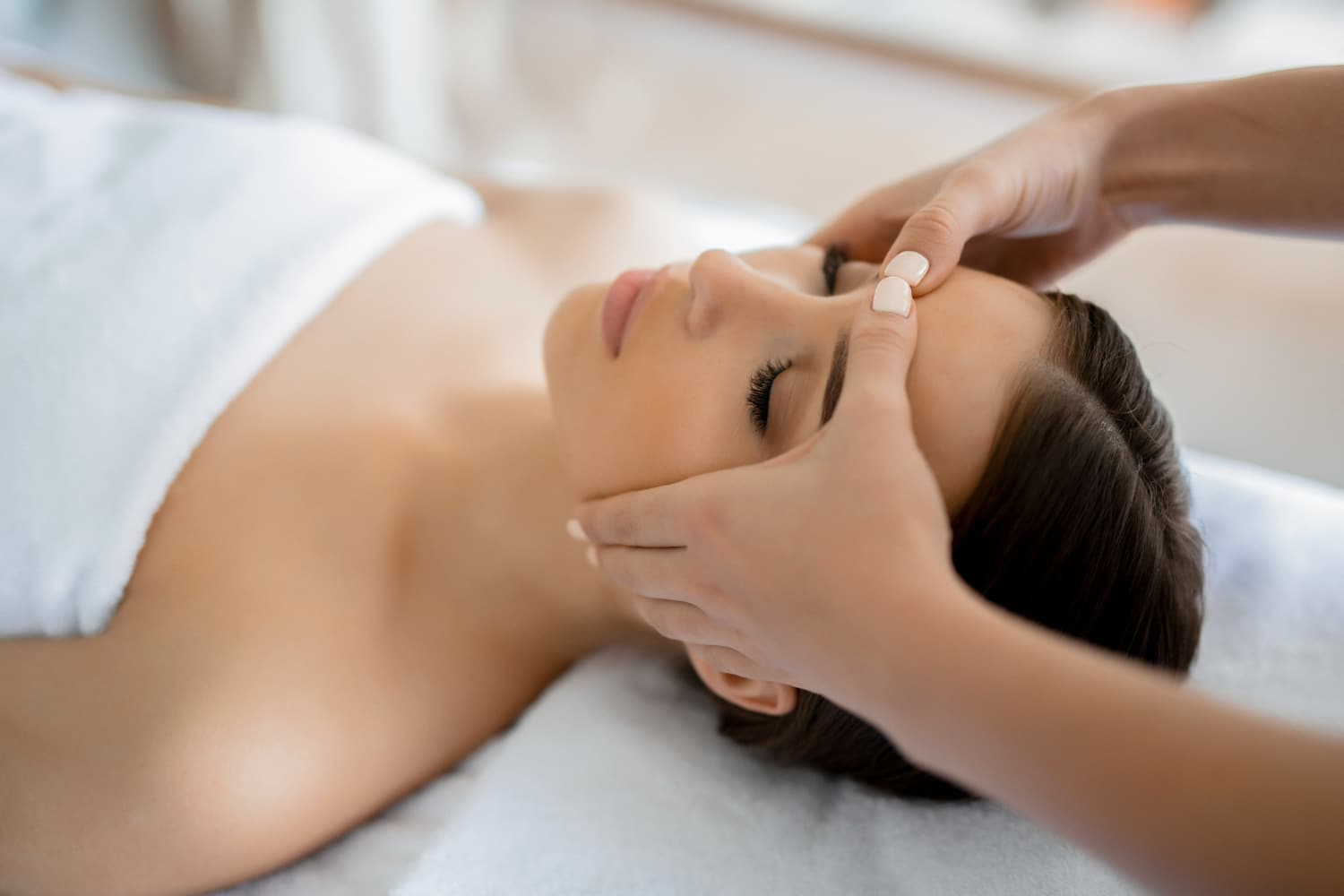 This point is between the eyebrows, in the indentation just above the bridge of the nose. Apply gentle pressure with your index finger in a circular motion. These eye massage step slots stimulating this point  relaxes the eye muscles and alleviate stress.
Fish Waist Point
This point is on the bony ridge directly beneath the eye, aligned with the pupil. So, apply gentle pressure for a few seconds through the index or middle finger and hold. This point relieves eye strain and improve eye circulation.
Bright Lights Point
This point is positioned on the cheekbone, directly beneath the pupil, when looking straight ahead. This point helps with eye fatigue and strengthen vision.
Soothing Techniques For Eye Relaxation That Improves Vision
Eye massage offers a range of benefits that contribute to improved visual health. It promotes relaxation and relieves tension in the eye muscles So follow these methods to relax your muscles.
Gently massage the back of the head and focus on the area where the skull meets the neck. Surprisingly these will release tension and promote relaxation throughout the head and eye region.
Gentle Temple Massage
On this point use your fingertips very carefully in a circular motion to the temples. This technique helps relax the surrounding muscles and promote overall relaxation, including the eye area.
Relieving Pressure Between Your Eyes
Place your index or middle fingers on the area between your eyebrows, known as the "third eye" region. Apply gentle pressure and hold for a few seconds. This will take you to the next world as it is a magic of stress and relieves pressure.
Pressure Points At Your Temples

With your thumbs or fingertips, massage and put pressure on the temples and hold for a few seconds. This technique help relieve tension and promote relaxation in the head and eye area.
Massage Of Eye Socket Bones
In this step, massage the socket bones in gentle circular motions. Massaging will relax the eye muscles, reduce eye strain, and provide a soothing effect.
Eye Massage Techniques To Improve Vision
Eye massage techniques encompass a variety of gentle and targeted approaches that aim to ease eye strain and promote overall eye health. Here are some commonly practiced techniques:
Gentle Finger Pressure On Acupressure Points
To perform this technique, follow these steps:
Use your index or middle finger.
Apply gentle, steady pressure to the specific acupressure points around the eyes, such as the inner and outer corners, temples, and brow bone.
Hold the pressure for a few seconds and release.
Repeat the process, applying pressure to each point for several rounds. This helps to improve vision and relax eyes.
Circular Movements Around The Eye Sockets To Improve Vision
Place the pads of your fingertips on the area surrounding the eye sockets.
Gently trace small circles in a clockwise direction.
Maintain a gentle and steady pressure as you move your fingertips around the eye sockets.
Continue the circular motions for several rounds, ensuring a relaxing and soothing experience.
Palming And Warm Compresses
Sit comfortably in a relaxed position.
Close your eyes gently.
Rub your palms together vigorously to generate warmth.
Place your warm palms over your closed eyes, creating a cupping shape.
Ensure that no pressure is applied directly to the eyes.
Maintain the position for a few minutes, allowing the warmth and darkness to soothe your eye muscles.
To Use Warm Compresses, Follow These Steps
Prepare a wet, warm towel, or use an eye mask designed for warm compresses.
Place the warm compress over your closed eyes and make sure it covers the entire eye area.
Relax and enjoy the warmth and soothing effect for a few minutes.
Techniques For Specific Eye Conditions
Dry eyes
Blinking exercises: Blink rapidly for 10 to 15 seconds to promote tear production and relieve dryness.
Gentle lid massages: Close your eyes and use your fingertips to massage the upper and lower eyelids in a circular motion. This helps stimulate tear production and alleviate dryness.
Focus shifting: Focus on a distant object for 20 seconds, then shift your focus to a nearby object for 20 seconds. Repeat this process several times to relax your eye muscles and reduce strain.
20-20-20 rule: Every 20 minutes, take a 20-second break to look at something 20 feet away.  This exercise helps prevent eye fatigue and strain caused by prolonged screen time.
15 Effective Eye Massage Benefits
Relieving tension in the eye muscles
Easing eye fatigue and discomfort
Enhancing overall well-being and mental relaxation
Stimulating blood circulation to the eyes
Increasing oxygen and nutrient supply to the eyes
Supporting overall eye health and functioning
Relieving tension in the eye muscles
Reducing eye strain and fatigue
Alleviating eye-related headaches and pain
Improving flexibility and mobility of eye muscles
Potential impact on vision improvement
Enhancing visual acuity and clarity
Supporting better focusing and depth perception
Aiding in the prevention of vision deterioration
FAQs
Is Eye Massage Safe?
Eye massage is safe only when performed gently and with caution. However, it is generally safe for most individuals.
How Often Should I Perform Eye Massage?
The frequency of eye massage varies depending on individual needs. Starting with a few minutes of eye massage a few times a week. Listen to your body and adjust accordingly.
Can An Eye Massage Improve My Vision?
Eye massage contributes to improved visual acuity and overall eye health. However, it's essential to understand that it is not a guaranteed solution for vision correction.
Can I Perform An Eye Massage On Myself, Or Do I Need Assistance?
Eye massage can be self-administered, and many techniques can be performed independently.
In short, incorporating eye massage into your regular eye care routine provides both health and satisfying benefits. So, it is recommended that eye massage is the best way to improve your individual vision.