Yes! with careful lifestyle modifications and preventive measures, Gout treatment in foot is possible. Though you can't get rid of it permanently but you can manage it well and get your life going. For those who don't know, Gout is a form of inflammatory arthritis. It is a condition that has been torturing humans for centuries. Gout can particularly damage the feet and can cause severe pain, inflammation, and impaired mobility.
The people who get affected by gout disease can manifest its effects. The prevalence of Gout in the foot has been on the rise in recent years. Make it essential to address this condition and explore effective treatments to cure it. However, it's important to know, what causes gout and how to get rid of it? We have also found Gout knowledge and treatments to minimize gout disease.
What Causes Gout In Foot?
Many people are unaware of what is gout attacks. Well, Gout is a type of arthritis caused by the buildup of uric acid in the bloodstream. The people who consume waste products result in the breakdown of purines found in certain foods and tissues.
Normally, the body processes and eliminates uric acid through the kidneys. However, when the body produces excess uric acid or fails to eliminate it efficiently, it leads to hyperuricemia, an elevated uric acid level in the blood.
As a consequence, uric acid crystals form and accumulate in the joints, tendons, and surrounding tissues. This cause triggering an inflammatory response and causes pain in different parts of the body, especially in the foot.
How Gout Affects The Foot- Symptoms And Signs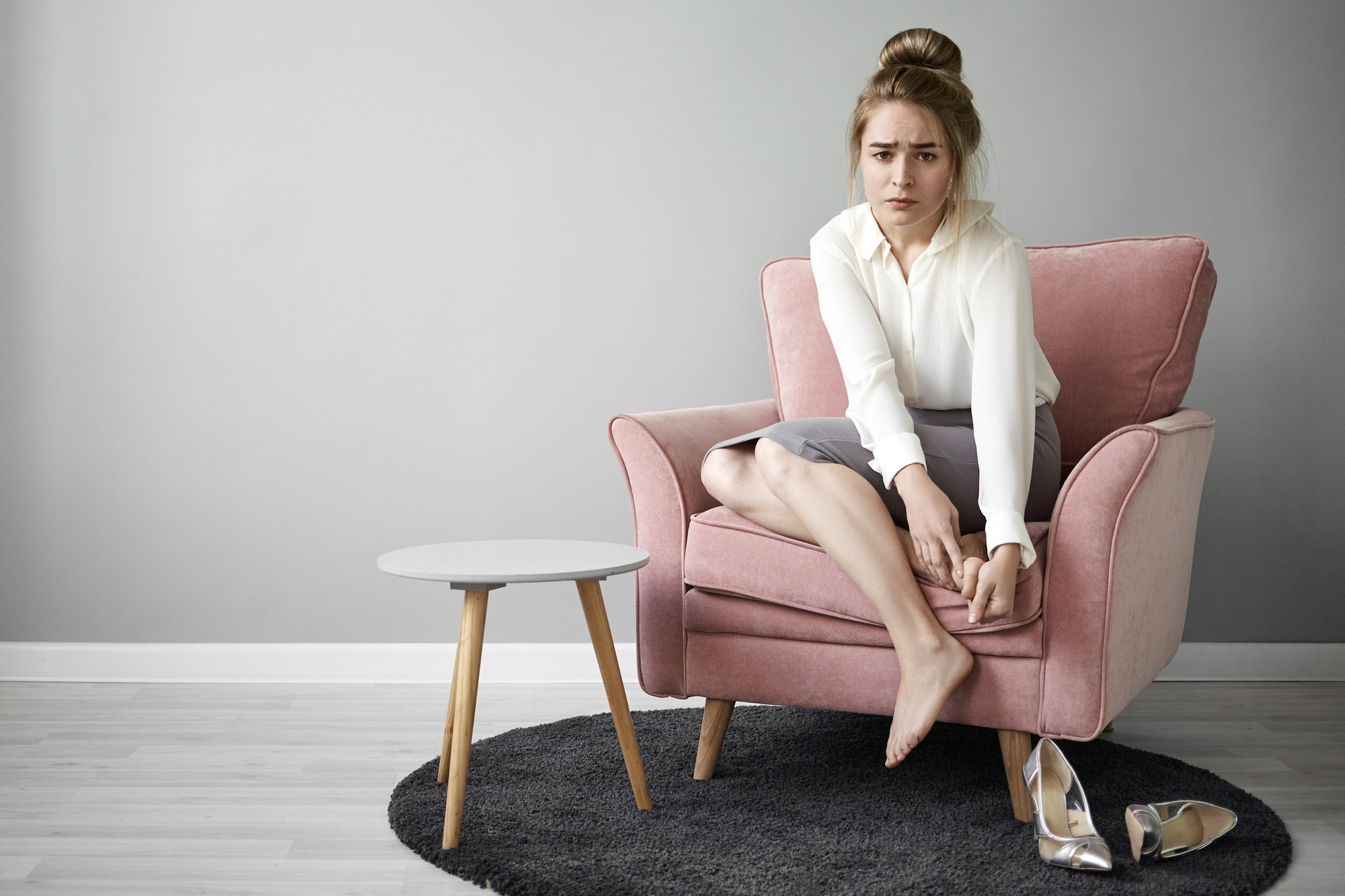 When Gout affects the foot, it most commonly targets the big toe joint. Here are few symptoms that you may experience when you have gout in foot:
Intense pain: The pain during a Gout flare is sharp, stabbing, and often excruciating, making it difficult to put weight on the foot or wear shoes.
Swelling: Affected joint becomes swollen, causing discomfort and limiting movement.
Redness: Skin around the joint appears red and inflamed.
Warmth: Because of infection, the affected area can feel warm to the touch due to increased blood flow and inflammation.
Shiny and stretched skin: The skin over the inflamed joint appears shiny and stretched due to swelling and fluid accumulation.
The duration of a Gout flare varies, with some episodes lasting for a few days and others persisting for up to a couple of weeks.
Between Gout flares, the foot may appear normal, but the condition will still be present and requires proper management to prevent recurrent attacks. Moreover, Gout pain makes putting weight on the foot or even wearing socks and shoes difficult.
The Importance Of Early Diagnosis
Early diagnosis of Gout in the foot is essential for several reasons.
Firstly, Gout flares can be mistaken for other forms of arthritis or foot conditions, leading to delayed or improper treatment. Swift and accurate diagnosis ensures that individuals receive appropriate medical attention and pain relief during acute attacks.
Secondly, early intervention and lifestyle modifications help manage uric acid levels and prevent future flares. Untreated or inadequately managed Gout lead to chronic inflammation and joint damage. It potentially causes deformities and impairs mobility in the long term. So, by diagnosing Gout promptly, healthcare professionals can
Develop personalized treatment plans,
Educate patients on triggers to avoid,
Guide them toward healthier lifestyles,
Ultimately improving their overall foot health and quality of life. Now, we'll explain how to do you get rid of gout pain fast.
Possible Gout Treatment In Foot
Lifestyle Changes And Food Modifications
Gout is a painful condition, but there are precautions you can take to help prevent its onset. One crucial aspect is what foods are good for gout. So, if you're wondering what foods are suitable for gout, here's a helpful list:
Organ meats, shellfish, spinach, and mushrooms are examples of purine-rich foods. These food lead to elevated uric acid levels and trigger Gout flares.
Drinking plenty of water flushes out excess uric acid from the body, reducing the risk of crystal formation and Gout attacks.
Limited alcohol consumption, like beer and spirits, can hinder uric acid excretion. Make it essential to moderate alcohol intake to manage Gout effectively.
Adopt a healthy and balanced diet, especially emphasizing fruits, vegetables, and whole grains. However, low-fat dairy products in the diet support overall health and lower the likelihood of Gout flares.
Obesity is linked to higher uric acid levels, so managing weight through proper diet and exercise is crucial for Gout management.
Regular physical activity, such as walking or swimming, helps with weight management and improves joint flexibility without worsening Gout symptoms.
Rapid weight loss methods can trigger Gout flares as they release uric acid into the bloodstream during the process.
Some supplements, like vitamin C lowers uric acid levels, but it's essential to consult a healthcare professional before adding supplements to the diet.
While reducing purine-rich foods is essential. However, not all purine-containing foods have the same impact on uric acid levels. Moderation is key, and keeping track of dietary choices can be beneficial.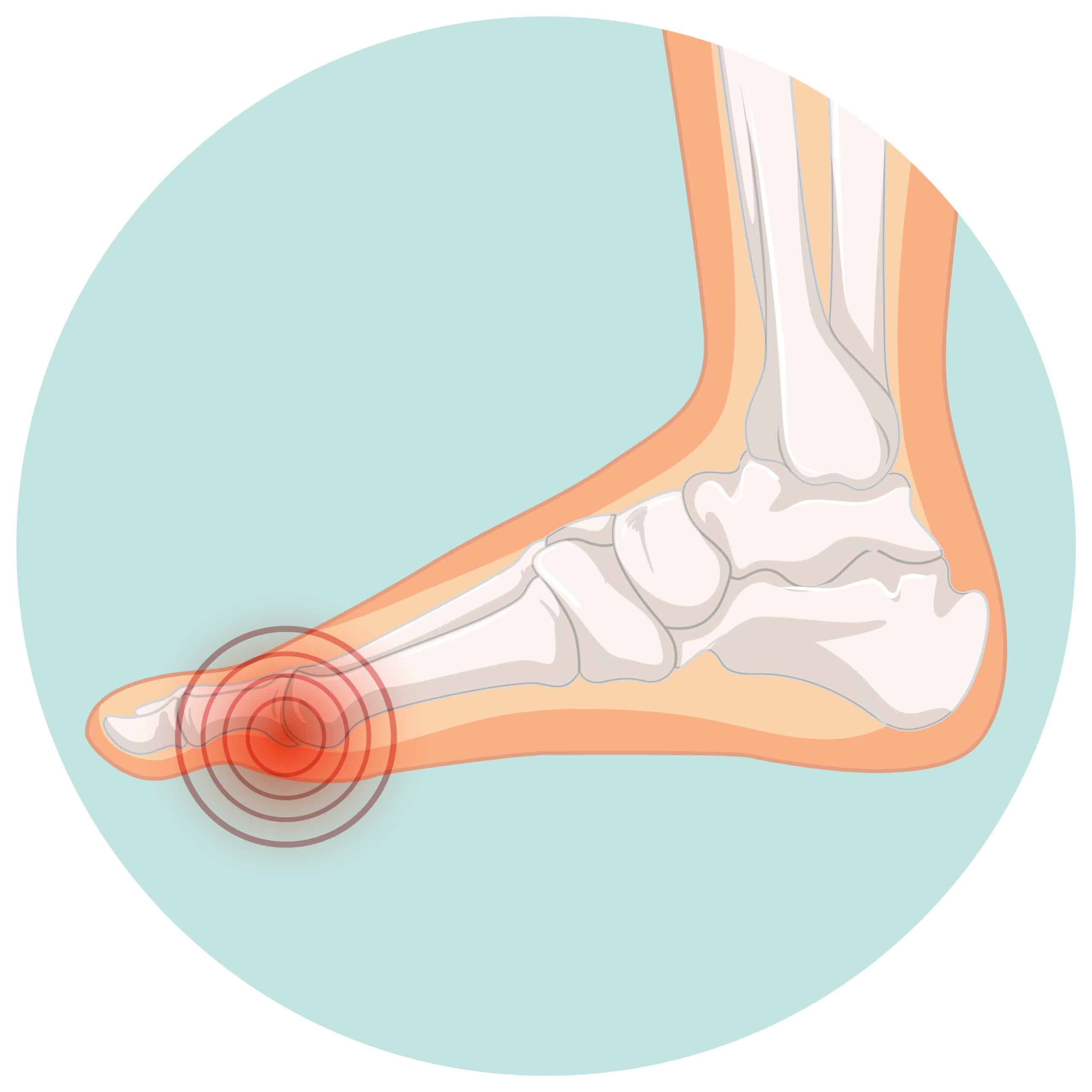 Weight Management And Exercise
Maintaining a healthy weight is crucial for individuals with Gout in the foot. Obesity is associated with higher uric acid levels and an increased risk of Gout flares. Regular physical activity, such as walking, swimming, or low-impact exercises are recommended.
These activities aid in weight management, improve joint flexibility, and reduce inflammation. However, avoiding high-impact activities that may exacerbate Gout symptoms is essential.
Non-Steroidal Anti-Inflammatory Drugs (Nsaids)
Pharmacological treatments like NSAIDs are commonly used to relieve pain and reduce inflammation during acute Gout flares. They work by inhibiting the production of prostaglandins. They are chemicals that promote inflammation in the body.
Common NSAIDs used in Gout treatment include ibuprofen, naproxen, and indomethacin. However, these medications may not be suitable for individuals with certain medical conditions, such as gastrointestinal issues or kidney problems.
Colchicine is another medication used to treat acute Gout flares. It works by reducing inflammation and the migration of white blood cells to the affected area, thereby alleviating pain and swelling. Colchicine is most effective when taken within the first 12 to 24 hours of a Gout flare. However, it is often prescribed in a lower dose to prevent side effects.
This is the last option when NSAIDs or colchicine are not suitable or effective. Then corticosteroids are used to manage Gout flares. Corticosteroids can be administered orally or injected directly into the affected joint, providing rapid relief from pain and inflammation. However, they are typically reserved for short-term use due to potential side effects associated with long-term corticosteroid use. In some cases, corticosteroids are recommended when other treatment options are not viable.
FAQs
How To Completely Cure Gout?
The complete cure for gout is not always possible. However, managing it involves lifestyle changes, medication, and avoiding triggers. Working with a healthcare professional can help develop an effective treatment plan.
Can Females Get Gout In Foot?
Yes, females can get gout, though it is more common in males. Hormonal changes and genetic factors can contribute to gout in women.
What Is A Quick Cure For Gout In Foot?
There is no "quick cure" for gout. Managing acute flares involves rest, elevation, applying ice, and taking prescribed medications like NSAIDs or colchicine.
How To Stop Gout Pain At Night?
To ease gout pain at night, elevate the affected foot, apply ice, and take over-the-counter pain relievers (if suitable). A doctor may also recommend prescription medications like colchicine.
In conclusion, Gout is a painful and challenging condition, mainly when it affects the foot. However, gout treatment in foot is possible. To safeguard yourself from severe attacks, taking preventive measures and adopting a gout-friendly lifestyle is essential. Stay informed, proactive, and prioritize your foot health to minimize the impact of gout on your life.