Tennis elbow or lateral epicondylitis is a common condition characterized by pain and inflammation on the outer part of the elbow. It often affects individuals who engage in repetitive arm movements, such as tennis players, hence the name. Many people are frustrated by this tennis elbow pain as it can be unbearable sometimes. While seeking professional advice is essential for managing tennis elbow. Today, we will provide info about where to massage for tennis elbow pain? What are the tennis elbow self-massage techniques and tips to smash away this discomfort.
What Is Tennis Elbow?
This condition is clinically refers to as lateral epicondylitis and can affect individuals who haven't touched a tennis racket since their school days!
The pain is typically felt around the outer part of the elbow and upper forearm. The pain especially during activities like lifting or bending the arm. People with tennis elbows often struggle with gripping objects, twisting their forearms, and fully extending them.
Where To Massage For Tennis Elbow?
Tennis elbow self-massage is the self-relieving method. These methods can be helpful depending on the individual severity. When considering massage for tennis elbow it's advisable to read this article carefully. Moreover, you can also consult with a tennis elbow massager for better results.
Some general areas to focus on during self-massage for tennis elbow are
Forearm Muscles
Target the muscles in the forearm that are commonly affected in tennis elbow, such as the extensor carpi radialis brevis and extensor carpi radialis longus. Use gentle strokes and kneading motions along the length of these muscles to help release tension.
Wrist and Hand Muscles
Pay attention to the extensor digitorum and extensor carpi ulnaris muscles, as these can contribute to the symptoms of tennis elbow. Apply pressure with your fingers or use circular motions to massage these tennis elbow trigger point muscles.
Trigger Points
The tennis elbow is associated with specific trigger points in the forearm. Use your fingertips or a massage tool to apply sustained pressure to these trigger points which are often tender or knotted. Experiment with different pressure levels to find what feels most effective for you.
Cross-Fiber Friction
Incorporate cross-fiber friction techniques by using your fingers or thumbs to make transverse movements across the muscle fibers. This help break down adhesions and improve the alignment of the muscle fibers.
What Is The Main Cause Of Tennis Elbow?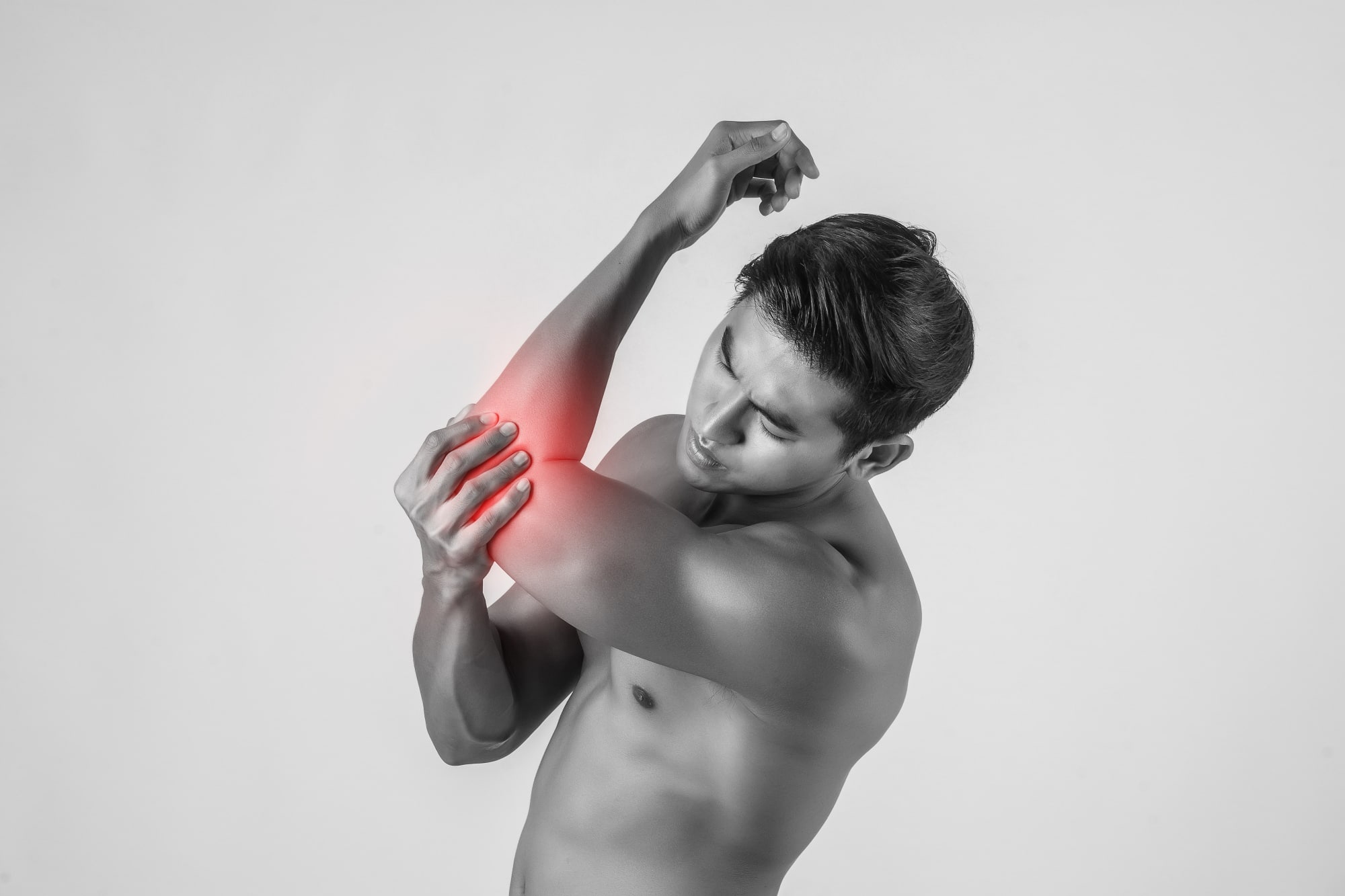 Lateral epicondylitis massage, in other words, the tennis elbow, is caused by repetitive and severe arm and wrist movements. It can be commonly associated with activities that involve repetitive gripping, twisting, or extension of the forearm muscles. Some primary causes include:
Overuse and Repetitive Motion
People who are engaged in repetitive activities such as typing, painting, gardening, or playing musical instruments can suffer from tennis elbow pain. The continuous use of the same activity strains the tissue in the forearm that leads to tennis elbow.
Sports and Athletics
Besides tennis playing, other sports and athletic activities can also cause tennis elbow pain. Repetitive arm motions, like golf, weightlifting, and racquetball, can contribute to developing tennis elbow.
Occupational Factors
Certain occupations such as carpentry, plumbing, and painting require repetitive arm movements or excessive use of tools. This can cause tennis elbow pain.
Incorrect Technique or Equipment
Using improper technique or equipment, such as a tennis racket with a poor grip size or a golf club with an incorrect swing technique. Although, additional stress on the tendons contributes to tennis elbow.
While less common, the natural degeneration of tendons with age can make them more prone to injury and contribute to the development of tennis elbow.
These are the common factor that causes tennis elbow pain. Now Let's explore the methods and techniques to cure this pain.
How Do You Fix Tennis Elbow?
When diagnosed with lateral epicondylitis, your doctor will suggest a combination of treatment options to facilitate your healing process. Here are several commonly recommended approaches:
Rest and Modify Activities
Give your affected arm time to rest and avoid activities that exacerbate the pain. You can also use or modify your technique or equipment to reduce strain on the tendons.
Ice and Heat Therapy
Apply ice packs to the affected area for about 15 minutes several times a day to reduce inflammation. Heat therapy, such as warm compressing tennis elbow promotes blood circulation and aid in healing.
Pain Medications
Over-the-counter nonsteroidal anti-inflammatory drugs (NSAIDs), such as ibuprofen, alleviate tennis elbow pain and reduce inflammation.
Physical Therapy
A physical therapist can guide you through exercises and stretches to strengthen and improve flexibility in the forearm muscles. They also use techniques like massage therapy for tennis elbow.
Brace or Strap
Tennis elbow trigger points can be healed by wearing a corrective brace or strap around the forearm. It will ease pressure on the affected tendons and provides support during activities.
Steroid Injections
Sometimes, a healthcare professional administers corticosteroid injections to reduce inflammation and pain. This is typically used when other conservative treatments haven't provided sufficient relief.
ESWT involves delivering shockwaves to the affected area to stimulate healing and reduce pain. It's a non-invasive procedure typically done under the guidance of a healthcare professional.
Surgery
Surgical intervention may be considered in rare cases where conservative treatments haven't been effective. The procedure aims to remove damaged tissue and repair the tendon.
Can Massage Help Tennis Elbow?- Benefits Of Massage For Tennis Elbow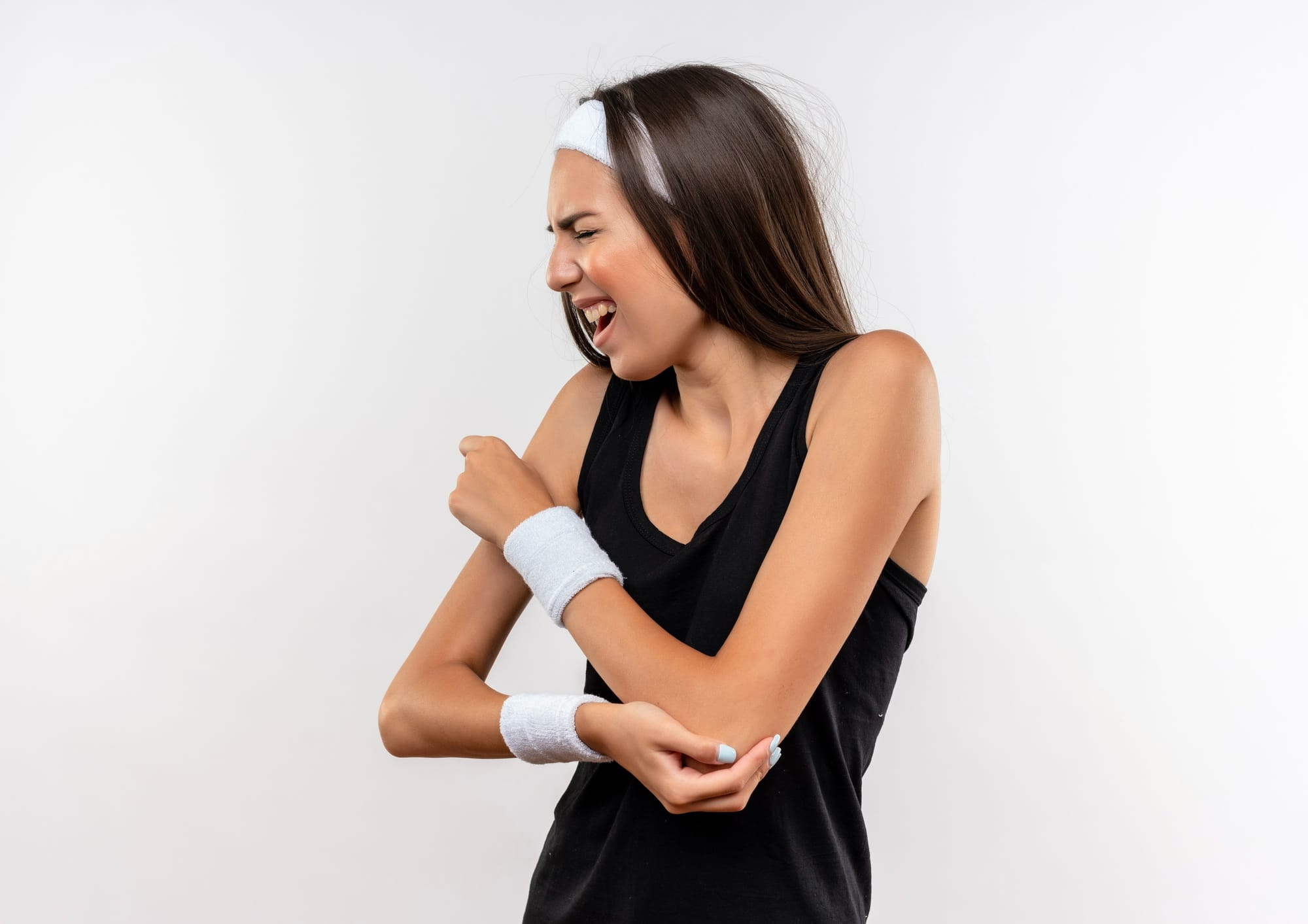 Yes, massage therapy is beneficial in managing tennis elbow. Here are the following elbow massage benefits:
Increased Circulation. Massage techniques, such as effleurage and petrissage, improve blood flow to the affected area. Increased circulation delivers oxygen and nutrients to the injured tissues promote healing and reduces inflammation.
Muscle Relaxation. Tennis elbow massage therapy relaxes the tense muscles surrounding the elbow and forearm. Releasing muscle tension reduces strain on the tendons affected by the tennis elbow.
Breaking Down Scar Tissue. During this Tennis elbow pain, it can lead to the formation of scar tissue in the affected area. Massage for elbow pain techniques like friction and cross-fiber friction target specific trigger points and break down scar tissue. They also improve mobility and function.
Pain Reduction. Massage therapy stimulates the release of endorphins, natural pain-relieving chemicals in the body. These methods heal the discomfort associated with tennis elbow.
Stress Relief. Chronic pain and injury cause stress and tension in the body. Deep tissue massage for tennis elbow can provide overall relaxation and stress relief, indirectly contributing to the management of tennis elbow symptoms.
In conclusion, there are various techniques and approaches available to help manage and alleviate the pain associated with tennis elbow. You can use self-massage techniques targeting the forearm and wrist muscles. However, seeking professional guidance from a qualified massage therapist, is also the option to cure this pain. Furthermore, it's important to remember that individual results may vary, and what works for one person may not work for another.