Chest pain can be a distressing symptom that may arise from various causes, like muscle tension or strain. While seeking professional medical advice for severe or persistent chest pain massage is crucial. You can use self-massage techniques that help you relieve mild muscular discomfort but how to massage your chest for pain? Well, here is our article.
This guide introduces you to massage for tight chest muscles and relief from chest pain. However, it's vital to approach self-massage cautiously, as it may not be suitable for all individuals or conditions. If you have any concerns or uncertainties about your chest pain, it's always best to consult a healthcare professional for an accurate diagnosis and appropriate treatment.
How To Massage Your Chest For Pain?
To massage your chest, follow these steps:
Preparation
Find a comfortable and quiet space where you can relax.
Firstly take a few deep breaths to calm your body.
Ensure your hands are clean and your nails.
Rub your hands together to generate warmth.
Place warm hands on your chest and gently press down to help relax the muscles.
Apply a small amount of massage oil or lotion to your hands (optional).
Start at the center of your chest and use gentle, long strokes with both hands.
Gradually move your hands outward, following the natural contours of your chest.
Repeat this motion several times to warm up the area.
Compression
Apply moderate pressure with your palms and fingers.
Press down and inward, then release the pressure.
Move your hands to different chest areas and repeat the compression technique.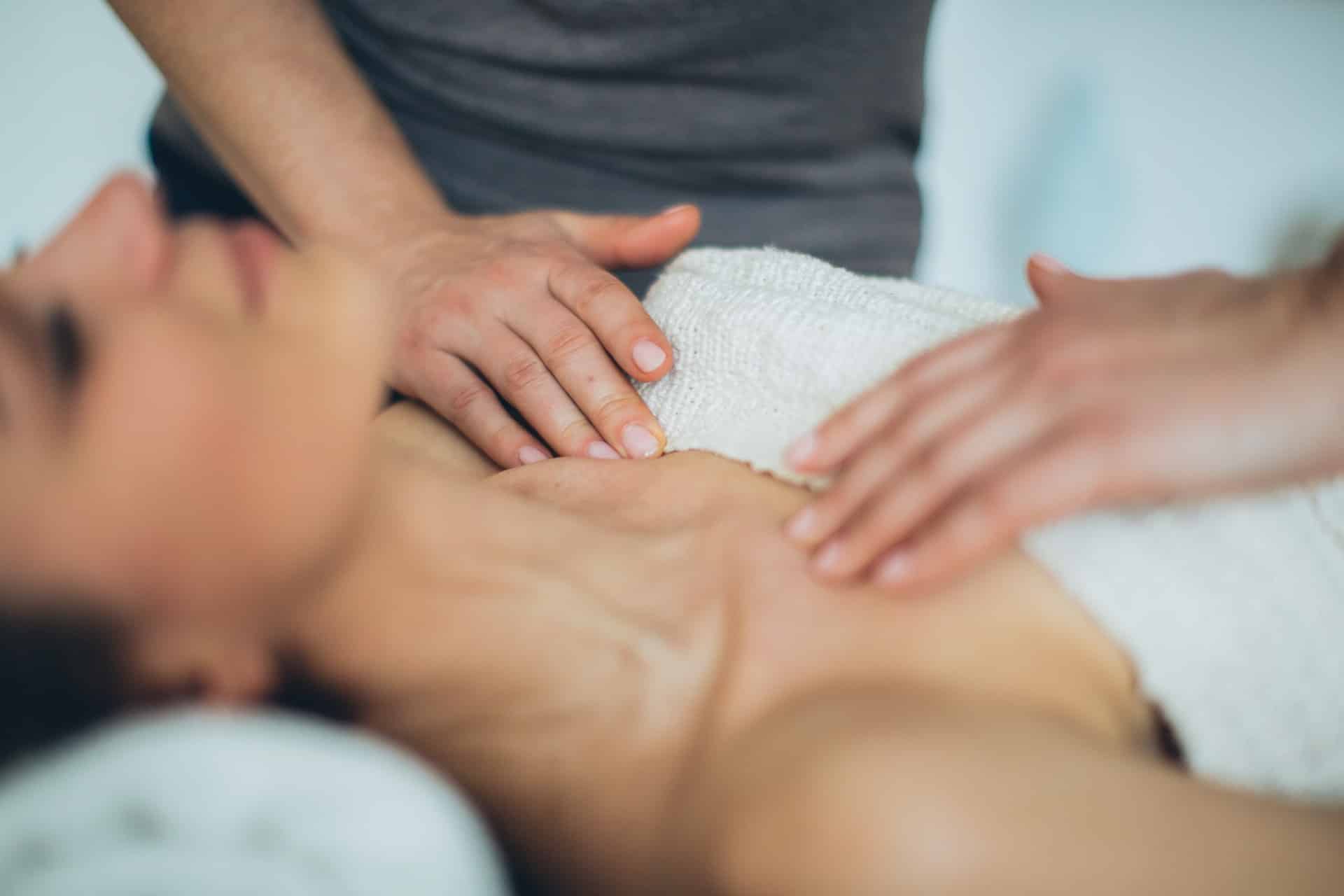 Petrissage
Place one hand on top of the other.
Use kneading motions to gently lift and squeeze the chest muscles.
Focus on areas of tension or discomfort.
Adjust the pressure based on your comfort level.
Use Cross-Fiber Friction To Massage Your Chest
Use your fingertips to apply light pressure on specific areas of discomfort.
Move your fingers in a zigzag or circular motion across the muscle fibers.
Avoid applying excessive pressure or causing pain.
Interlace your fingers behind your head.
Gently lean backward, allowing your chest to stretch and open.
You must hold the stretch for a few seconds, then release slowly.
Repeat this stretch a few times if comfortable.
Gradually reduce the pressure and intensity of your massage.
Allow yourself to relax and notice any changes in your chest sensations.
Everyone is different, and what works for one person may not work for another. Adjust the techniques based on your comfort level and specific instructions from your healthcare provider. If your chest pain persists or worsens, seeking medical advice for a proper diagnosis and appropriate treatment is essential.
Exploring the Benefits of Sternum Massage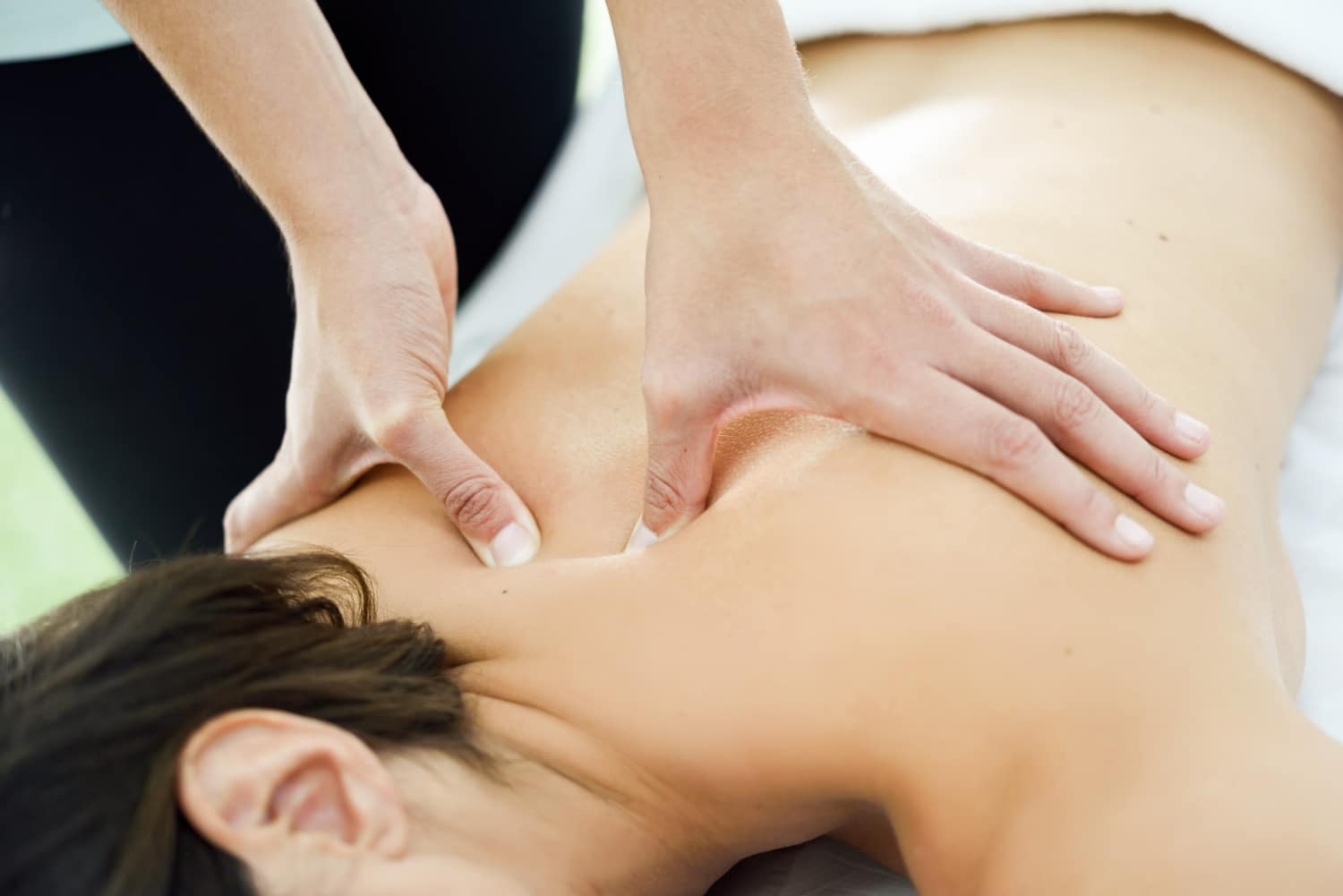 Massaging the sternum is the central bone in the front of the chest. It will  provide several potential benefits
It helps you to relax the chest muscles, including the pectorals.
Alleviates tension and reduces muscle tightness.
It promotes better blood flow to the chest region.
Massaging your chest helps you to enhance the delivery of oxygen and nutrients to the muscles
With this massage, you can reduce stress and induces a sense of well-being.
Beneficial for individuals with musculoskeletal conditions or chest-related injuries.
It enhances breathing mechanics and supports respiratory function.
Cross-Fiber Friction- A Technique To Massage Your Chest For Pain
It is a massage technique for applying acupressure for chest pain. You can use it to target specific areas of muscle tension or discomfort.
Here's how it works:
It addresses specific muscle tension or discomfort areas, such as knots or tightness.
Apply moderate pressure with your fingertips, thumbs, or pads of your fingers and move in a cross-fiber or zigzag pattern.
Experiment with pressure and speed, considering comfort and individual response.
Also, pay attention to feedback and adjust accordingly to avoid excessive pain or discomfort.
Moreover, perform cross-fiber friction for a few minutes on each problem area, gradually working around the affected region.
Post-Treatment Care After Chest Massage
Apply ice or a cold pack to reduce inflammation, and consider stretching for further relaxation and recovery.
Benefits And Caution
Cross-Fiber Friction helps break up muscle adhesions, release tension, and promote circulation in the targeted area.
However, avoid excessive pressure or causing pain.
Consult a healthcare professional or licensed massage therapist for concerns or underlying health conditions.
Acupressure Points To Massage Your Chest For Pain And Tightness Relief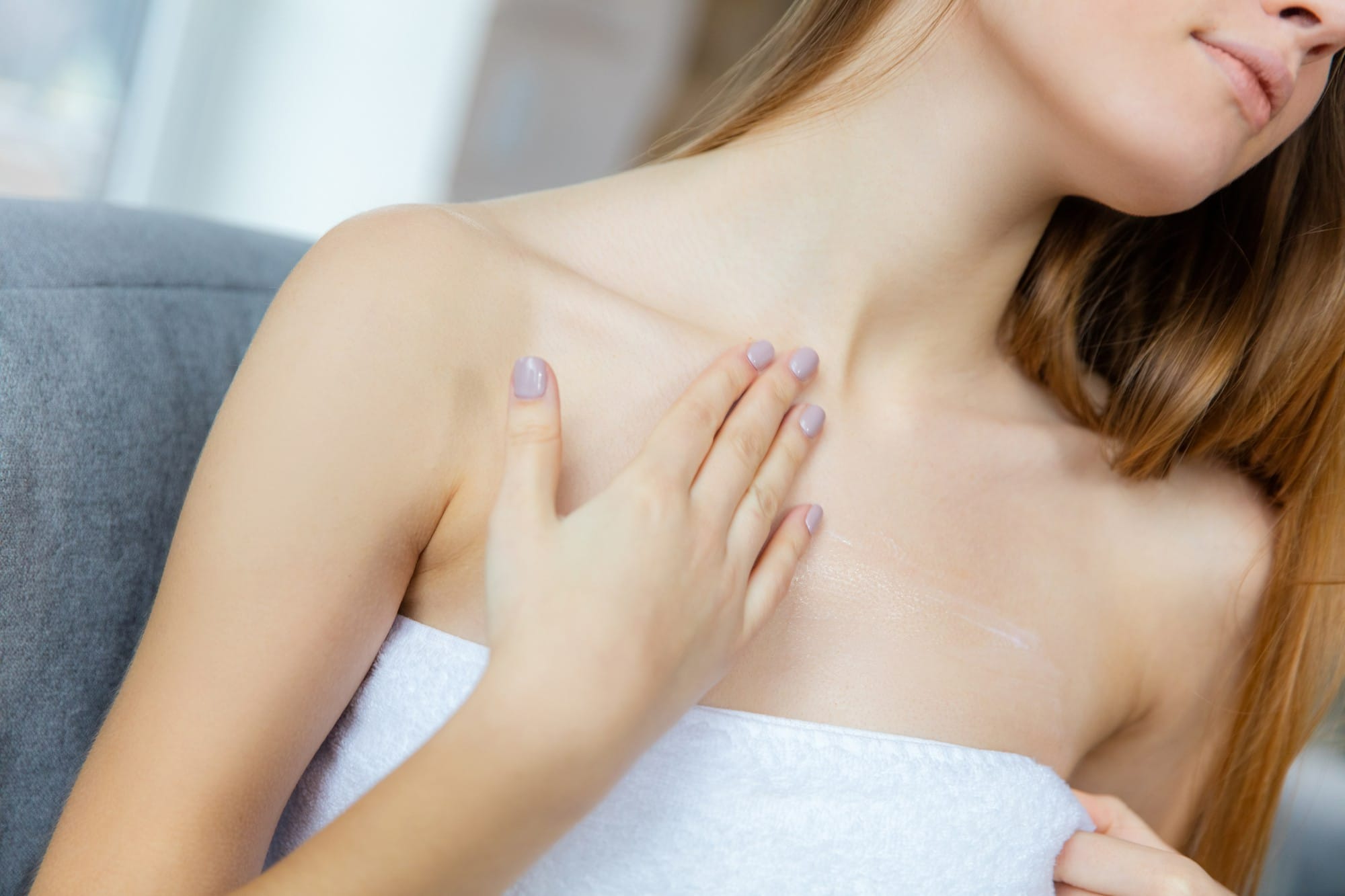 Acupressure involves applying pressure to specific points on the body to promote relaxation, alleviate pain, and address various symptoms. However, it can provide temporary relief only. It's essential to consult with a healthcare professional for proper diagnosis and treatment of chest tightness, as it can have various underlying causes.
Here are a few acupressure points that may help with chest tightness:
Central Vessel (CV) 17
Located at the center of the sternum, between the nipples.
Apply firm but gentle pressure with your fingertips for 1-2 minutes while taking slow, deep breaths.
You can use two finger widths above the wrist crease between the inner forearm tendons.
Apply moderate pressure with your thumb or index finger for 1-2 minutes on both wrists.
Lung (LU) 1
It is situated on the thumb side of the chest, about 1 inch below the collarbone, in a slight depression.
Apply gentle pressure with your thumb for 1-2 minutes on both sides.
It is on the midline of the forearm, about 2 finger-widths above the wrist crease.
Apply firm but gentle pressure with your thumb for 1-2 minutes on both arms.
Remember, chest pain is relieved by massage with care and sensitivity. If you experience any pain or discomfort during the application of pressure, it's best to discontinue and consult a qualified acupressure practitioner or healthcare professional for guidance.
In conclusion, massaging the chest can be a beneficial practice for relieving muscle tension and discomfort. Techniques such as effleurage, compression, petrissage, cross-fiber friction, and stretching can relieve chest pain. However, it's important to remember that chest pain can be a symptom of various underlying conditions, some of which may require medical attention. If you have severe or persistent chest pain, seeking professional medical advice is crucial.