If you want to know Is it good to massage your stomach? Yes! Massaging your stomach can have potential benefits such as promoting relaxation, relieving bloating and gas, and potentially alleviating gastrointestinal discomfort. However, it's crucial to approach stomach massage with caution and consult with a qualified healthcare professional. 
A stomach massage is a therapeutic practice of manipulating the abdominal area using various techniques to promote relaxation and improve digestive health. It involves applying gentle pressure, strokes, kneading, or circular motions on the abdomen. A stomach massage supports overall well-being by targeting the abdominal region, potentially enhancing digestion and promoting relaxation.
Is It Good To Massage Your Stomach? – Benefits of Massaging Stomach
Massaging the stomach can provide several potential benefits for your overall well-being. Let's explore these benefits in more detail:
When you receive a stomach massage, gentle pressure, and soothing motions can help reduce the stress and tension in the abdominal muscles.

Stomach massage stimulates the digestive organs, including the stomach, liver, and intestines. Applying pressure and gentle movements can enhance these organs' activity, improving digestion and the breakdown of food.
A stomach massage can be beneficial if you often experience bloating or excessive gas. The massage techniques can help alleviate abdominal discomfort by stimulating the release of trapped gas and improving overall digestion.
Stomach massage may alleviate certain gastrointestinal discomforts such as indigestion or constipation. The kneading and gentle movements can help promote bowel movements, relieve constipation, and ease any stomach-related pain you may be experiencing.
It will improve your blood circulation in the abdominal area. This enhanced circulation can increase the delivery of oxygen and nutrients to the organs, supporting their optimal functioning and overall health.
The soothing stomach massage can have a positive impact on stress levels. Reducing stress benefits digestion, as stress can negatively affect the digestive system. The relaxation induced by the massage helps create a favorable environment for healthy digestion.
It will foster a deeper connection between your mind and body. Moreover, it encourages you to become more aware of your digestive system and promotes a sense of harmony within your body as you focus on this essential aspect of your well-being.
Abdominal Massage Techniques That Are Good For Stomach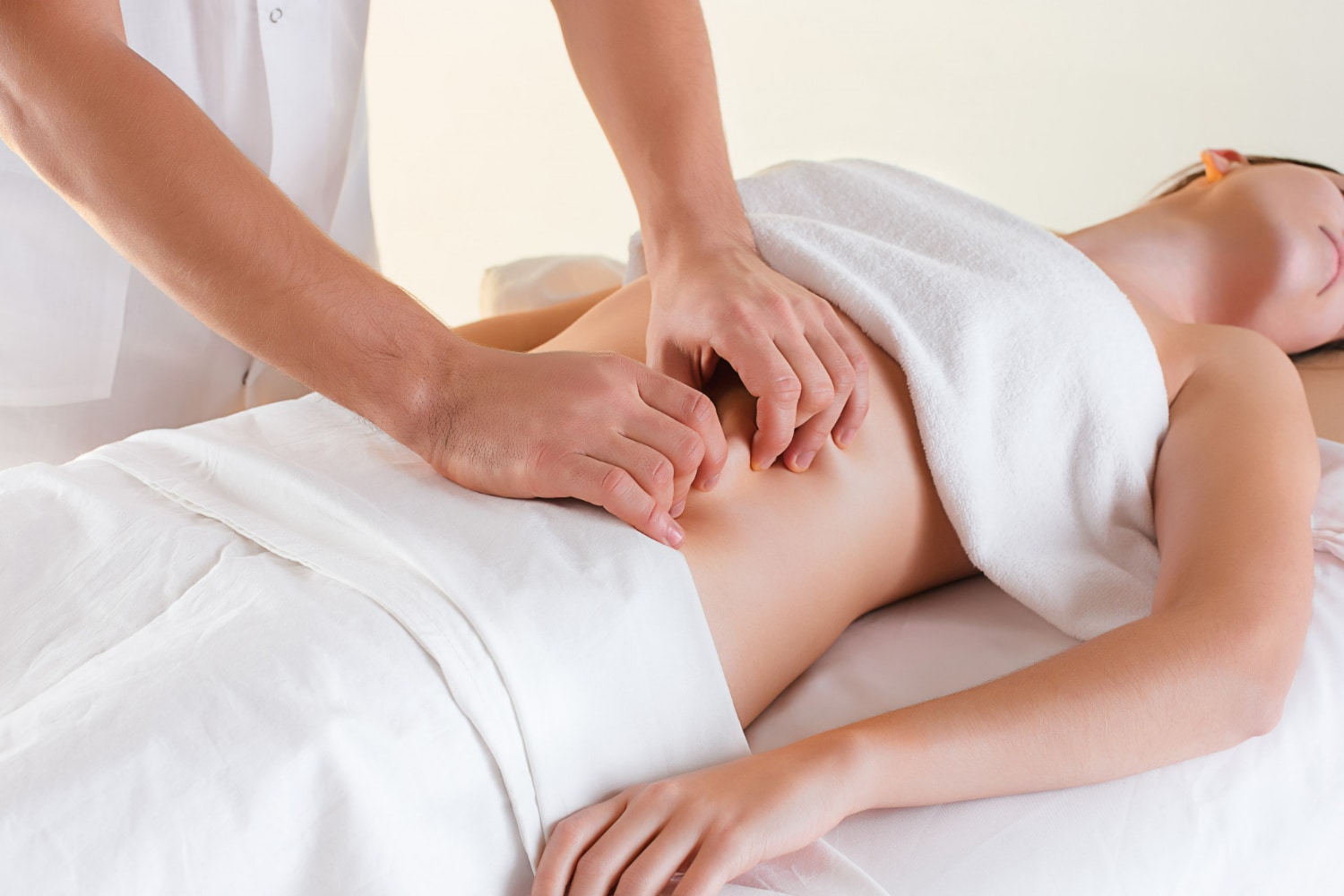 When performing an abdominal massage, there are several techniques you can use to promote relaxation and potential benefits. 
Here are some standard abdominal massage techniques
Effleurage

involves using gentle, gliding strokes over the abdomen in a smooth movements. It helps warm the area, relax the muscles, and promote blood circulation.

Petrissage

 involves kneading and lifting the abdominal tissues using gentle pressure. It helps you stimulate digestion, relieve tension, and improve the flow of fluids in the area.

Circular Massage is u

sing circular motions with your hands, gently massaging the abdomen clockwise. This technique can aid digestion, relieve gas and bloating, and promote peristaltic movement in the intestines.

Deep Frictions can help release knots or trigger points in the abdominal muscles. W

ith your fingertips or knuckles, apply deeper pressure and perform circular or cross-fiber motions over specific areas of tension or discomfort.
Lymphatic Drainage can aid in detoxification, reduce swelling, and support immune function. It uses light, rhythmic strokes to stimulate lymphatic flow and drainage in the abdominal area.

Rocking Motion can provide a soothing effect, promote relaxation, and release tension in the abdominal muscles.

Place your hands on either side of the abdomen and gently rock from side to side.
Chinese Abdominal Massage promotes Energy Flow and Balance in the Abdominal Region
Chinese Abdominal Massage "Promoting Energy Flow and Balance in the Abdominal Region"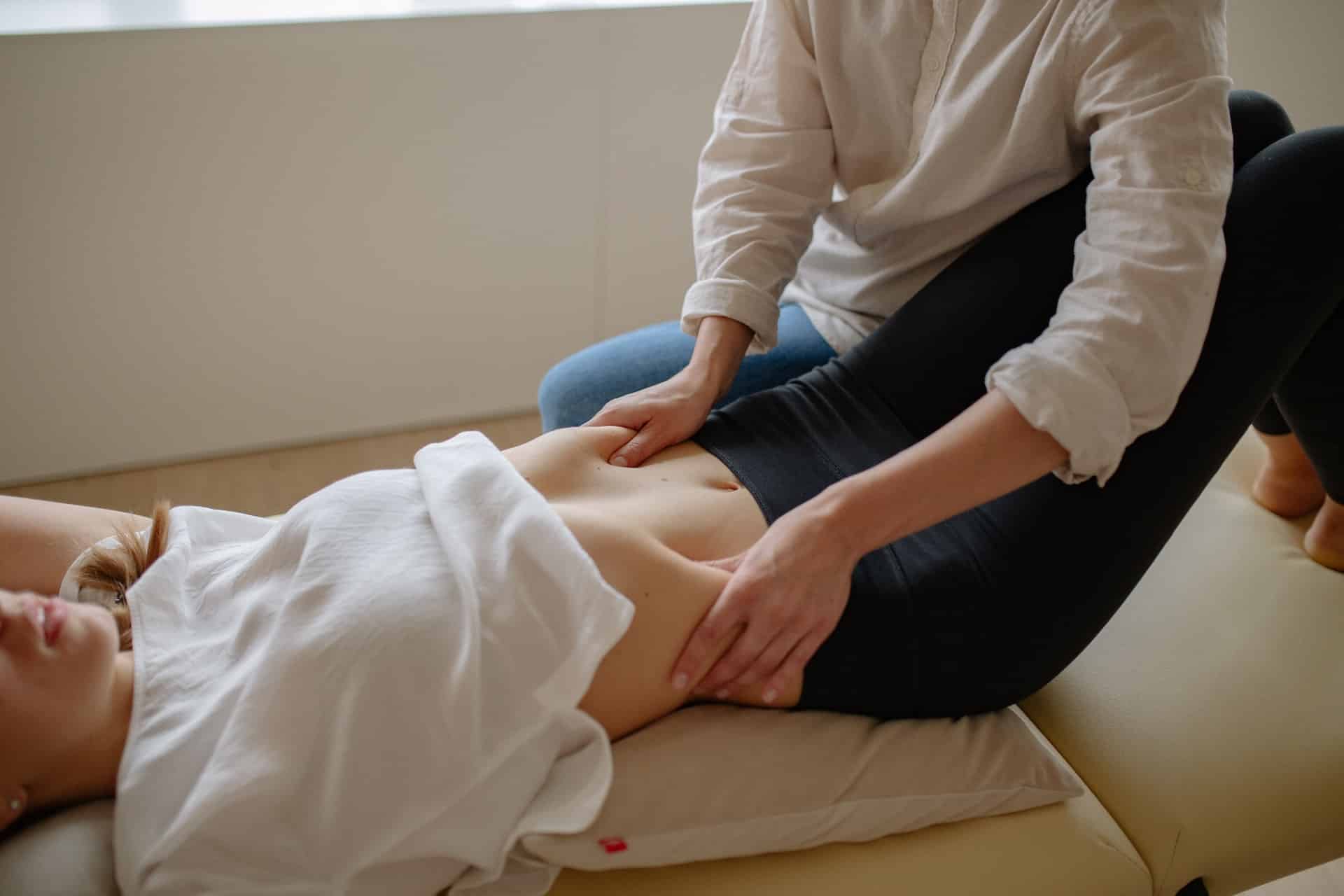 Chinese Abdominal Massage, or Chi Nei Tsang, is a specific technique rooted in traditional Chinese medicine. It focuses on the abdominal area and aims to promote the flow of energy, release blockages, and restore balance in the body. 
Here are some critical points about Chinese Abdominal Massage:
Technique
Chi Nei Tsang involves a combination of gentle touch, deep pressure, and circular movements on the abdomen. The practitioner applies techniques to stimulate the abdomen's organs, muscles, and energy pathways.
Benefits
This massage technique helps you to improve digestion, relieve abdominal discomfort, and promote overall organ health. It addresses issues such as bloating, constipation, menstrual pain, and emotional tension in the abdominal area.
Energy Healing
Chinese Abdominal Massage incorporates the principles of energy healing and focuses on balancing the flow of Qi (life force energy) in the abdominal region. It aims to remove stagnant energy, harmonize the internal organs, and promote vitality.
Emotional Release
The abdomen is considered an area where emotions can be stored. Chinese Abdominal Massage may facilitate the release of emotional tension and promote emotional well-being by working on specific points and areas related to emotions.
Training and Certification 
This massage is a specialized technique that requires proper training and certification. Practitioners who offer this massage have undergone specific training in the methods and principles of Chi Nei Tsang.
Lymphatic Massage for Stomach Bloating "Promoting Drainage and Alleviating Discomfort"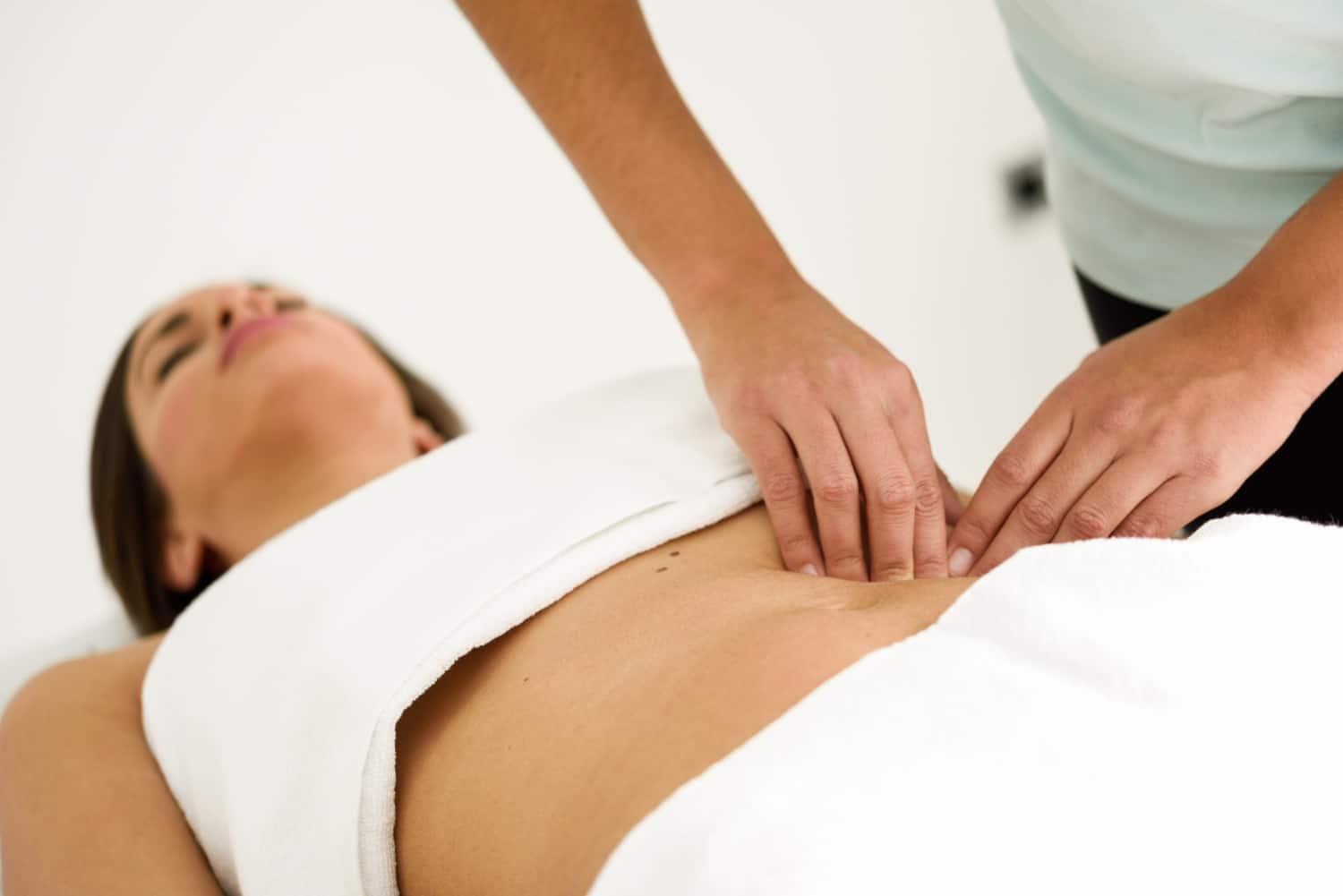 This gentle and specific massage technique targets the lymphatic system. which plays a crucial role in maintaining fluid balance, immune function, and waste removal in the body. When it comes to stomach bloating, lymphatic massage can be beneficial in several ways. It helps in
Promoting Lymphatic Flow

Reducing Fluid Retention

Alleviating Abdominal Discomfort

Supporting Digestion
It's important to note that a trained and experienced massage therapist who is familiar with lymphatic drainage techniques should perform lymphatic massage for stomach bloating. They can tailor the massage to your specific needs, considering any underlying health conditions you may have.
A stomach massage can offer various benefits for your well-being. It can promote relaxation, aid digestion, relieve bloating and gas, and alleviate gastrointestinal discomforts. However, it is vital to approach stomach massage cautiously and consider individual factors such as health conditions and personal sensitivities. Trained massage therapists can provide personalized advice based on your health history and guide you accordingly. By seeking professional guidance, you can ensure the safety and effectiveness of the stomach massage and address any concerns or underlying health conditions that may affect its suitability for you.