Acne is one the most common skin problems all around the world, affecting both women and men. Well, over the centuries, some techniques might hold the key to protecting skin from acne. Using Gua Sha is one of the ancient techniques to help with skin but can you use Gua Sha on acne and breakouts?
Gua Sha with its interesting techniques, is truly the game-changer you've been searching for when it comes to acne-prone skin. Gua Sha is a mesmerizing exercise that combines ancient wisdom with modern skincare.  While typically known for its ability to promote relaxation and soothe muscle tension. Now Gua Sha is making waves as a potential remedy for acne. Get ready to uncover the secrets of Gua sha.
Does Gua Sha Help With Acne?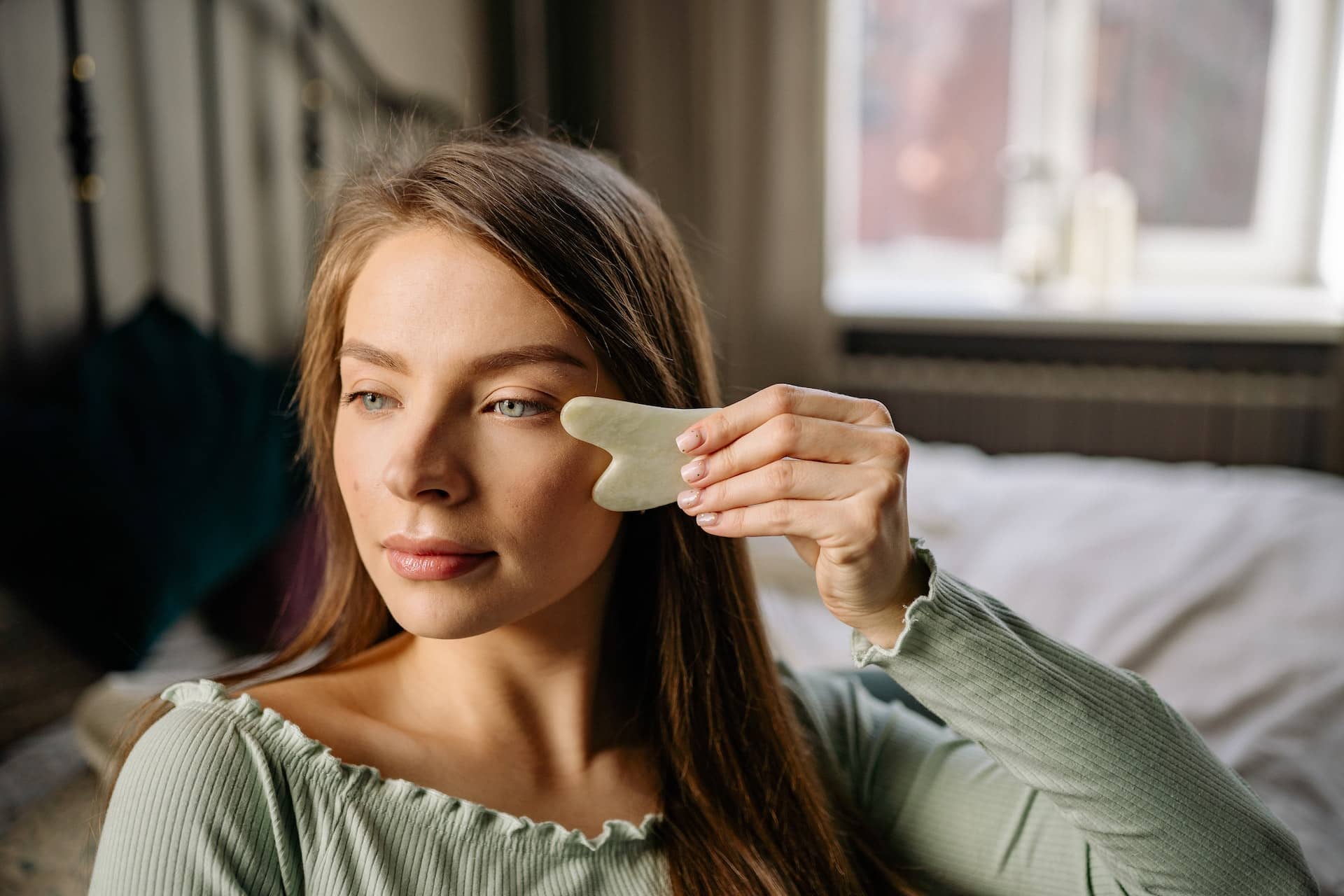 Nowadays, Gua Sha is gaining attention as the best treatment for acne-prone skin. Traditionally it was only used to promote circulation and relieve muscle tension. It involves gently scraping a smooth-edged tool over the skin. This smooth tool stimulates blood flow and lymphatic drainage.
Although there, we found limited research specifically focusing on Gua Sha's effects on acne. But keeping in view the other factors, this ancient practice is believed to be beneficial for managing acne. Here is what it can do to your skin.
Gua-Sha Increases Blood Circulation
Gua Sha's scraping motion enhances blood circulation in the treated area. The improved blood flow delivers oxygen and nutrients to the skin that relieve the skin. The healing and rejuvenation process unlocks the oil blockages in the skin that is the main cause of acne.
The toxins and fluids in the skin contribute to inflammation that direct triggers acne. Gua Sha's gentle scraping action potentially stimulates the lymphatic system. It removes toxins and reduces fluid buildup that contributes to inflammation and acne.
It Helps With Reduction In Inflammation
Scraping in Gua Sha also has an anti-inflammatory effect on the skin. This is the best technique if you have issues like redness, swelling, itching, and irritation associated with acne breakouts.
Gua-Sha Promotes Relaxation And Stress Relief
Gua Sha is known for its relaxing properties during massage. It promotes a sense of well-being and reduces stress. Since stress can worsen acne, Gua Sha's relaxation benefits may indirectly improve acne symptoms.
How To Use Gua Sha For Acne?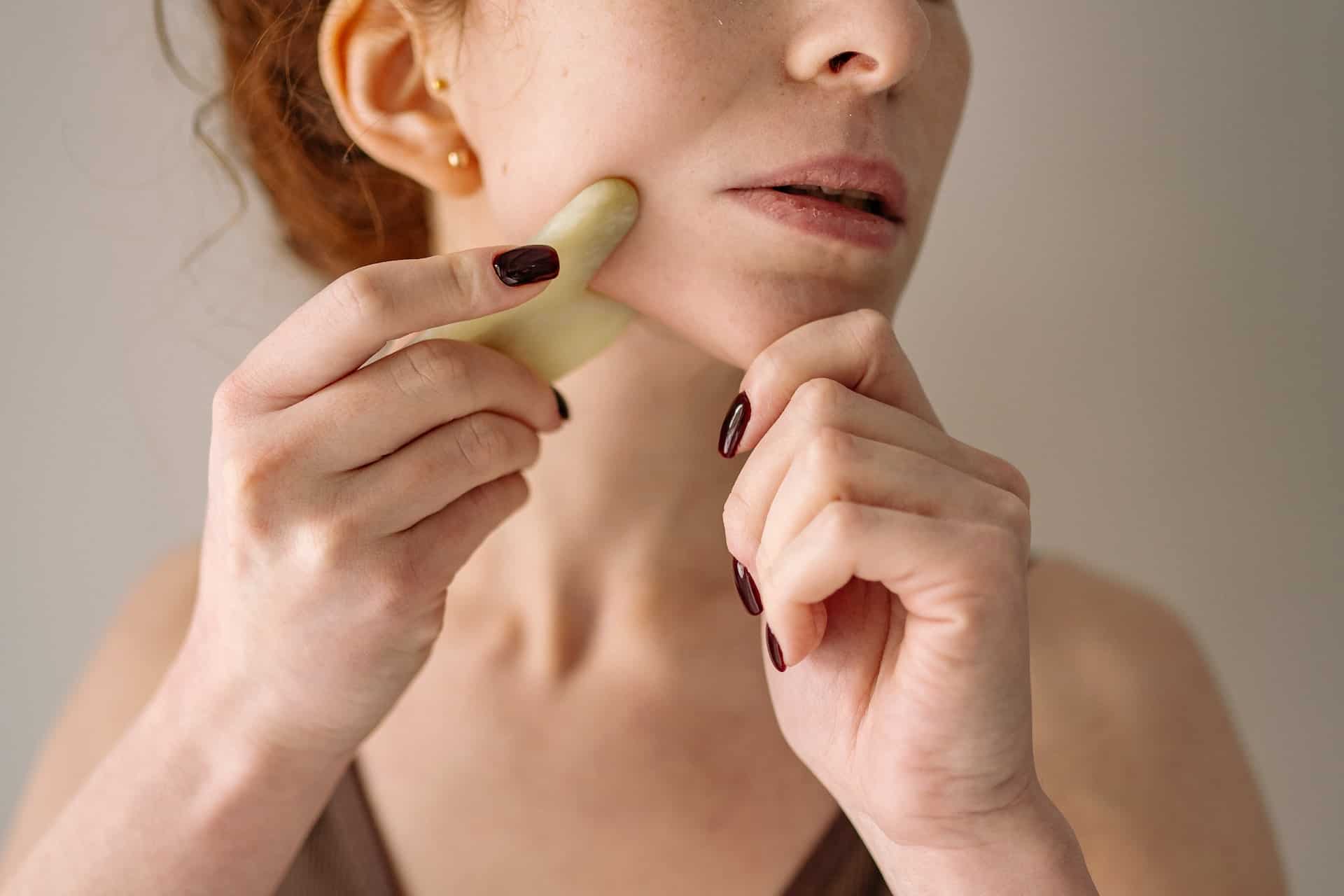 When using Gua Sha for acne, follow these general steps:
Start cleansing your face to remove dirt, oil, or makeup. You can use a gentle cleanser suitable for your skin type and rinse thoroughly.
After that, apply a thin layer of facial oil or serum to provide lubrication for the Gua Sha tool and to enhance its glide over the skin. Choose an oil or serum that is best for blackheads and open pores and is also suitable for your skin.
Choose a Gua Sha tool made from a smooth, non-porous material such as jade, rose quartz, or stainless steel. Ensure the edges are well-polished to avoid scratching or irritating the skin.
Begin by applying gentle pressure with the tool on a small area of your face, such as the jawline or cheek. Use slow and light strokes, always moving upward and outwardly. Avoid applying excessive pressure or dragging the tool forcefully across the skin.
Pay attention to areas with acne or congestion. Gently glide the tool over these areas, focusing on promoting circulation and lymphatic drainage. Be mindful not to directly scrape or press on active breakouts to avoid further irritation.
Repeat the gentle scraping motions for 5-10 strokes on each targeted area. Adjust the pressure and speed according to your comfort level, ensuring it feels soothing and not painful.
Once you've completed the Gua Sha session, cleanse your face again to remove any excess oil or residue. Follow up with a suitable moisturizer to hydrate and nourish the skin.
Consistency is key when using Gua Sha for acne. Start 2-3 times a week and gradually increase if well-tolerated. Monitor how your skin responds and adjust the frequency accordingly.
 Considerations and Precautions
Above all Gua Sha is helpful for acne in most cases, but this is not the specific treatment to cure acne. So when considering the use of Gua Sha for acne, keep the following considerations and precautions in mind:
First, before doing this Gua Sha into your acne treatment routine, consult a dermatologist or skin care professional. They will provide you with personalized advice based on your specific skin type and condition. Healthcare can assist you in determining if Gua Sha is suitable for you.
Individuals with sensitive or reactive skin should avoid these using Gua Sha tools or applying oils during the treatment. It can activate acne. Before using new products, Perform a patch test to check for potential allergic reactions or skin irritation
To ensure the safe and effective application of Gua Sha, learning and following proper techniques is essential. Using high-quality Gua Sha tools made from safe materials for the skin is crucial to prevent skin damage.
Is Gua Sha Effective For Everyone?
No Gua sha is not effective for everyone. Its results or effectiveness for acne vary from person to person. While some individuals may experience improvements in their acne symptoms, others may not see the same results. Patience and consistency in practice are key when assessing the benefits of Gua Sha for acne.
What Are The Top 10 Causes Of Acne ?
Acne is usually associated with puberty but hormones are just one of the cause of acne. There are multiple factors that can contribute to its development. However, the causes of acne can vary from person to person
Acne may appear because of Instabilities in hormone levels. Particularly during teenage, menstruation and pregnancy can contribute to acne.
Hyperactive oil glands in the skin produce more sebum, leading to clogged pores and acne breakouts.
Propionibacterium acnes is a type of bacteria found on the skin. This bacteria multiplies acne and even triggers inflammation within blocked hair follicles.
When dead skin cells and dirt gather in the pores, it blocks the natural flow of oil, resulting in acne formation.
Acne development can be triggered by various factors, including bacteria, irritants, or the body's immune system.
A family history of acne can increase the very possibility of experiencing acne breakouts.
Certain medications, such as corticosteroids, androgenic hormones, or some anticonvulsants, may cause acne as a side effect.
High-stress levels can trigger hormonal imbalances and increase sebum production, leading to acne flare-ups.
Consuming a diet high in refined carbohydrates, sugary foods, and dairy products may boost acne in some individuals.
Using pore-clogging or irritating products that contribute to acne formation, especially if they are not suitable for one's skin type.
In conclusion, Gua Sha can be a helpful complementary treatment for acne. It offers potential benefits such as improved circulation and relaxation. However, it is important to note that Gua Sha is not a standalone solution for acne. It can be combined with other treatments for optimal results. Consulting with a healthcare professional is necessary.