The shape of our nails plays a crucial role in determining our hands' overall appearance and style. Just like choosing the right hairstyle to flatter our face shape, selecting an appropriate nail shape can enhance the beauty of our fingers and hands. Whether it's a simple and classic look or a bold and edgy statement, the shapes of the nail can significantly affect our manicures' outcome.
Today, our article will emphasize on the importance of nail shapes in creating an appealing nail appearance. Furthermore, we will also explore how each shape brings its unique charm. By understanding the characteristics of various nail shapes, you can make informed choices about the shape that best suits your hand and nail structure. Let's discover the artistry within the tips of our fingers.
Art of Different Nail Shapes
A well-chosen nail shape can complement the natural contours of our fingers, making them appear more elongated or balanced. It can also influence how nail polish and nail art designs appear on our nails. Different nail shapes convey various messages, reflecting our personality, style preferences, and mood.
Some of common nail shapes are
Round
Square
Oval
Almond
Stiletto
Each of these nail shapes offers a unique and distinct appearance. You can choose the one that best compliments your hand shape, style preferences, and personality. Moreover, you can further categorize all these shapes into two mains shapes Round and oval. Addressing these two shapes will be our main focus today.
Round Nails – Elegant And Chic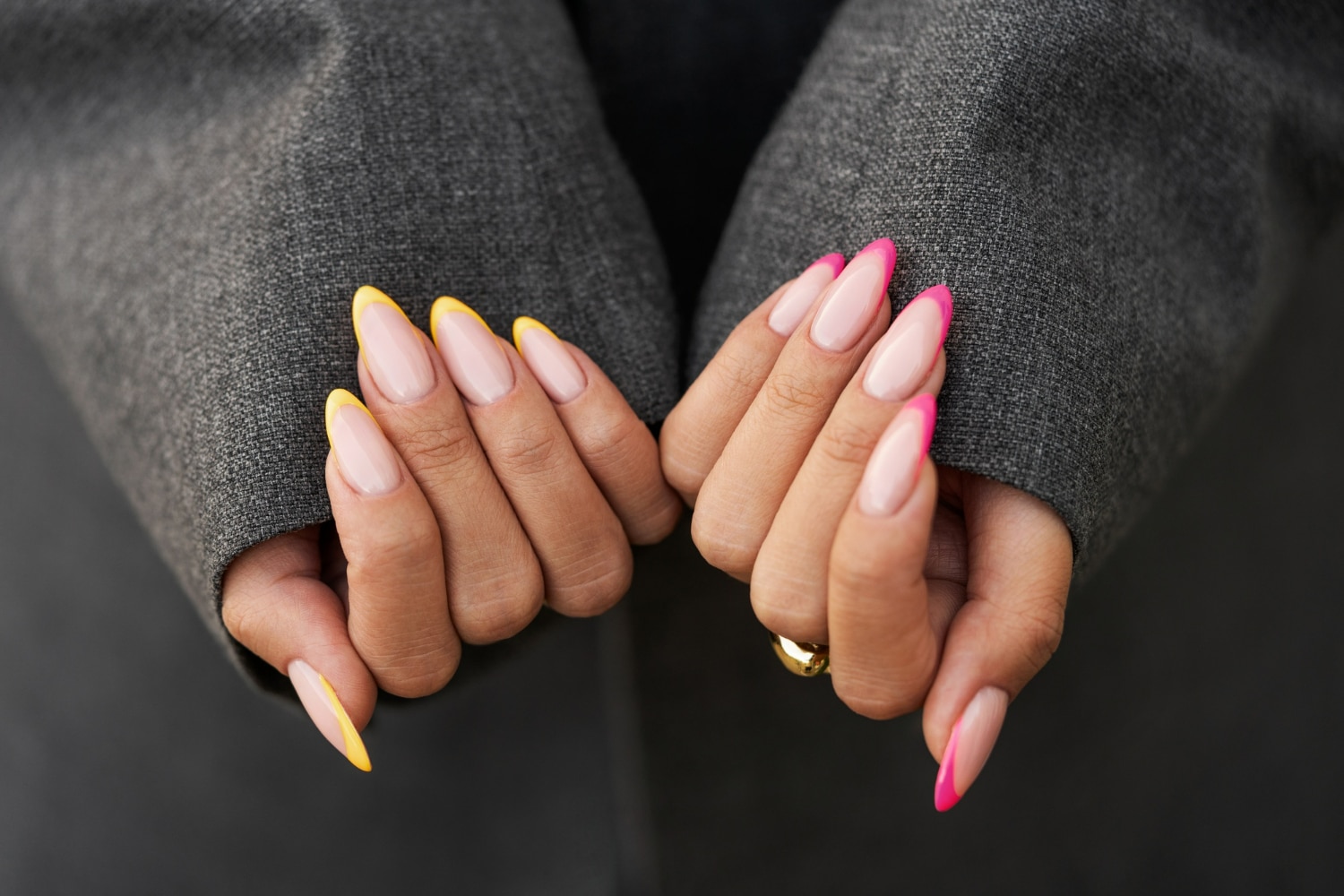 Round nails are a classic and timeless. They are popular choice for seeking a simple yet elegant look. The goal is to create a smooth and even round silhouette along the free edge without sharp corners or angles. Round nails offer a balanced and flattering look, making the fingers appear elongated and graceful.
Moreover, you can have a semi-circle or oval shape within the category of round nails. This nail shape is characterized by gentle curve along the free edge. This rounded contour gives the nails a soft and feminine appearance.
Benefits and Suitability For Different Round Nail Lengths
Round nails are particularly suitable for shorter nail lengths. The soft curve adds a touch of elegance to shorter nails, making them look well-groomed and sophisticated.
These nails also work well with medium-length nails, enhancing the natural shape of the fingertips and providing a graceful appearance.
On longer lengths, round nails add a touch of delicacy and refinement. They prevent the nails from looking too pointed or overwhelming, creating a harmonious and balanced look.
Popular Round Nail Designs
A timeless and versatile choice. Nude round nails create an understated and elegant look suitable for various occasions.
French Manicure with Round Nails
The classic French manicure with round nails enhances the softness of the round shape, creating a clean and polished appearance.
Embrace a sweet and feminine vibe with pastel-colored round nails, perfect for spring and summer.
Floral Nail Art on Round Nails
Add a touch of nature to your nails with delicate floral designs, creating a charming and graceful look.
Pearl Accents on Round Nails
Elevate your round nails with subtle pearl accents, adding a touch of sophistication and glamour.
Create a captivating look with a glitter gradient on round nails, capturing the light and creating a dazzling effect.
Lastly, Experiment with gradient color transitions, creating an ombré effect that adds dimension and style to your round nails.
Square Nails – Bold and Timeless Statements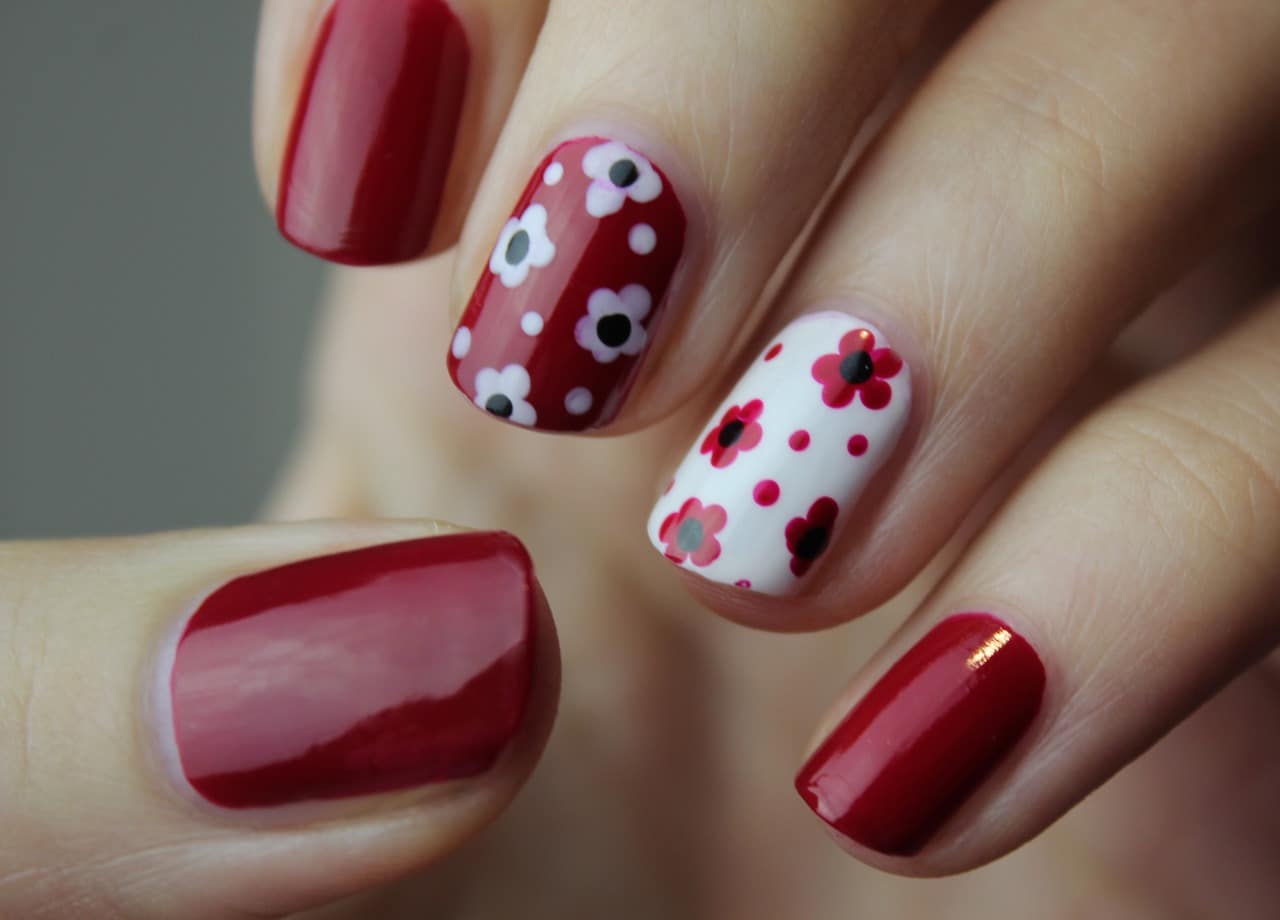 Square nails are a classic and versatile nail shape characterized by their straight, flat free edge and sharp corners, resembling a square or rectangular shape. This clean and polished nail shape offers a bold and sophisticated look, making square nails a popular choice among those who prefer a powerful appearance.
The sides of the nails are filed straight and perpendicular to the centerline of the nail, creating a flat and even surface. The nails are then finished with a sharp and straight free edge, giving them a square shape. Square nails offer a sleek and modern look that complements various fashion styles.
Advantages of Square Nails in Terms of Strength and Durability
Enhanced Strength
The straight edges of square nails provide strength and stability to the nails. Additionally, it reduces the likelihood of chipping or breakage, making square nails a practical choice for those with weaker nails.
Easy Maintenance
The flat and straight free edge of square nails makes them easier to maintain. That is why they are less prone to snagging on things, resulting in less damage to the nails.
Suitable for All Lengths
Moreover, square nails are ideal for short and long nail lengths. They create a well-groomed and professional look on short nails and add a touch of elegance to longer ones
Stylish Square Nail Art Ideas
Embrace the angular shape of square nails with geometric patterns, such as stripes, chevrons, or triangles, for a modern and edgy look.
Create a chic and minimalist design using two or more contrasting colors to paint different sections of your square nails.
Embrace the natural nail as part of the design by leaving certain areas of the nails unpainted, creating a stylish and trendy negative space effect.
Add a touch of glamour to your square nails with metallic nail polishes or foils, elevating your manicure to a dazzling level.
Experiment with marble nail art's elegant and sophisticated look on your square nails, combining different colors and swirl patterns.
Get creative with abstract designs, using bold brush strokes and various colors to achieve an artistic and unique look.
Finally, put a modern spin on the classic French manicure by incorporating different colors or patterns into the tips of your square nails.
In conclusion, nail shapes are a delightful playground of artistry and self-expression. Each nail shape holds its charm and elegance, catering to diverse tastes and fashion preferences. From the timeless grace of round nails to the boldness of square nails, there's a perfect fit for everyone. You can use nail shapes to enhance your overall appearance and complement your style. Whether you prefer a classic and sophisticated look or desire to make a striking statement, the shape of your nails can significantly define your flair.