Acrylic nails offer self-creativity and self-expression while providing a durable and elegant extension to natural nails. This process combines skill and imagination. Acrylic nail extensions allows you to transform your nails into a personalized work of art and also enhance your style and flair. But how to apply acrylic nails with ease and perfection?
Well, you must follow the process step by step to get an excellent final result. Right from preparing your workspace to sculpting and shaping the acrylic everything must be on point. In this guide, we'll walk you through the steps required to apply acrylic nails. It will help you create stunning nail enhancements reflecting your individuality.
How To Apply Acrylic Nails
Supplies And Tools Required For Acrylic Nails
Following supplies will help you create beautiful acrylic nails, whether you are a beginner or an experienced nail artist.
Acrylic Powder
Nail Tips or Forms
Nail Primer
Nail Glue
Acrylic Brush
Cuticle Pusher and Trimmer
Nail File and Buffer
Dappen Dish
Buffer Block
Nail Polish Remover
Clear Top Coat (Optional)
Decorative Elements (Optional)
Cuticle Oi
UV or LED Lamp (if using gel top coat
Step-by-Step Guide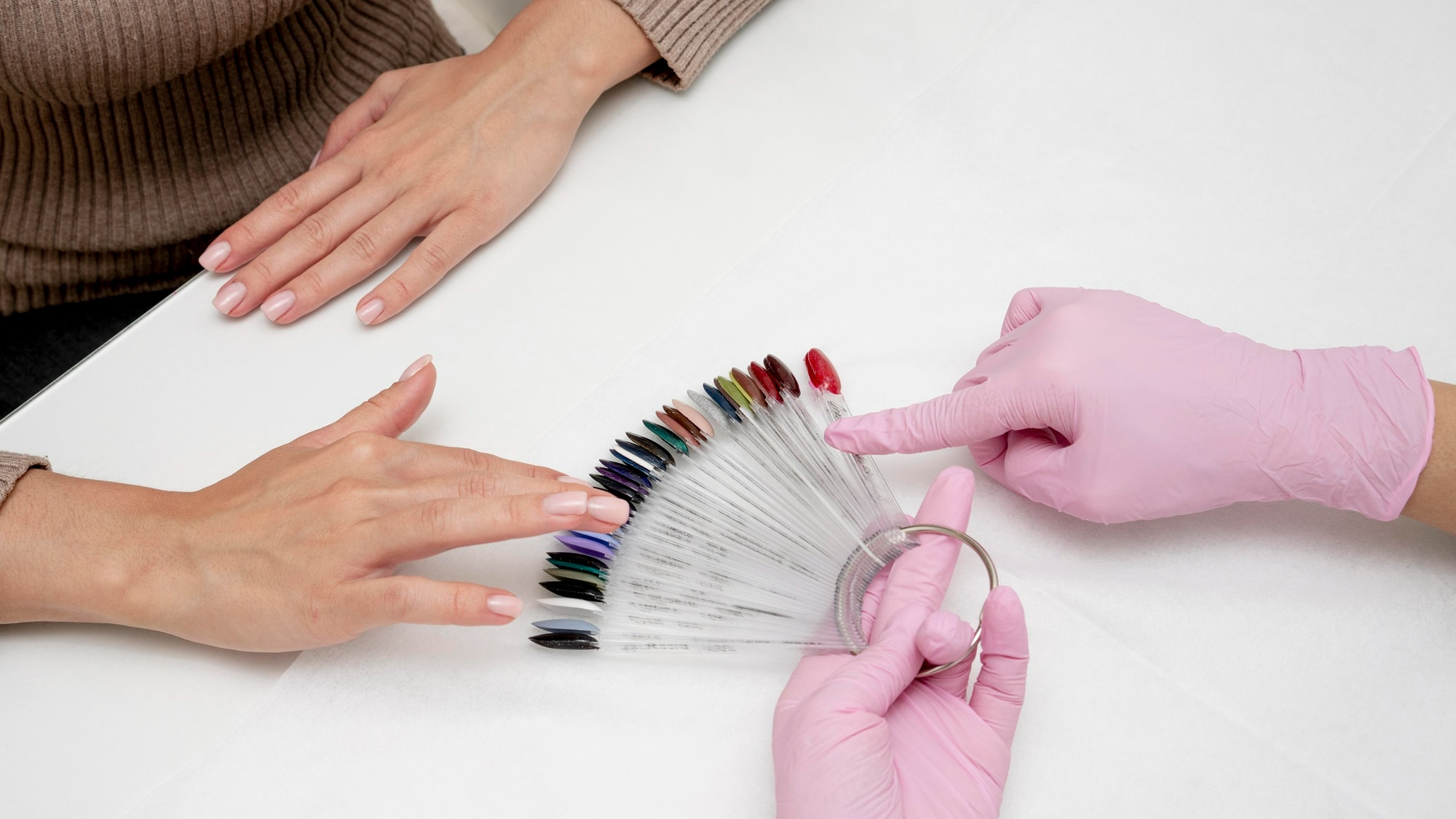 Ensure your natural nails are clean, trimmed, and shaped to your desired length.
Choose between nail tips or forms for extending your nails.
Apply nail tips using nail glue or attach forms under your natural nails.
Apply a thin layer of nail primer to your natural nails to enhance adhesion.
Take a small amount of liquid dime into a dapper dish.
Put the brush into the liquid and then the acrylic powder to create a bead of the acrylic mixture.
Applying Acrylic Nails
Place the acrylic bead on the nail tip or form near the cuticle area.
Use your brush to shape and spread the acrylic over the nail surface. Work quickly but deliberately.
Shape the acrylic with your brush to create the desired nail shape and thickness.
Repeat steps 4 and 5 for each nail, one at a time.
Filing and Smoothing
Once the acrylic has dried, use a nail file to shape and refine the nails' length and contour.
Smooth out any rough edges and ensure a balanced shape.
Gently buff the acrylic nails with a buffer to create a smooth surface and remove imperfections.
Apply nail polish or nail art to decorate your acrylic nails. Allow it to dry completely.
Apply a clear top coat to seal and protect the design (if applied) and provide extra shine.
Clean the nails and surrounding skin using a lint-free wipe or paper towel to remove dust or residue.
Apply cuticle oil to moisturize and nourish the cuticles and skin around the nails.
Design and Creativity On Acrylic Nails
Enhance the beauty of your acrylic nails by adding your personal touch with creative designs. Here's how:
Use Nail Polish And Nail Art
Choose a base color and apply it evenly on your acrylic nails.
Create simple designs by using contrasting nail polish colors or nail art pens.
Experiment with striping tape, nail stickers, or decals for quick and intricate designs.
Use nail art brushes to paint delicate details like flowers, lines, or dots.
Apply rhinestones, pearls, or gems for elegance and glamour.
Use tweezers and nail glue to secure them onto the nails.
Glitter Accents
Add a touch of sparkle by applying glitter to specific areas of your nails.
Mix glitter with clear nail polish to create a glittery top coat.
Use effect to create nails by blending two or more nail polish colors.
Use a sponge to dab the colors onto the nails for a smooth transition.
Nail Art Techniques
Use nail stamping plates and polish to transfer intricate patterns onto your nails.
Express your artistic side by painting abstract shapes, lines, or patterns.
Apply a matte top coat to give your design a soft, velvety finish.
Leave certain areas of your nails unpainted for a unique and modern look.
Paint delicate flowers or leaves on your nails for a romantic and feminine touch.
Create a marbled effect by dropping nail polish into the water and swirling it before dipping your nails.
Let your creativity shine, and experiment with different techniques and styles to achieve stunning and personalized nail art. Your acrylic nails become a canvas for your imagination. Remember, practice will refine your skills, so don't hesitate to try new ideas and designs.
Acrylic Nail Tips Sizing Techniques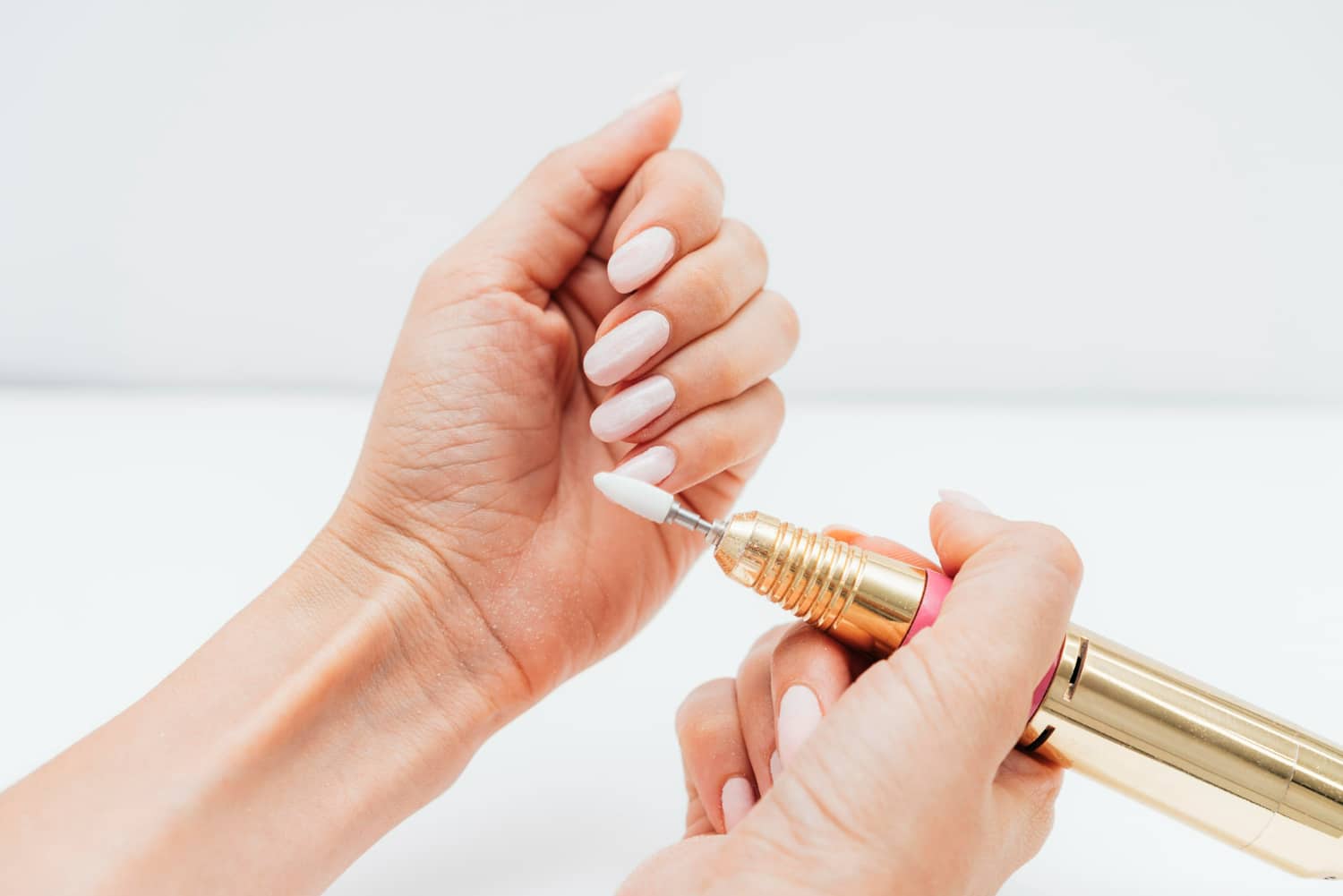 Ensure your natural nails are clean, trimmed, and shaped to your desired length.
Nail tip sets usually come in sizes from 0 to 9 or 1 to 10. These numbers represent the width of the nail tips.
Compare the widths of the nail tips to the width of your natural nails. The nail tip that matches the width of your natural nail should fit snugly without overlapping the skin on the sides.
Your natural nails may have different widths, so selecting the appropriate nail tip size for each finger is crucial.
Trimming Acrylic Nail Tips
If the chosen nail tip is slightly wider than your natural nail, you can carefully trim the sides of the nail tip to ensure a proper fit. Use nail clippers to do this.
Apply a small amount of acrylic nail glue on the back of the tip and gently press it onto your natural nail, aligning it with the cuticle area.
Remember that each person's nails are unique in size and shape, so measuring and selecting the right nail tip size for each finger is essential. A proper fit ensures that acrylic nail extensions look natural and comfortable. If in doubt, you can always trim the nail tips to match your natural nails' width.
Applying acrylic nails opens up a world of possibilities for expressing individuality and creativity. From meticulous preparation to optional design elements, each step contributes to creating beautiful and personalized acrylic nails. As you apply acrylic nails, remember that practice and patience are your allies. Perfecting your technique takes time, but seeing your unique designs come to life is gratifying. Whether you opt for a classic look or push the boundaries with daring designs, your acrylic nails will be a testament to your artistry.