Bath bombs give a magical bathing experience. A bath bomb dissolves in water, releasing a mixture of fragrances, colors, oils, and other beneficial ingredients. However, amid their widespread allure and use, a pertinent question looms: Are bath bombs as friendly to our hair as they are to our senses? Or is bath bomb hair friendly at all? Well, the answer is "May be No".
This inquiry stems from concerns about the potential impact of bath bomb ingredients on hair health. Considering their alkaline nature and the broader effects they might have on hair pH balance, moisture retention, and overall vitality. In the following exploration, we will dissect the components of bath bombs. let's delve into their possible effects on different hair types, and offer insights into ensuring a harmonious coexistence between bath bomb indulgence and hair well-being.
Unveiling the Elements of Bath Bomb
Imagine those captivating bath bombs – those little spheres of aromatic pleasure you drop into your bathwater, turning it into a colorful, fragrant oasis. Have you ever wondered what's inside that creates such a delightful experience? Well, it turns out that bath bombs have a carefully crafted recipe, combining different elements to give you that fizzy and fragrant spectacle in the tub.
Baking Soda: The Magic Catalyst
Think of baking soda as the magic ingredient that sets everything in motion. It's responsible for that effervescent reaction that makes the bath bomb fizz and bubble. Interestingly, its alkaline nature interacts with other components, affecting both the bathwater and potentially your hair.

Meet the fizz creator – citric acid, the ingredient that makes the bath bomb bubble up. A chemical reaction happens when it meets baking soda, releasing those delightful bubbles. This reaction might have more effects than just bubbles – it could interact with your hair in ways you'd want to explore.
Essential oils are the secret behind those captivating scents that waft from the bath bomb. They're derived from plants and add that wonderful fragrance to your bathing experience.
Colorants and Botanicals: Visual Appeal
Bath bombs often come in vibrant colors, including dried petals or herbs. These are responsible for the visual spectacle that unfolds as the bomb dissolves. Remember that what's visually pleasing may only sometimes be hair-friendly, so there's more to explore here too.
Is Bath Bomb Hair Friendly?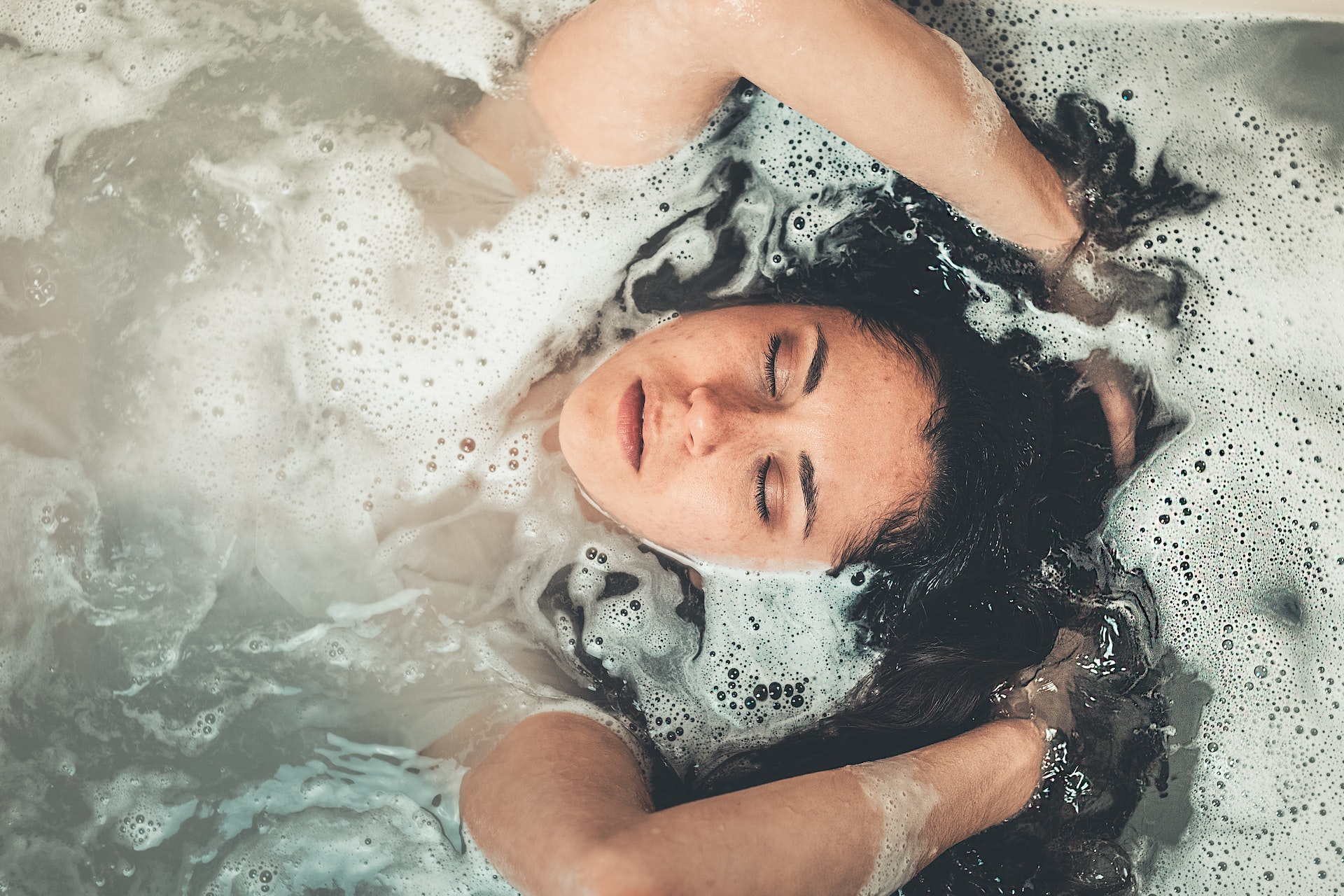 May be not!
The allure of bath bombs extends beyond their visual and aromatic charm to the potential effects they might have on your hair. However, the answer to whether bath bombs suit your hair is complex, as it depends on various factors. Let's explore the potential benefits and concerns to help you navigate this bubbly territory.
Potential Benefits
Aromatherapy
Moisture Infusion
Indirect Hair Relaxation
Considerations and Concerns
pH Balance: The alkaline nature of bath bomb ingredients can disrupt your hair's natural pH balance, leading to potential dryness and damage.
Irritation: Essential oils can cause irritation or sensitivity in your hair.
Colorants: Colorants in bath bombs can stain hair, particularly light-colored hair, resulting in unintended color changes.
Hair Type: Different hair types react differently to external factors, so what works for one might not suit another.
Precautions to Take
Tie Your Hair Up: Keeping your hair secured can prevent it from directly contacting bath bomb ingredients.
Rinse Thoroughly: After the bath, rinse your hair thoroughly to remove any residue from the bath bomb.
Spot Testing: If unsure how your hair will react, consider a spot test before immersing your entire head.
Are Bath Bombs Bad for Your Skin?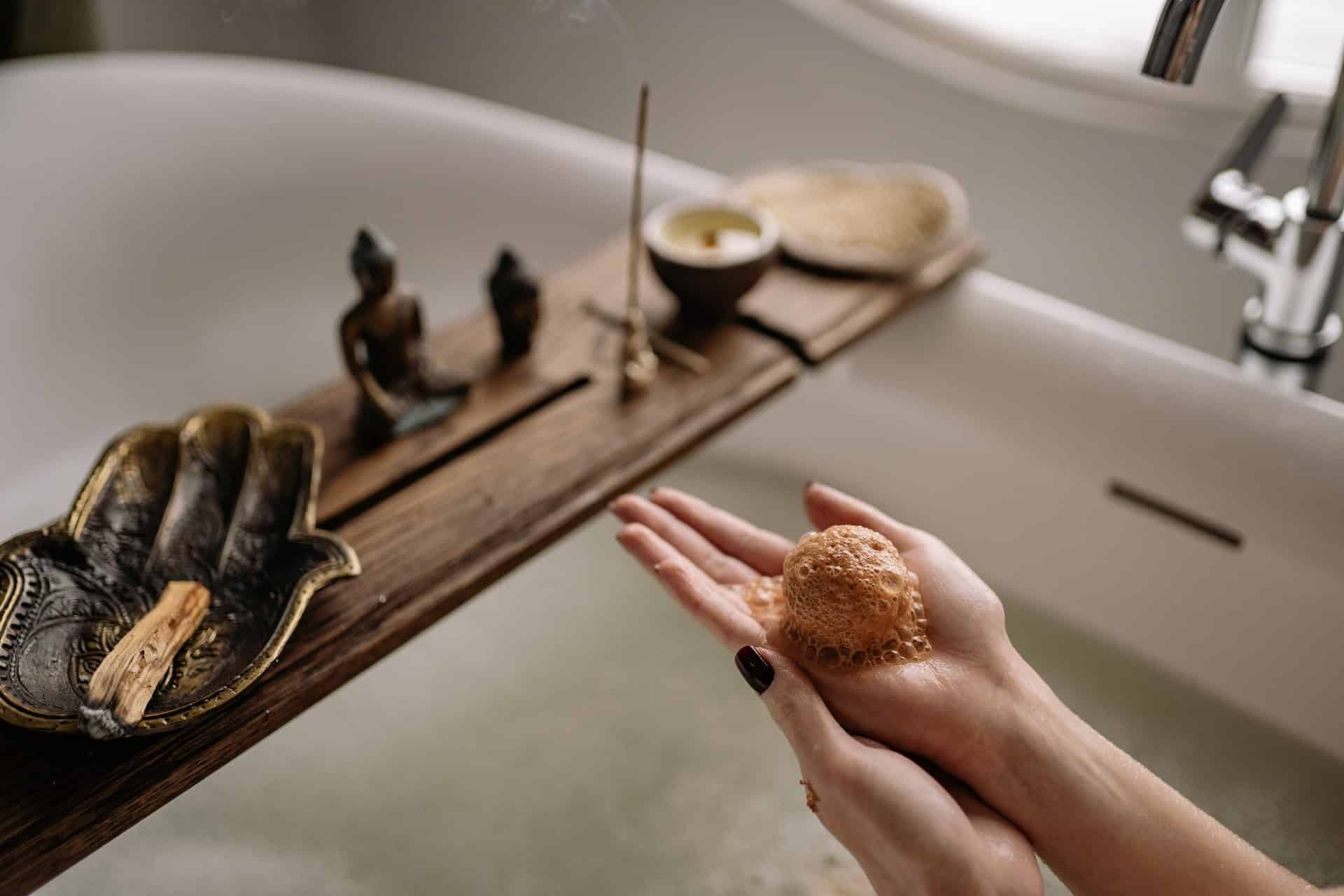 Bath bombs, with their captivating colors and delightful fizz, can transform your bath into a sensory oasis. However, their effects on your skin can vary depending on your skin type, sensitivities, and the ingredients used in the bath bomb. Let's explore the potential pros and cons of using bath bombs on your skin.
Potential Benefits
Aromatherapy: Essential oils in bath bombs can offer aromatherapeutic benefits, promoting relaxation and easing stress.
Moisture Enhancement: Bath bombs containing oils that can temporarily boost your skin's moisture, leaving it feeling softer.
Visual and Sensory Pleasure: The vibrant colors and fizzing action of bath bombs can make your bathing experience visually appealing.
Considerations and Concerns
Irritation and Sensitivity: Some bath bomb ingredients, particularly fragrances and essential oils, can potentially irritate sensitive skin or trigger allergic reactions.
Alkaline Ingredients: The alkaline nature of specific bath bomb components might disrupt your skin's natural pH balance, leading to dryness or irritation.
Colorants and Stains: Colorants in bath bombs could stain your skin, especially if you have fair or sensitive skin.
Precautions to Take
Read Ingredients: Carefully check the ingredient list to identify potential irritants or allergens to which your skin might react.
Spot Testing: If you have sensitive skin, consider doing a patch test on a small area of your skin to gauge how it reacts before using a complete bath bomb.
Rinse Thoroughly: After your bath, rinse your skin thoroughly to remove any residue from the bath bomb.
Moisturize: To counteract any potential drying effects, apply a moisturizer after your bath to keep your skin hydrated
Hair-Friendly Alternatives
If you're concerned about the potential effects of bath bombs on your hair, alternative bath products and hair-friendly choices can ensure both your skin and hair safety. Let's explore these alternatives to make your bath time a wholesome experience.
Use Hair Protection Techniques. Tie your hair up or use a shower cap to prevent direct contact with bath bomb ingredients.
Shampoo Bars are good for Gentle cleansing without stripping natural oils. Look for bars tailored to your hair type.
Hair Masks provides deep conditioning during bath time. Use weekly for healthy and strong hair.
Use DIY bath bombs with hair-safe ingredients. They have natural colorants like dried petals and mild essential oil fragrances.
Use hair-Specific Bath Products like Dry shampoo. They provide pH-balancing and added shine.
Choose these alternatives to maintain hair health during your bath routine, ensuring relaxation and hair care go hand in hand.
In Conclusion, to determine is bath bomb hair friendly, you need to know ingredients, effects, and potential alternatives. Bath bombs are comprised of a blend of baking soda, citric acid, essential oils, colorants. They offer an alluring and fragrant escapade within the confines of your bath. However, their effects on your hair are not uniform. The alkaline properties of specific components could disrupt your hair's pH balance, potentially leading to dryness and imbalance. The presence of essential oils and colorants might yield diverse outcomes depending on your hair type and sensitivities, ranging from dehydration to irritation or staining.