Tattoos are a unique way of showing self-expression and being a compelling medium for encapsulating these timeless stories. Medusa, the Gorgon with snake hair, holds a special place among the mythological figures. The Medusa tattoo is also known for its intricate details and captivating symbolism. It has emerged as a popular choice for those seeking to imbue their body art with aesthetic beauty and profound meaning.
Today, we will uncover the depths of symbolism surrounding Medusa, tracing her evolution from a feared monster to a symbol of empowerment. The Medusa tattoo represents a fusion of strength, protection, and femininity. You will be surprised to know how this mythical figure continues influencing perceptions of identity and resilience. Through the following sections, we will unravel the stories it can tell on the canvas of human skin.
What Does Medusa Tattoo Means?
The Medusa tattoo embodies themes of empowerment and strength. It is a drawing from the myth of a once-mortal woman transformed into a formidable Gorgon. This metamorphosis reminds the wearer of their innate power to overcome challenges. Medusa's petrifying gaze also symbolizes protection, acting as a shield against negativity and external threats.
Moreover, the tattoo can celebrate feminine power. It challenges conventional beauty norms by portraying Medusa's snake hair and unconventional appearance. This defiance of societal standards speaks to the wearer's affirmation of their uniqueness and individuality.
Possible interpretations of Medusa Tattoo
The symbolism of Medusa is as diverse and varied as the individuals who embrace it. It is rich and multi-layered. Drawing from her origins in Greek mythology resonates with various themes that continue to captivate human imagination. Medusa can be interpreted as:
Power and Fear
Transformation and Empowerment
Feminine identity
Duality and dual nature
Protection and Defiance
Inner Strength
Freedom and Liberation
Medusa tattoo can encompass any combination of these symbolic elements. Ultimately, the symbolism of Medusa is as diverse and varied as the individuals who embrace it. It allows for personal connections and interpretations that resonate deeply on both aesthetic and emotional levels.
Exploring Captivating Medusa Tattoo Designs
The Medusa's intricate mythology has inspired many captivating tattoo designs that beautifully capture her essence. From her snaky tresses to her piercing gaze, Medusa's symbolism offers endless possibilities for creative expression.
Here are some popular Medusa tattoo designs that have caught the attention of those seeking to embrace this mythical figure on their skin:
Serpent-Adorned Visage: One of the most iconic images of Medusa is her visage adorned with a cascade of serpents for hair.
Petrifying Gaze: The moment of Medusa's gaze turning her victims to stone is a dramatic and impactful choice for a tattoo.
Full-Back Masterpiece:  A full-back Medusa tattoo allows a larger canvas to depict the Gorgon in all her glory.
Portrait Realism:  For those who appreciate intricate detail, a portrait-style Medusa tattoo in realism can be a stunning choice.
Neo traditional Interpretation: Neo Traditional tattooing techniques infuse vibrant colors and bold outlines, offering a unique take on Medusa's image.
Abstract Symbolism:  Some designs take a more abstract approach, using minimalistic lines and shapes to suggest Medusa's form and power.
Dual-Image Composition: Depicting both the beautiful and monstrous sides of Medusa's nature can create a dynamic composition.
Mythological Elements: Medusa's story has mythic elements, such as Athena's shield or Perseus' sword.
Medusa and Mirrors: The motif of mirrors, which Medusa used to avoid her petrifying gaze, can add an intriguing layer to the tattoo's symbolism.
Watercolor Splashes: Watercolor-style tattoos infuse vibrant splashes of color, giving a unique twist to Medusa's classic imagery.
From traditional renditions to innovative interpretations, Medusa tattoo designs offer a captivating range of options for those who wish to embody the spirit of this mythical figure.
Personal Interpretation of the Medusa Tattoo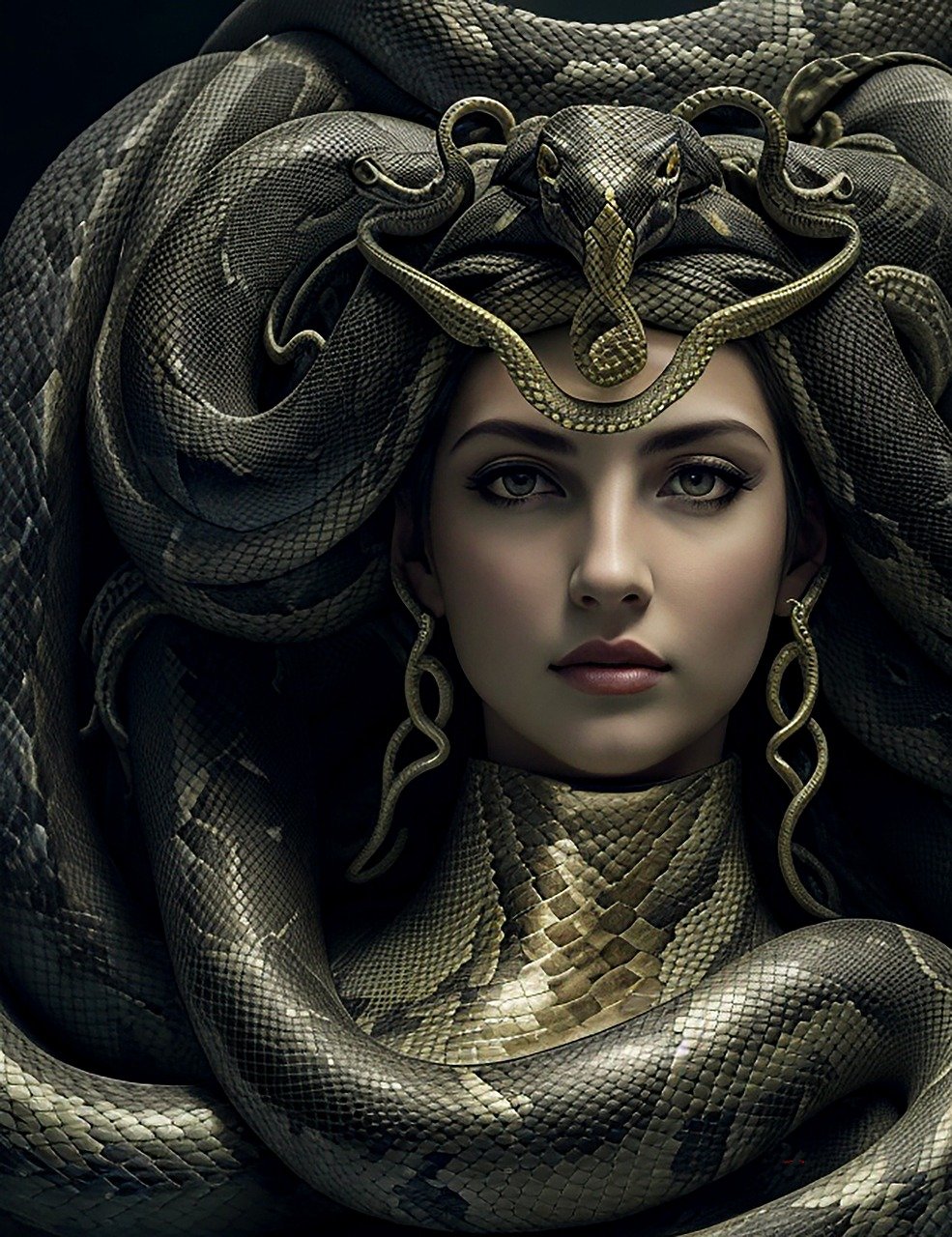 The Medusa tattoo holds a deeply personal significance for each who wears it. As a symbol rich in mythology and complex meanings, it becomes a canvas for self-expression, encapsulating unique narratives and emotions. Here are some ways you might personally interpret and connect with the Medusa tattoo:
It represents personal resilience and the ability to overcome challenges.
The Tattoo also symbolizes personal growth and transformation, fostering empowerment.
Rejects societal norms, embracing unique and authentic self.
Reflects the balance between vulnerability and strength within.
Serves as a protective talisman against negativity.
Moreover, It offers a creative canvas for personal artistic collaboration.
Honors ancient stories and merges with contemporary identity.
Sparks conversations, inviting connections with others.
Furthermore, the tattoo celebrates the multi-faceted nature of one's personality.
Also, it represents personal journey, struggles, and triumphs.
Medusa as a Personal Guardian
The Medusa tattoo is a constant reminder of triumph over adversity. It encapsulates the wearer's resilience, commemorating battles fought and won, and symbolizes the strength that propelled them forward. Moreover, this emblem embodies an unwavering acknowledgment of inner strength. It is a tribute to the wearer's ability to rise above obstacles, representing the courage needed to face life's trials.
Embracing Duality
Like Medusa's dichotomy of beauty and fear, the tattoo reflects the delicate balance between vulnerability and power. It honors the wearer's journey to harmonize their strengths with openness. Furthermore, the Medusa tattoo celebrates the complexity of the self. Just as Medusa encapsulates opposing qualities, wearers believe in their multifaceted nature—embracing the light and dark within and fostering a deeper understanding of who they are.
In short, medusa tattoo is a convergence of ancient mythology and contemporary self-expression. It weaves a captivating narrative beyond its artistic allure. It is a powerful emblem of strength, empowerment, and individuality with many meanings, from its portrayal of inner resilience to its defiance of conventional norms.
As we've explored the layers of symbolism intertwined with this mythical figure, we've discovered how the tattoo encapsulates themes of transformation, duality, and protection.