Red Lipstick defines Beauty, Confidence, and Timeless Glamour. Its is more than just a cosmetic item. Whether you're attending a high-profile event, going on a first date, or simply want to add a touch of glamour to your everyday look. A bold swipe of red lipstick can instantly transform your appearance. 
Red Lipstick: A Timeless Beauty Icon
The use of red lipstick dates back thousands of years. In ancient Greece, red lipstick was a symbol of femininity and was often worn by actresses, courtesans, and prostitutes. During the Renaissance, red lipstick became popular among the wealthy. Since then, red lipstick has been a staple in beauty routines and has been associated with empowerment, confidence, and glamour.
The Power of a Classic Beauty Tool
Red lipstick is an important item in a makeup routine for several reasons:
Versatility

: Red lipstick can be dressed up or down, making it a versatile cosmetic that can be worn for a variety of occasions. 

Confidence booster

: This lipstick has been associated with confidence and empowerment for centuries. 

Makes a statement: A bold and eye-catching color that is sure to make a statement. Whether you're looking to stand out from the crowd or simply want to add some extra pop to your look.
How to Wear Red Lipstick Gracefully?- The Art of Application
Moisturize Your Lips First
Moisturizing your lips is an important step in applying any lipstick gracefully. Dry, flaky lips can detract from the look of your lipstick, so it's important to ensure that your lips are hydrated and smooth.
 Here are the steps to moisturize your lips:
Exfoliate: Gently scrub your lips with a toothbrush or a lip scrub to remove any dead skin.

Hydrate: Apply a nourishing lip balm to keep your lips hydrated and soft.

Wait: Let the lip balm absorb into your skin for a few minutes
By taking the time to moisturize your lips, you'll ensure that your lipstick glides on smoothly and lasts longer. A well-moisturized pout will also help your lipstick look more vibrant and flattering.
Line Lips with a Neutral Lip Liner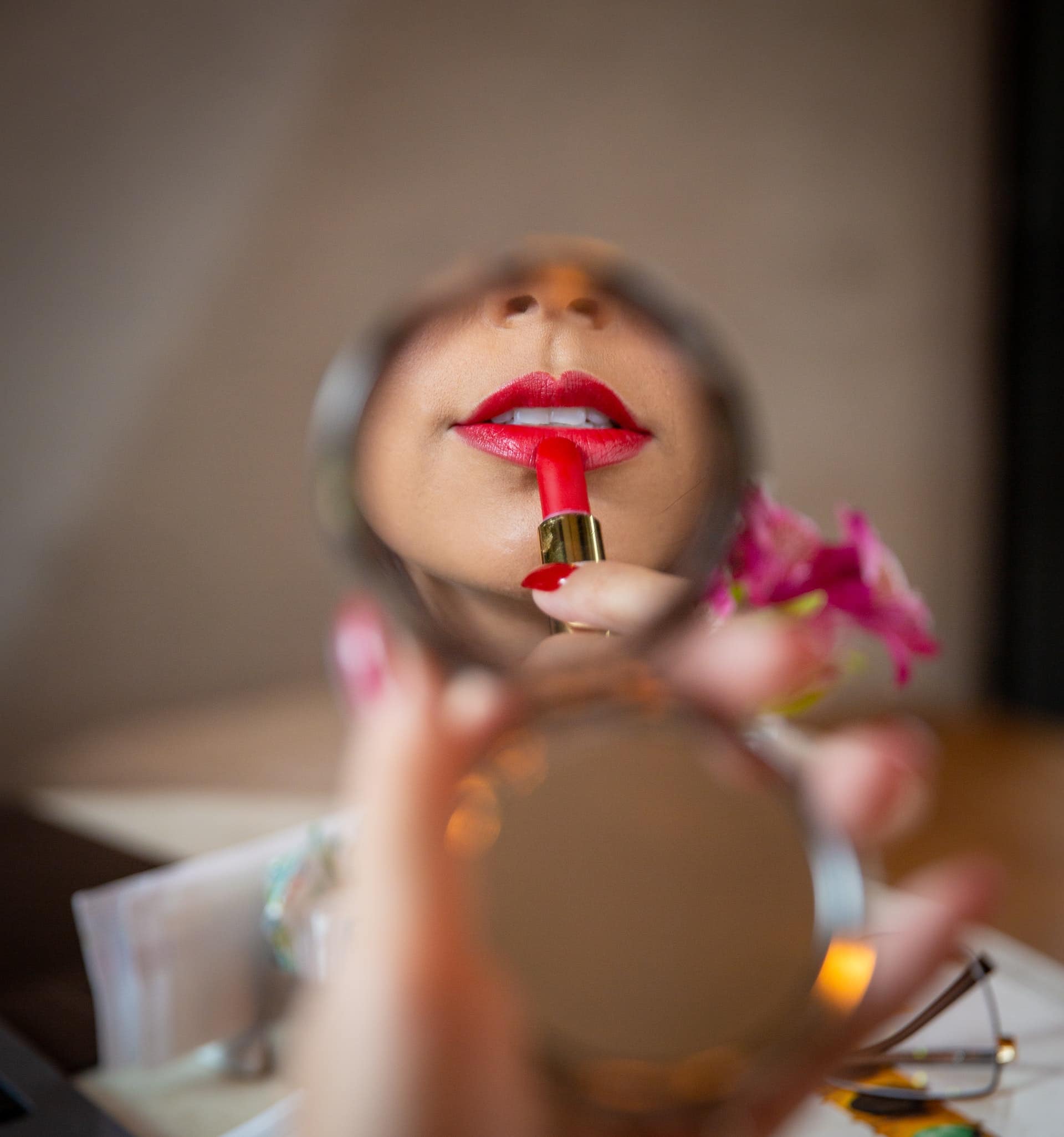 Lining lips helps to define your lips, prevent feathering, and ensure that your lipstick lasts longer. By using a neutral lip liner, you'll create a clean and defined canvas for your red lipstick. This is how you should apply Lip liner.
Apply concealer around your lips.

 To make your red lipstick pop, consider applying a concealer around your lips to create a clean and defined border.

Choose a right shade.

 Look for a lip liner that matches the natural color of your lips or is a shade lighter.

Make Outline.

 Start at the Centre of your upper lip, use the lip liner to outline your lips, and follow the  natural shape of your mouth.

Fill in the entire lip area with the lip liner. This will help to create a base for your lipstick and make it easier to apply.

Blend well.

 Use your finger or a brush to blend the lip liner into your lips, making sure there are no harsh lines or obvious transitions.
Mix & Match and Create Your Custom Red Lipstick Shade
Start by choosing a base color that is close to your desired shade.

If you want to lighten the base color, mix it with a lighter shade of lipstick.

If you want to darken the base color, mix it with a darker shade of lipstick.
A Guide to Choosing the Best Red Lipstick Shade for You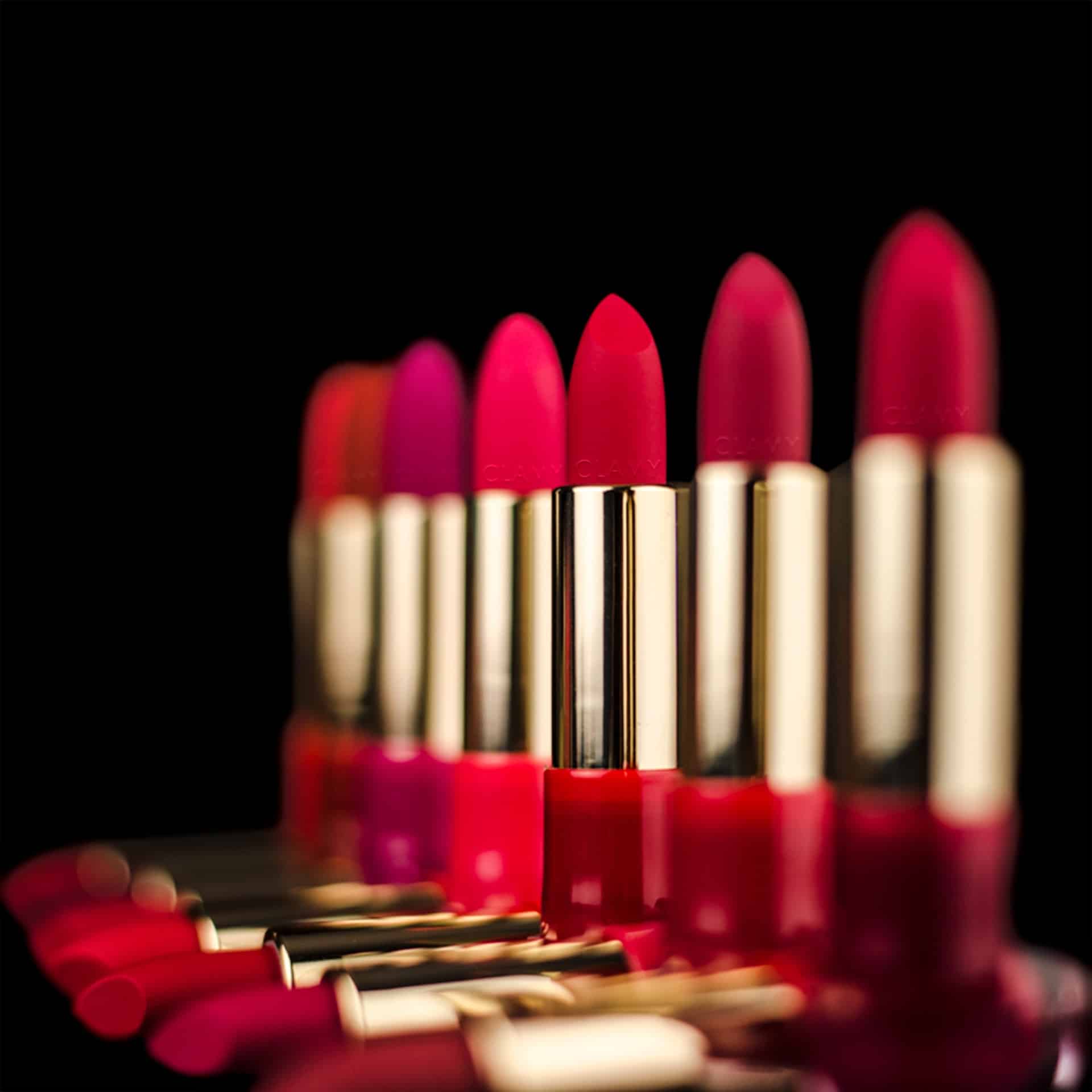 Choosing the right shade of red lipstick can be a challenge, but it's important to get it right in order to achieve a flawless and flattering look. 
Determine whether you have a warm, cool, or neutral undertone by checking the veins on the inside of your wrist. If they appear green, you have a warm undertone; if they appear blue, you have a cool undertone; and if they appear a mix of blue and green, you have a neutral undertone.

Also consider your skin tone when choosing a right lipstick. If you have a warm skin tone, opt for a warm red shade with orange undertones. If you have a cool skin tone, choose a cool red shade with blue undertones.

Occasion is important. A bright and bold red is perfect for a night out, while a softer, more muted one is better for a more formal or professional setting.
By taking these factors into consideration, you'll be able to choose the perfect shade of red lipstick to enhance your natural beauty and suit your personal style.
Red Lipstick: Bold And Beautiful
Red lipstick is a classic cosmetic that has been popular for centuries and adds a bold, eye-catching touch to any look. Whether you're going for a sophisticated and elegant vibe or a more playful and daring style. A bold red lip is a great way to make a statement and draw attention to your lips.
Whether you choose a bright, fire-engine or a more subdued, brick shade, wearing red lipstick can be a confidence-boosting way to elevate your style and stand out in a crowd.
The Psychological Impact of Wearing Red Lipstick
Research has found that red color has a significant impact on human emotions. Red increases feelings of attraction and arousal, as well as boosting confidence and power. This lipstick stimulates the release of neurochemicals in the brain that are associated with increased attention and focus.
A bold red lip has a magnetic and intriguing effect on those around us. The shade of red can evoke emotions and draw attention, making the wearer stand out and leave a lasting impression. The psychological impact of a bold red lip is not limited to the wearer, it can also have a profound effect on those around them. Whether it's a classic and timeless shade or a bright and daring hue, the unforgettable attractiveness of a bold red lip has the ability to captivate and enthrall those around us.
So this Valentine's day, wear red lipstick gracefully and make a bold statement !