Thanks to K-dramas and K-pop, bob haircut is once again the talk of the town. Bob cut is indeed a classic and versatile hairstyle that looks chic and sophisticated. It has been popular among women for many decades, and its variations continue to evolve to suit modern fashion trends. From the classic Parisian bob to the edgy Japanese bob, this hairstyle has a universal presence.
In this article, we will talk about the history, different types of bob cuts, styling tips, and maintenance techniques. After reading the article, it will be easy to decide if you should get a bob haircut or not.
The Evolution Of Bob Haircut
If you observe the victorian era, you will see luscious locks, braided buns and rapunzels all over. Bob cut was like fresh air to modern women of post Victorian era. The haircut was considered a symbol of women's liberation. The bob cut first gained popularity in the 1920s during the "Roaring Twenties." Later on, we saw resurgences in the 1960s and 1980s, with variations like the "pixie bob" and the "mullet bob."
The bob cut has managed to evolve and adapt to changing fashion trends. It has remained a versatile option for individuals looking to express their style. It can be paired with contemporary fashion trends, making it a timeless choice that can easily transition from one era to the next. Fashion and beauty trends are often shaped by the latest bob-cut variations. In recent years, styles like the "lob" (long bob) have gained immense popularity. Many women choose the bob cut as a form of self-expression, allowing them to make a bold style statement.
Famous Styles of Bob Haircut
Classic Bob
This style features a straight and even cut that falls around the jawline. It's a timeless choice that suits various face shapes.
A-Line Bob
This bob cut is slightly longer in the front and shorter in the back, creating an elegant and angled look.
Lob (Long Bob)
The bob is a longer version of the bob, typically ending around the shoulders. It offers more styling options while maintaining the bob's simplicity.
Inverted Bob
In this style, the back is shorter than the front, creating a stacked or graduated effect.
Blunt Bob
The blunt bob features a straight-across cut, providing a clean and sharp appearance.
Chin-Length Bob
This bob cut is shorter, usually ending just below the chin. It can be tailored to various lengths within this range.
Bob haircut is for all colors and hair textures depnding on how well you carry it. From classic shades like black and blonde to bold choices such as pastels and vibrant hues, your bob can reflect your style. Ombre and balayage techniques can add dimension to the bob, creating a striking effect.
Bob cut can also be tailored to suit different hair textures, from straight and sleek to curly or wavy. Specialized cutting techniques can help bring out the best in each hair type, making the bob accessible to a wide range of people.
Step By Step Guide On How To Do Bob Haircut?
Start with clean, dry hair. It's usually easier to cut hair when it's dry and in its natural state. Avoid using any styling products.
Divide your hair into several sections to ensure an even and precise cut. Use hair clips to secure these sections.
Decide on the desired length of your bob haircut. A classic bob typically falls around the jawline, but the length can vary based on your preference.
Begin cutting at the nape of your neck. Trim the hair evenly across the back section. The key is to keep the cut as straight and even as possible.
For an A-line bob or a more modern look, you can graduate the length, with the back being slightly shorter than the front. To do this, cut the hair at a slight angle.
Move to the sides of your head, and cut the hair to match the length of the back. Keep the sections you're working on well-combed and taut to maintain precision.
Focus on the front sections. If you're going for a classic bob, these should be slightly longer than the back. Cut at an angle, following the jawline for a graceful, framing effect.
Throughout the process, periodically check for evenness by combing the hair down and assessing the length. Make any necessary adjustments to ensure symmetry.
Once you're satisfied with the length and shape, you can add layers or texturize the ends if you prefer a more textured look.
Style the bob as desired. You can straighten it for a sleek appearance, curl it for a more textured look, or leave it in its natural state.
How To Style A Bob Haircut?
To achieve a polished look, use a flat iron to straighten the hair, and finish with a shine-enhancing product.

You can also create loose waves or texture using a curling iron or by braiding the hair overnight for a more relaxed appearance.

Sweep the longer front layers to one side for an asymmetrical look.

Add headbands, hairpins, or scarves to give your bob a unique flair.
Which Bob Cut You Should Get According to Your Face Shape?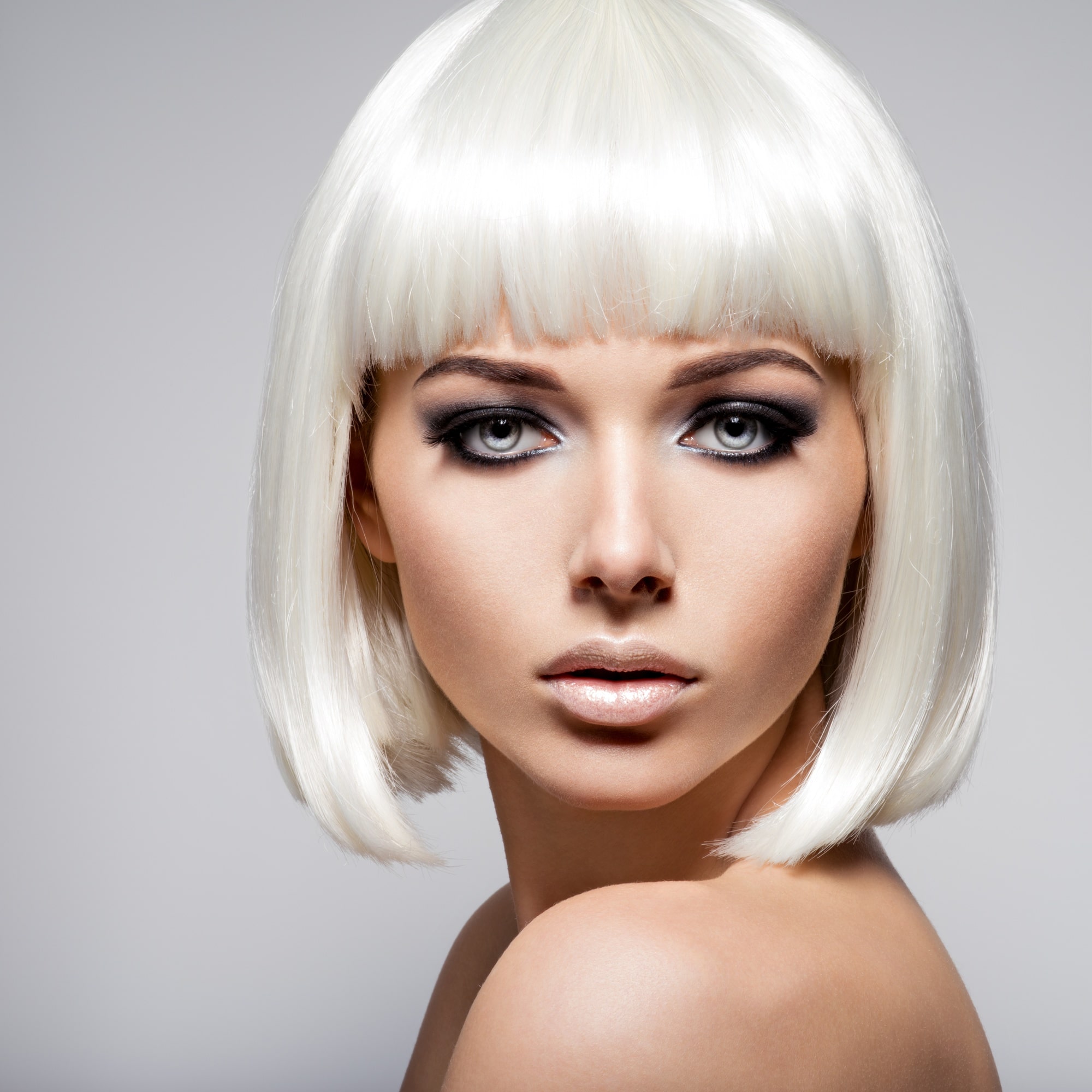 Wearing bob haircut requires a lots of confidence and it must suit your face shape as well. Look for your style in the list below
Round Faces: A longer bob can elongate the face, while a chin-length bob can add definition.
Oval Faces: Almost any bob style works well with an oval face shape.
Square Faces: Soften the angles with an A-line or layered bob.
Heart-Shaped Faces: Opt for a chin-length bob to balance the face shape.
Diamond Faces:

 Choose an asymmetrical bob to enhance the cheekbones.
Overall, the bob cut can be customized to suit individual personalities. A sleek and polished bob may reflect a professional and sophisticated character, while a messy or textured bob can convey a more laid-back and edgy vibe.
How To Maintain A Bob Haircut?
Bob haircut is a low-maintenance hairstyle that offers a polished and put-together look. However, keeping a bob cut looking its best requires regular maintenance.
Trimming every 6-8 weeks will help maintain the shape and prevent split ends. Also, regular trims are necessary to prevent the bob from losing its shape and becoming overgrown.

Use a good quality shampoo and conditioner to keep the hair healthy and shiny.

Styling products like mousse or hairspray can help create volume, texture, or hold, depending on the desired look.

Heat protectant is essential when using hot styling tools to prevent damage.

Choose the right hair products, such as those designed for your hair type and the desired style.