Bun with braiding hair is one of the classy and cool hairstyles that sits well on many occasions. In this hairstyle, small sections of hair are assembled and twisted in knots on top or behind the head. This hairstyle is for all types of hair such as straight, curly, or wavy. One can style one's hair in a few minutes to look cool, stylish, and fresh.  
This hairstyle can elevate your look for any event. As hair gets tied up, this is the best option for summer.  In our article today, we will talk about trendy and convenient bun with braiding hair styles and how with little effort, you can reach perfection.
Simple Bun With Braiding Hair
This is the typical and easy-to-go braided bun. In this hairstyle, you make a plain braid of your hair to the end of your hair and push it up to the base of your neck. Start pinning the braid when it reaches up to the neck. You do not have to worry about the tail of the unpinned hair. Cover the tail around the bun's base and pin it so it does not fall and the bun remains secure. 
Double Dutch Braided Bun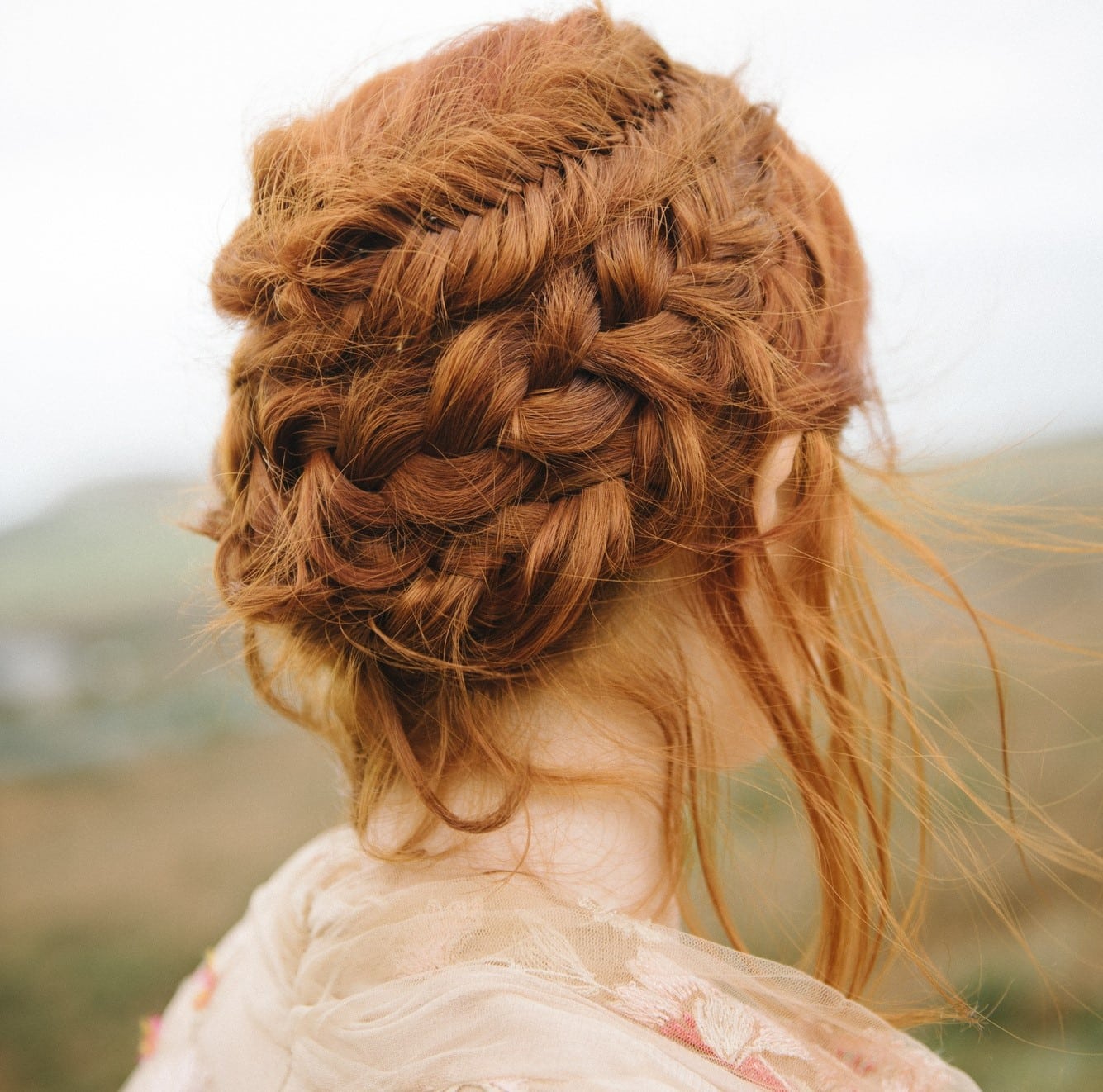 In this hairstyle, two Dutch braids are designed on both sides of the head. After that, tie into to loose low bun. You can wear this hairstyle at formal events and can carry it for a few days.  
Boho Braided Bun
Take hair from the middle part of your head. For creating braids, make two sections of the top half of your hair. Design two braids for each section by crossing both the left and right strands under the middle strand. Repeat these steps to the crown of your head. After tying the braids, loose hair from both braids.  
Assemble your hair into a ponytail and then make a bun in a clockwise direction on the top of your head. Pin the bun to secure it. You can create beach waves of remaining hair in the downward direction.  
Half Braided Bun
This summer-friendly bun with braiding hair-style is easy to create. Make two braids at the front of your head on each side. Tie these braids into a low ponytail. Next, wrap a low bun and secure it with pins. You can wear this hairstyle for many days.
Upside-Down French Twist Braided Bun
This elegant hairstyle adds a classic French twist to the braided bun. To create this look, horizontally make sections for lacing braids. Remember the bottom section will be braided. After you are done braiding the hair strands from the roots to the end, make a bun, and pin it to secure it properly. This hairstyle creates an upside-down fallacy.
Ponytail Braiding Bun
This is the easiest braided bun you can ever style. It looks good on almost everyone. To make this hairstyle, tie your hair into a ponytail.
Part your hair into two equal sections. Make a simple braid of each section to the end of your hair. Now wrap both braids into a bun. It will only take 2-3 minutes but gives you a subtle look.
Sleek Braiding Bun
The hair is satiny with bangs. There's a beautiful crooked bun and there are only lacings at the reverse of the head. The satiny hair looks amazing with the lacings and the crooked bun is one of our favourite aesthetics. To achieve this sleek braided bun look, straighten your hair. Take a section of hair from the back of your neck. Make to braids from a pane of your neck to the crown of the head. Tie these braids into a pony.
Now brush the hair on the front of your head and apply hair gel to make a sleek look. Assemble the front hair with the reversed braids and wrap it into a bun on the top of your head. 
Cornrows With A Braided Bun
Two trends collide to make this look pleated buns and cornrows. In this hairstyle, the top of the head is pleated into cornrows, and globules are added to the frontal two lacing of hair. After pleating down the cornrows to the ends, add fresh extensions to get the curled buns. To make this look more intricate, add a design like a zigzag to take part in the cornrows trend.  
Loose Side Braids With A Braided Bun
This easy-to-wear and stylish look features two braids on both sides of the front. Make braids of every strand of your hair. Leave two braids on each side of the frontal head. Tie the remaining braids into a ponytail. Now wrap these braids into a high bun and use bobby pins to secure the bun.  
Accessorized Braided Space Buns
The perfect and trendy hairstyle for summer. This hairstyle contains two braided buns. For creating this hairstyle, make braids of all of your hair. Divide these braids into two parts and then tie a high ponytail on both sides of your head. Wrap the high buns with pins and style the back braids with hair accessories.  
Braiding Bun With Curls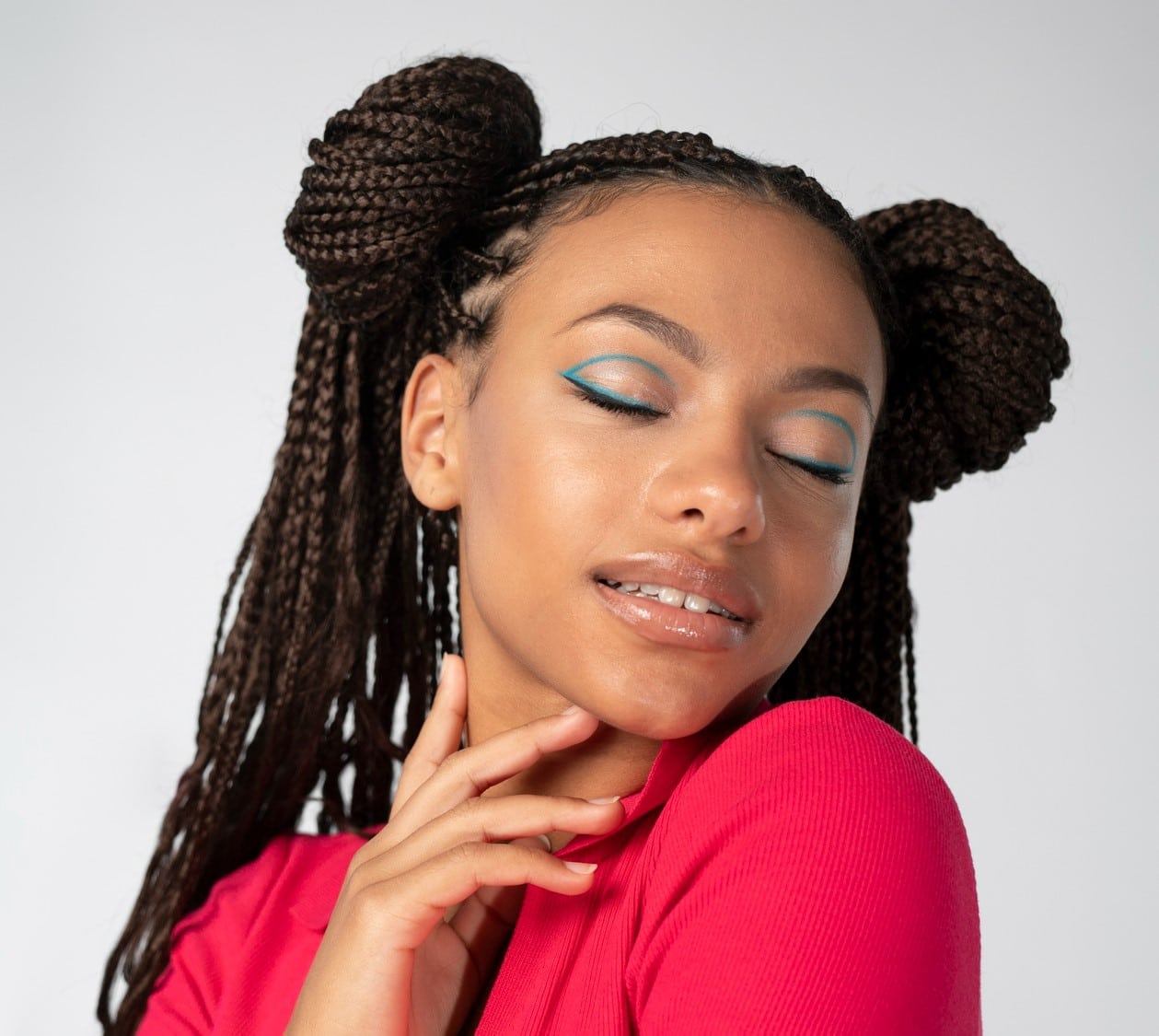 Anyone can wear this cute updo. In this hairstyle, you have to create multiple braids on the front of the head and back of the neck leaving hair on top of the head. The braids are tied with clear bands. The remaining hair is curled and then assembled with the tied braids and wrapped into a high bun leaving some curls untied. You style the braids with hair accessories too.
Heart Braiding Bun
This hairstyle is not at all difficult to make. Because this cute and elegant is extremely easy to create. For this hairstyle, make 4 sections of your hair. Two small sections on the front side and two large ones on the top of the head. Start braiding your right front section and knead the end to the next section of hair on the top.
After that, repeat the same steps on the left side and tie them into a pony making a heart. Tease and loose the hair in braids. Make a loose and low bun. Your heart-shaped braided bun is ready to show off.  
Moreover, besides looking stylish and elegant, these braided hairstyles help to keep hair healthy and nourished. Braided hair prevents fuzziness and dryness by locking hydration. Bun with braided hair can help you avoid hair breakage and also keep hair from tangling all the time.