They say Fashion is uncomfortable. If you want comfort, stay in pajamas. However, top knot buns have proved this wrong. When it comes to hair styling, the top knot bun has always held a special place in the beauty niche. The versatility, elegance, and practicality of a top knot bun make it a go-to choice for a wide range of occasions. From casual outings to formal events, it is an easy yet classy choice. In this article, today we will discuss how to achieve the perfect top knot bun and how to maintain it.
Prepare Your Hair For Top Knot Bun
Properly preparing your hair is the key to a flawless top knot bun. Follow these steps:
Cleanse and Condition. Begin with clean and conditioned hair. Know that freshly washed hair holds the style better.

If your hair is too slippery, add some texture by using a texturizing spray or dry shampoo.

Decide whether you want a centre or side part. This choice can change the look of your bun. Decide carefully according to your facial features and face shape.
How To Make A Perfect Top Knot Bun?
Before going into the styling process, it's essential to gather the necessary tools and supplies.
Hairbrush or Comb to detangle your hair.

Hair Elastic to be used in styling.

Use Bobby Pins to secure the bun in its place.

Hair Spray or Serum for a polished finish.

Mirror to ensure precision.
Create a High Ponytail
Achieving the perfect top knot bun starts with a high ponytail. Here's how to do it:
Gather your hair at the crown of your head, ensuring it's smooth and free of bumps. Comb well to make it even.

Use a non-damaging hair elastic to secure the ponytail tightly. Ensure it's positioned where you want your bun to sit.
Forming the Bun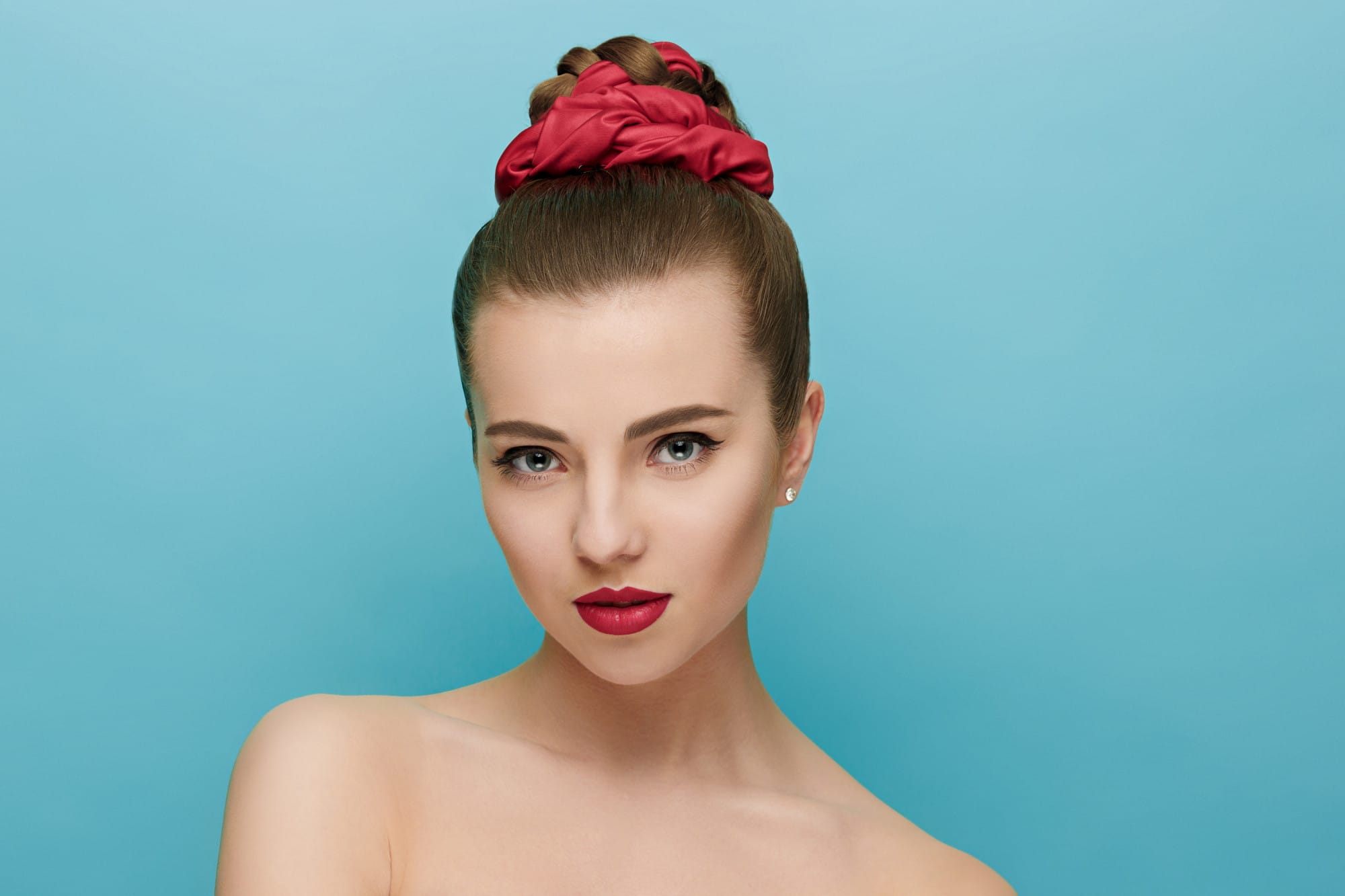 Now, it's time to transform that ponytail into a stylish top knot bun:
Take the ponytail and twist it around itself to create a coil.

Once you've twisted the ponytail, wrap it around the base of the elastic.

Use bobby pins to secure the bun in place, making sure it feels secure and looks neat.

Use hairspray or hair serum to tame any flyaways and create a sleek finish.

If you want a higher or lower bun, gently adjust the position by pulling or pushing the bun.
Tips To Handle Top Knot Bun
Here are some additional tips to handle your top knot bun.
For added volume and drama, consider gently teasing the hair in the ponytail before forming the bun.

Experiment with decorative pins, ribbons, or hairbands to accessorize your top knot bun for different occasions.

If you prefer a more relaxed look, don't hesitate to leave a few loose strands or intentionally pull some hair out around your face.

To ensure your bun stays put throughout the day, choose high-quality hair products that offer long-lasting hold.

You can also add acessories like headbands, stylish Pins, or flowers to make it look more classy and chic.
Your top knot bun should ultimately reflect your style and preferences. Feel free to tweak and adjust the steps to achieve a look that makes you feel confident and comfortable. After all, it's not just a hairstyle; it's an expression of personal style and creativity. Own it well.
How To Maintain Your Top Knot Bun For a Whole Day
Once you've perfected your top knot bun, the next step is ensuring it remains flawless throughout the day. Here are methods for maintaining the elegance of this hairstyle.
Secure It Well
A well-secured bun is less likely to unravel. Using high quality bobby pins and strong, non-damaging hair elastic is crucial. If you're going for a full day on attending a lengthy event, consider using a little extra hairspray or serum to provide extra hold. Sometimes, a bit of looseness adds a touch of effortless charm to your style. Don't fret if it's not perfectly tight. It can look just as elegant with a bit of softness.
Carry Essentials With You
To maintain your top knot bun's pristine appearance, consider carrying a few essential items in your bag. A small travel-sized hairspray or a few bobby pins can be lifesavers if you need to touch up during the day.
Protect Your Bun
When spending time in outdoor activities, be mindful of the weather conditions. Wind, rain, and humidity can all affect your hairstyle. Consider using a hat or headband to keep your bun in place and protect it from the elements.
Evening Refresh
If you have evening plans, you can refresh your top knot bun easily. Simply remove any bobby pins, let your hair down, and then redo the bun. This quick redo can help you maintain a polished look.
Nighttime Care
Remember to untie your bun at night. Keeping your hair wrapped at night can damage your hair. When it's time to unwind and let your hair down for the night, carefully remove the bobby pins and elastic band. Gently comb through your hair with your fingers to release any tangles or knots. A bit of leave-in conditioner or hair oil can help nourish your locks after a day in a bun.
In Conclusion
Top knot buns are the perfect choice for those who want beauty, elegance and ease at the same time. As your top knot bun always reflects your unique beauty and confidence, wear your hair with confidence. We hope our article has helped you enough to confidently create and maintain this timeless hairstyle.