Looking to unwind and destress? Hot stone massage might be just the treatment for you! This luxurious massage therapy involves the use of smooth, heated stones. These stones are placed on key points on the body, releasing tension and promoting relaxation. It's a heavenly experience that will leave you feeling renewed and rejuvenated. While soothes your body and mind with the warmth of the stones. Let's explore the wonderful world of hot stone massage and all the benefits it has to offer.
Benefits of Hot Stone Massage
Is hot stone massage worth it? see for yourself!
It Relieves muscle tension and pain. The heat from the stones helps to relax muscles and increase blood flow. This reduces muscle pain and tension.
Reduces stress and anxiety and promote relaxation. Hot stone massage has a calming effect on the body.
It improves sleep quality by reducing stress and promoting relaxation.
Increases joint flexibility. The heat from the stones can help to loosen stiff joints, increasing flexibility and range of motion.
Enhances circulation. The warm stones help to dilate blood vessels, increasing blood flow and promoting better circulation.
This massage can help to boost the immune system by increasing the production of white blood cells.
Relieves symptoms of autoimmune diseases, such as rheumatoid arthritis.
Reduces headaches. The heat from the stones can help to alleviate tension headaches and migraines.
Improves digestion. Hot stone massage can help to improve digestion by reducing stress, which can interfere with proper digestion.
Promotes overall well-being. Hot stone massage is a deeply relaxing and therapeutic treatment that promotes overall physical and emotional well-being.
Origin Of Hot Stone Massage
Hot stone massage has its roots in ancient healing. With its ancient roots and modern applications, hot stone massage is a truly timeless therapy that can provide both physical and mental rejuvenation. It is practiced by Native American tribes, as well as in traditional Chinese medicine. The use of heated stones for healing and relaxation dates back thousands of years. In more recent times, the modern hot stone massage was developed by Mary Nelson. In 1990s a massage therapist from Arizona began incorporating hot stones into her massages as a way to provide deeper relaxation and to release tension in the muscles. From there, the practice of hot stone massage has spread and evolved into the popular therapy it is today.
Types Of Stones Used In The Massage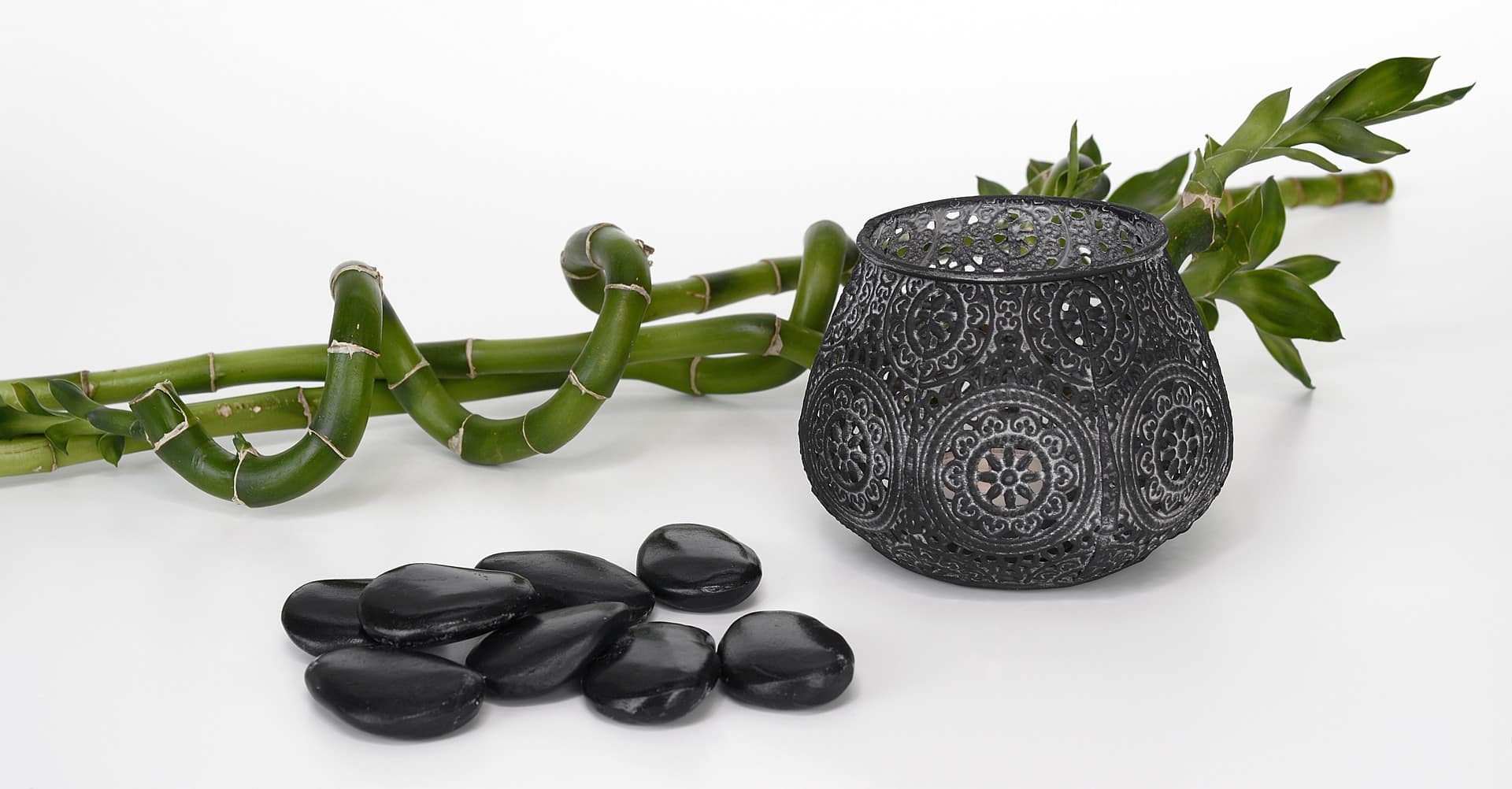 Stones are typically chosen for their heat-retaining properties and smoothness, allowing them to glide easily over the skin. Basalt stones are the commonly used stones for hot stone massage. As they are smooth, dark, and retain heat well. Other types of stones can be marble, jade, and Himalayan salt stones. These stones may vary in size and shape. Larger stones are used for larger muscles and smaller stones for more precise work.
Some therapists may use chilled stones as well, to provide a contrast in temperature and promote circulation. It's important to note that the stones used in hot stone massage are typically not the same as those used in crystal healing or other types of energy work.
Heating And Preparation Of The Stones
The stones used for hot stone massage are typically rich in iron and can retain heat well.
These stones are heated in a specialized heater or water bath. Typically temperature of around 120-130 degrees Fahrenheit. Before the massage, the therapist will check the temperature of the stones to ensure they are not too hot for the client's comfort.
The stones can also be chilled for use in a cold stone massage, which can be helpful for reducing inflammation or swelling.
Also, your therapist may use different sizes and shapes of stones for the massage that may include larger stones for the back and smaller stones for the face and hands.
Oiled or lubricated stones glides smoothly over the skin during the massage.
Techniques Used During The Massage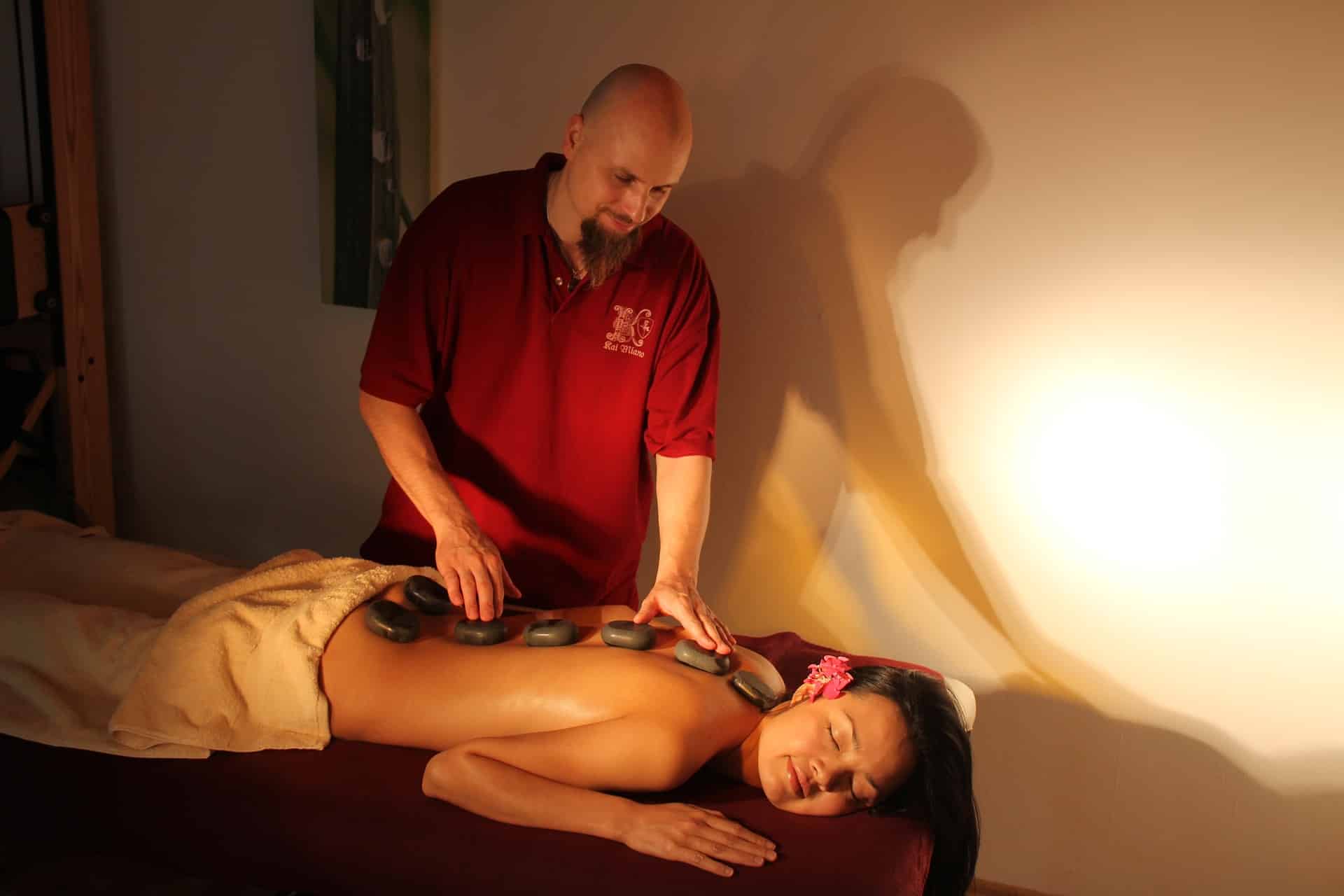 Here are interesting techniques for the hot stone massage procedure
Placement: Placing stones on specific points on the body such as the back, legs, and feet, help to relax and warmup the muscles.
Gliding: The therapist uses the stones to glide across the skin with oil. They also use long, smooth strokes to help ease muscle tension.
Kneading: The stones also help to knead the muscles by applying pressure to deeper tissues.
Vibration: To create a vibrating sensation on the muscles, the therapist uses the stones. This further helps to relax and soothe the body.
Tapotement: To perform a tapping or drumming motion on the body helps to stimulate circulation and invigorate the muscles.
Precautions And Contraindications
If the question arises in your mind, does hot stone massage hurt? here is what you need to know. While hot stone massage is generally safe for most people, there are some precautions and contraindications to keep in mind.
Precautions:
If you have any medical conditions, especially those affecting your circulatory system. Consult with your doctor before getting a hot stone massage.
Also, it is advisable not to eat a heavy meal before getting a hot stone massage. As the pressure applied on your abdomen could be uncomfortable.
Moreover, always inform your therapist of any allergies or sensitivities to products or heat.
Contraindications:
A fever, skin irritations, or open wounds. It is best to avoid hot stone massage until they have healed.
Also, pregnant women should avoid hot stone massage. As the heat can cause complications.
If you are currently undergoing cancer treatment or have a history of blood clots or deep vein thrombosis, do not receive a hot stone massage.
How To Prepare Yourself For A Hot Stone Massage?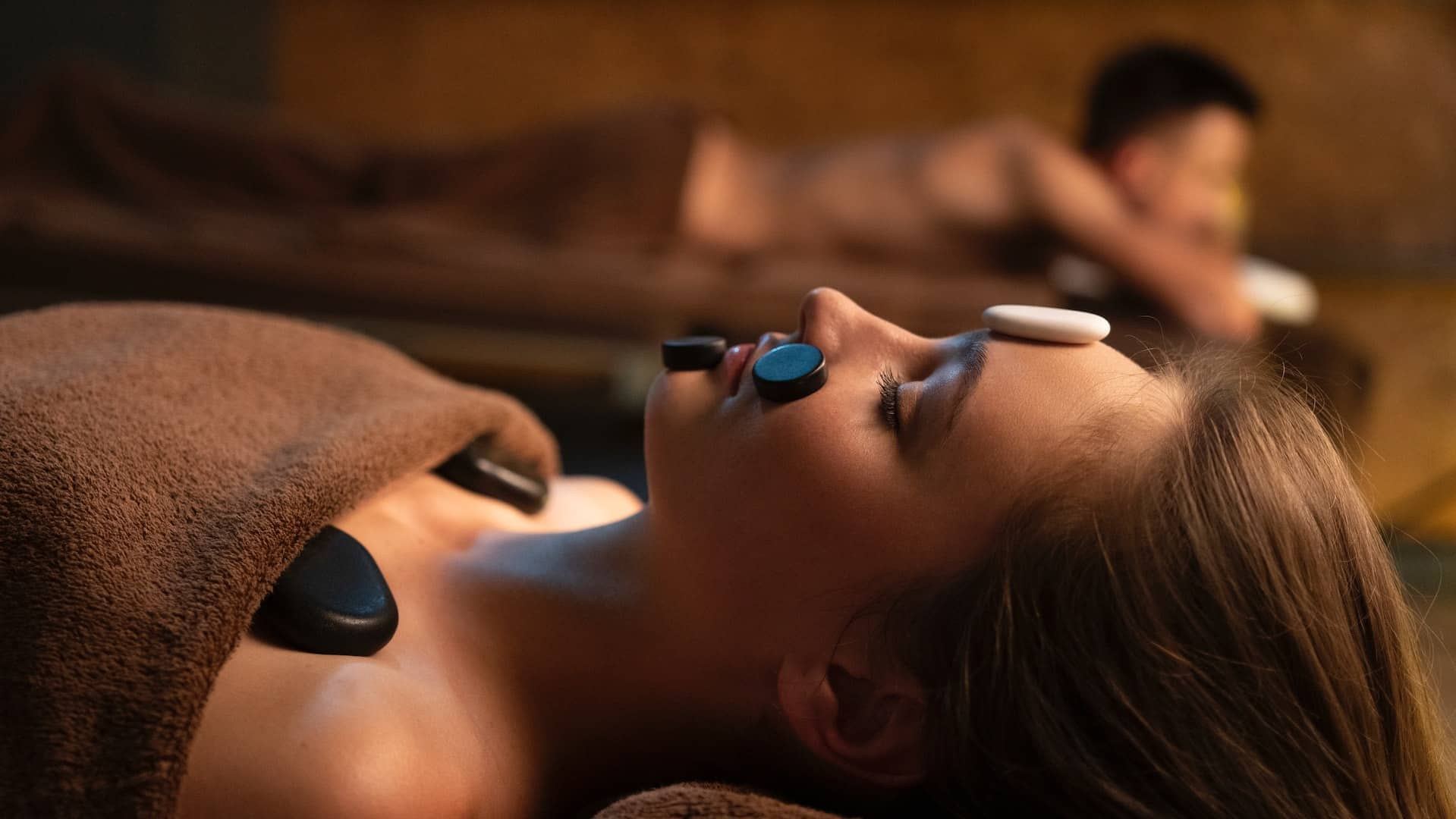 Preparing for a hot stone massage can help enhance your overall experience and ensure maximum benefits. Here are some tips:
Hydrate yourself. Drinking plenty of water before the massage can help you stay hydrated and improve circulation.
Avoid eating a heavy meal at least 2 hours before the massage to prevent discomfort.
Communicate with your therapist. Inform your massage therapist about any health concerns or conditions that you have, and discuss the level of pressure and temperature that you prefer.
Also, wear comfortable, loose-fitting and easily removable clothes to help you relax during the massage.
Arrive early. This can help you prepare mentally and physically for the massage and ensure that you are not rushed.
Turn off your phone to fully enjoy the massage and avoid distractions. It is best to turn off your phone or put it on silent mode.
Take deep breaths and try to relax during the massage to help you fully benefit from the therapy.
In conclusion, hot stone massage is not only a luxurious and relaxing experience, but also has numerous health benefits. This therapy is suitable for a wide range of individuals. However, it is important to take necessary precautions and prepare properly before getting a hot stone massage.